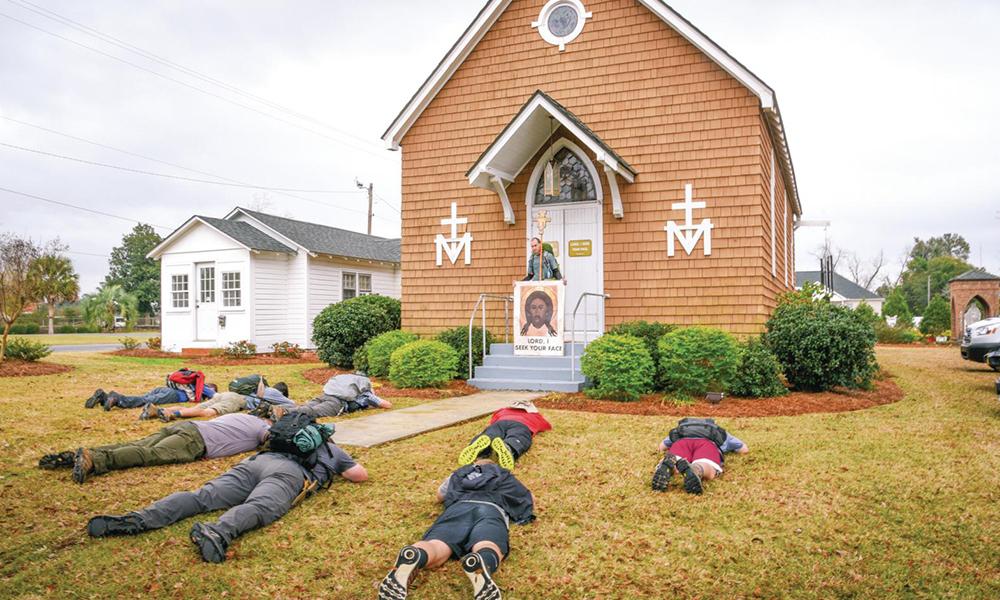 ---
Our Lady of South Carolina: a Joyful Hope to Pilgrims
In the small town of Kingstree is a beacon of light that draws people who want to make a spiritual connection and deepen their faith.
Situated just past the tourist epicenter of Myrtle Beach, Kingstree sees its fair share of visitors, due to one of its main attractions: a shrine dedicated to Mary. Our Lady of South Carolina – Our Lady of Joyful Hope brings people to meet her from all over the world.
Father Stanley Smolenski, spma, established the diocesan shrine in 2003 with the blessing of Bishop Robert J. Baker. Explaining the significance of the location, he noted that it is the only town in the United States called Kingstree.
"Also, think about the symbolism of the 'King's Tree' and Jesus on the cross. There is spiritual significance there," he said.
The spiritual home proved providential as St. Anne Church relocated to a larger space, freeing up their little chapel to become Our Lady of Joyful Hope.
Father Stan said it is important to distinguish the difference between a traveler and a pilgrim to the shrine.
"People of faith go on a pilgrimage rather than a tour. Visitors on a tour are going to see a place. On a pilgrimage, you are going in search of God. Going on a pilgrimage is important to spiritual life. It could be as complex as going to the Holy Land or as simple as visiting a nearby shrine," he said.
Establishing a pilgrimage site in South Carolina was important because there are so few throughout the South, with one each in Georgia, Florida and Alabama. The diocesan shrine is also unique because it stands on its own, rather than as part of a parish.
Cathy Bell, director of pilgrimages for Our Lady of Joyful Hope, said they often meet people who are traveling all around the country to visit various shrines.
"It's life changing for people," she said. "Some pilgrims tell us the day they are here how profound the depth of the visit is for them, and others return to tell us how it changed their spiritual life and deepened their faith. All tell us they feel they have left blessed and are very glad they came."
Another unique aspect of the shrine is the 200 relics housed there, all collected by Father Stan during his three years of study in Rome.
"With these relics it all becomes quite tangible and real. They all have something to tell us and to encourage us," he said.
The shrine has made an ecumenical impact on the local community, which turned out in force to welcome a group of diocesan seminarians who made a 50-mile trek to the chapel in December 2019.
People also support the two Marian events held each year — one in May for the month of Mary and the other in October for the month of the rosary — although those were cancelled until pandemic restrictions were lifted.
The grounds are still open to the public, though the chapel is locked. Father Stan celebrates Mass every day around 1 p.m., and reservations are encouraged, Bell said.
"As Mary awaited in joyful hope for the birth of her son, Jesus, the long-awaited Messianic King, so we await his graces now and, finally, his second coming with similar joyful hope," Father Stan concluded.
---
Theresa Stratford is a freelance reporter for The Catholic Miscellany. Email her at tmmart89@gmail.com.