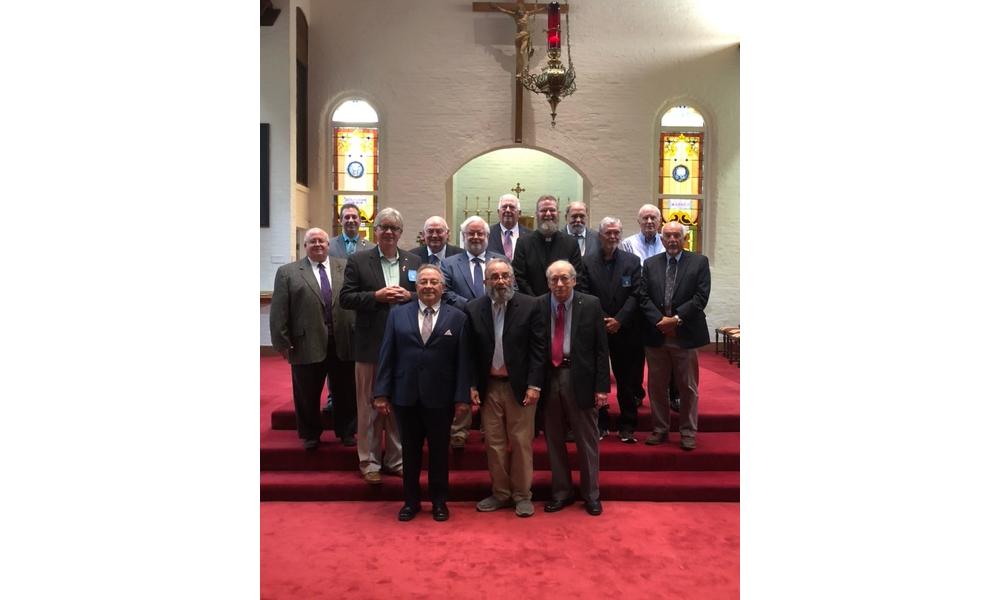 ---
Georgetown Knights of Columbus celebrate 75 years
Knights of Columbus Joseph Miguel Ros Sr. Council 3067 celebrated its 75th anniversary on June 28 at St. Mary Our Lady of Ransom Church in Georgetown.
The Council ― the fifth to be formed in South Carolina ― first met in 1947 at the restaurant of brothers Kelly and Louis Khoury, which was located at the time at the northeast corner of Front and Fraser streets in Georgetown.
For the 75th anniversary, festivities were preceded by Mass celebrated by Council Chaplain Father James F. Touzeau, plus a new council officer installation for 2022-23 by District 11 Deputy John Luse. At a dinner afterward, historical memorabilia from 1947 to 2022 were displayed, including a copy of the original Georgetown Council charter with the names of the original 54 Knights who started the council; the charter for the Georgetown Council's original Columbia Squires Youth Group in 1949; various Supreme Office Columbian and Star Council awards over the years; pictures of past Grand Knights (including the first, Greg R. Duffy and our S.C. State Deputy Frank L. Davis); pictures of Knights, family members and activities over the years; and most recent Council awards, including the 2022 S.C. State Columbus Hope Platinum Award for the highest achievement over our fund raising target.
Adding further to the display was a letter of congratulations for Council 3067's anniversary from new Supreme Knight Patrick E. Kelly, which was presented that night by S.C. State Deputy Paul Burchell to Grand Knight Bob McMahan. The final member of the 1947 charter group to pass away ― Peter A. Thomas, who died in 2016 ― and Angel Khoury, (wife of Kelly Khoury) who died in 2021, were also memorialized.
We thank all those who worked to make this celebration memorable and those who participated with us.
---
Colin Peterson is the financial secretary for Knights of Columbus Council 3067.