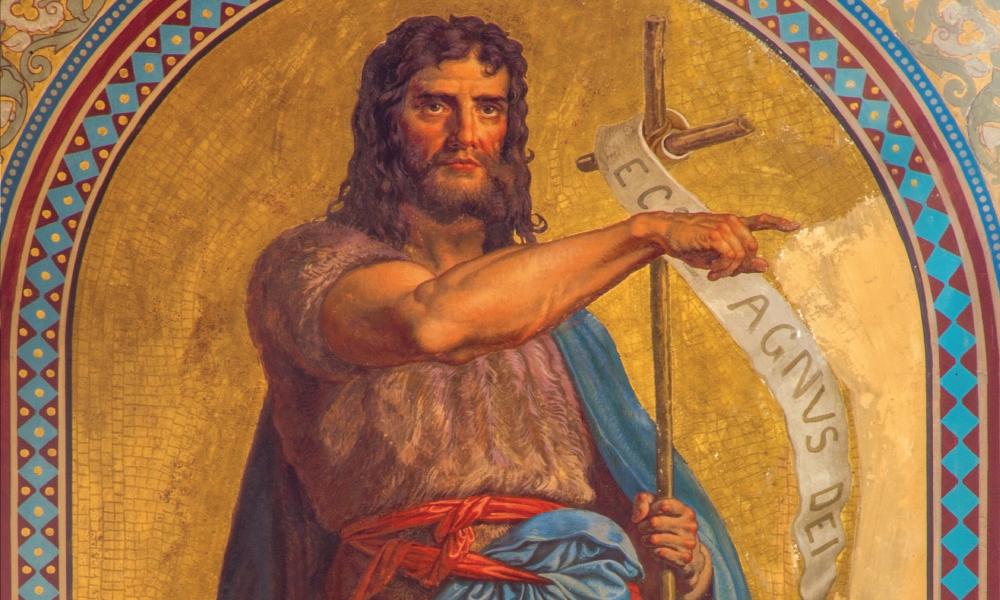 Photo by Getty images/sedmak
---
St. John the Baptist
The patron of fidelity and souls in the spiritual desert
When I was single, I heard a sermon about St. John the Baptist that made me long to get married on Aug. 29, the day his death is celebrated (officially the memorial of the Passion of St. John the Baptist). The priest pointed to the fact that John had given his life for defending the sacrament of marriage by denouncing the union between Herod Antipas and Herodias.
From that moment, I began to read more about his character, which was a sign of contradiction for his time. It's surprisingly very similar to ours despite the thousands of years that have passed. The part that strikes me most about St. John the Baptist is precisely what Jesus says about him, found in chapter 11 of Matthew's gospel. It is worth reading that short passage (11:1-15), but here I'll quote the phrase that has cost me the most to be able to understand: "Amen, I say to you, among those born of women there has been none greater than John the Baptist; yet the least in the kingdom of heaven is greater than he" (11:11).
If this phrase had been said before Jesus was born, it would be much easier for me to understand it, because without having Jesus in the picture, it is easy to imagine that he was the greatest of men born of women. But Jesus was already born when he says these words, and since he is the Messiah, he should be the greatest. That confused me quite a bit. Also, the way he ended that sentence made me even more confused.
There are two images that have helped me understand a bit the meaning of his words: the first is that of a backhoe and the second is the newborn Jesus.
A backhoe is bigger than an ordinary vehicle; it is designed to pave rough and stony roads. An ordinary car is not designed to do this, since its purpose is to travel longer distances faster. Just before Christ's words in Matthew, he quotes the Old Testament saying, "This is the one about whom it is written: 'Behold, I am sending my messenger ahead of you; he will prepare your way before you'" (Mt 11:10).
For this reason, I imagine the Baptist being the backhoe that paves the way for Jesus, who, in his humility, prefers to cross the long distances between many hearts and his without much noise or pomp — as a large and powerful backhoe would do.
Now, who is the least in the kingdom of Heaven? I confess that from my mundane logic I always thought that the smallest would be the least virtuous soul, or in other words, the "less worthy" of the heavenly banquet. However, divine logic points to something else: the newborn baby Jesus is, to a much better degree, the smallest in the Kingdom of Heaven. After all, to enter the Kingdom of Heaven it is not necessary to be superior, but to be like children.
If we want to live as true Christians, we will inevitably be a sign of contradiction. When we are in a period of trial, temptation or even going through a spiritual desert or a dark night, let us remember the figure of John the Baptist, who has become one of my favorite saints. Now that I'm married, I go to him a lot, especially to keep my husband and me faithful as a couple. In our times, those of us who have been called to commit ourselves to a particular person or vocation, and who yearn to persevere to the end, will find ourselves at odds with a culture that professes the opposite — the easy, fast, comfortable, most satisfying and pleasurable way. With our strength alone, it would be very difficult for us to reach the end of our lives with the crown of victory.
Let us confidently ask for St. John's intercession for us. He can help us when our hearts need a backhoe so that Jesus can get closer to us. He can teach us to serve and adore Jesus as a child, which is one of the greatest graces a soul can receive. St. John the Baptist can teach us to remain faithful to our vocation, whatever it may be. He lived in the desert, and if we are going through one on a spiritual level, we have reason to rejoice because, surely, we will find him there by our side.
---
St. John the Baptist is the patron of the Diocese of Charleston, and the feast of his nativity is June 24. Bishop Jacques Fabre-Jeune, CS, wrote that this feast is one of great joy for us, therefore, he will celebrate Mass on Sunday, June 25, at 11:15 a.m. at the Cathedral of St. John the Baptist in Charleston. All are invited to attend so that we may pray as one family in faith for the intercession of our patron.
---
Cristina Umaña Sullivan is a cultural sociologist who has dedicated herself to evangelization for more than 10 years, specializing in Theology of the Body and identity creation from a Christian perspective. Email her at fitnessemotional@gmail.com.