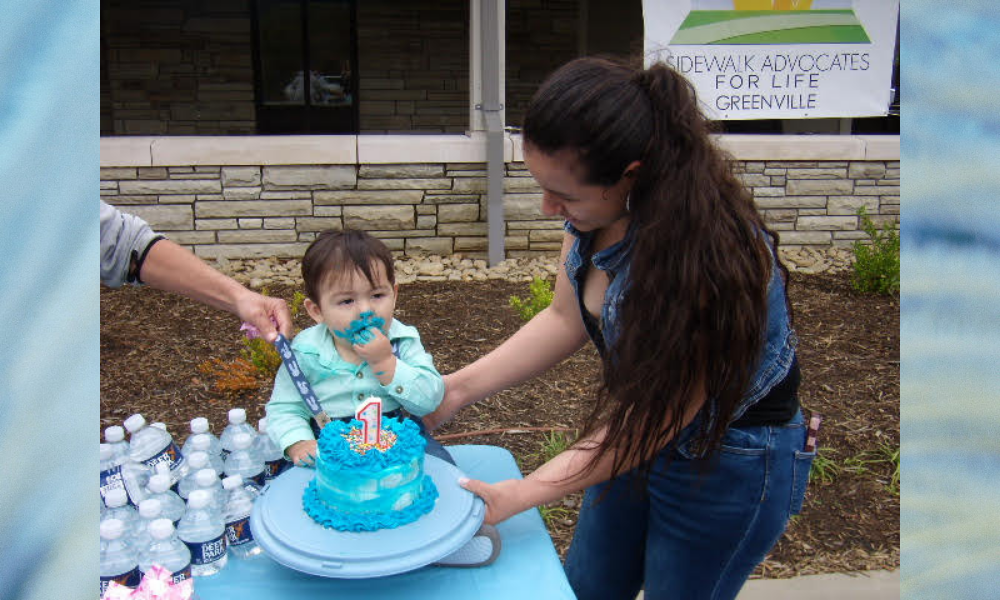 ---
A Sidewalk Advocates' Prayers are Answered
If it wasn't for Sheila Miller's prayers outside an abortion clinic in Greenville, baby Liam Hernandez may not be here today. And if it wasn't for the abortion clinic not accepting Lesli Hernandez's credit card, forcing her to go back out to her car for cash, she may never had met Sheila.
When Lesli walked out of the clinic to get cash from her car to pay for the abortion, she came across Sheila, praying for the unborn. Sheila is with the Sidewalk Advocates and at that particular time, she was there praying during the 40 Days for Life celebration which happens every fall.
Sheila said that Lesli asked her why she was praying there. They spoke for a bit and then Sheila offered Lesli help. Lesli speaks little English and mostly requires a Spanish interpreter. As fate would have it, there was an interpreter there that day who spoke to Lesli and sent her to Birthright, an organization that helps pregnant women in need. At Birthright, Lesli got an ultrasound so she could see the baby's development.
Lesli ended up changing her mind on terminating the pregnancy and little Liam was born in the spring of 2020.
None of this could have happened though without support and it wasn't just during the pregnancy that Lesli needed aid and assistance.
Lesli needed support even after Liam was born with bills and other resources, like help with finding a job.
The Catholic Charities stepped in and became Lesli's financial advisor helping her manage her income and expenses.
Valerie Baronkin, leader for the 40 Days for Life campaign in Greenville, said, "Lesli was able to support herself and her children. She has a 9-year-old son too."
The help did not stop there. Sheila and the Sidewalk Advocates still check in with Lesli, a year and a half later. At press time, Lesli was off of work due to a positive COVID diagnosis and an injury.
"She lives paycheck to paycheck, but we are here for her. We will not let her feel alone," Baronkin stated. "We have been bringing her food, vitamin D and vitamin C while she has been sick."
Probably the biggest help Lesli received from the 40 Days for Life program and the Sidewalk Advocates was a baby shower after the birth of Liam.
"We held a baby shower for several of the new moms that had at first sought out an abortion. Lesli was one of them," Baronkin said.
Lesli attended the baby shower in the fall of 2019 when she was pregnant during the 40 Days for Life fall closing celebration. At the baby shower held for new moms in the spring of 2021, they celebrated Liam's first birthday with cake and birthday presents. "It was all so unexpected," Lesli said through her interpreter, Rocio Fernandez. "I couldn't believe it. There were so many special gifts to help me live independently. I was very grateful."
Baronkin continued, "There were eight moms at the shower in the spring of this year. We managed to get some pretty big items donated to give them like car seats, cribs and bouncy seats."
Baronkin made sure to reiterate that none of this could be done without the power of prayer. "The basis of our ministry is prayer. God answers prayers. He brought Sheila and Lesli together for a reason and that reason is Liam."
Lesli's advice to moms that may be considering an abortion but aren't sure is: "Stop and listen to those that want to help you. Don't have an abortion."