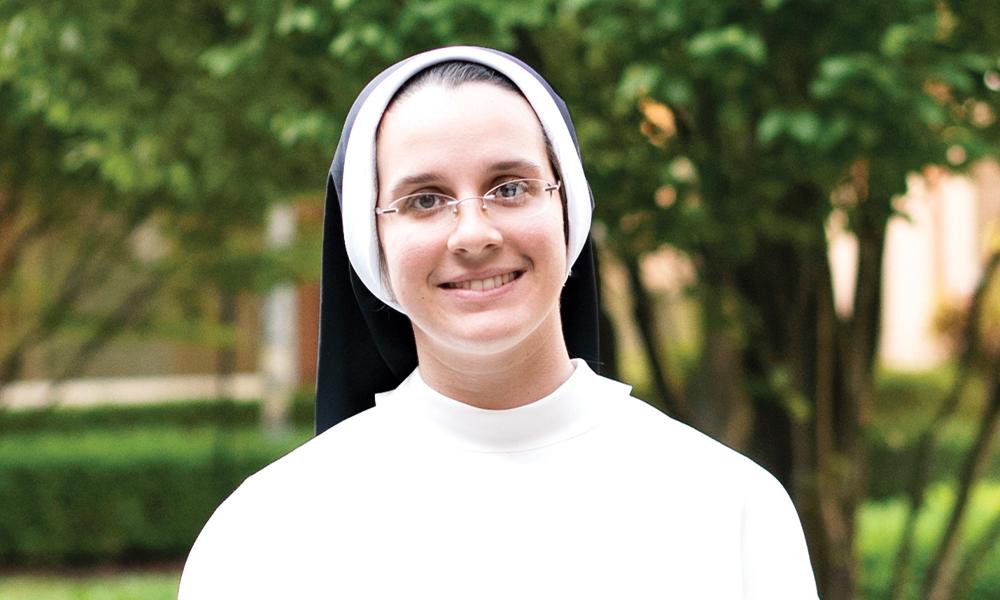 ---
Love, Joy and Commitment
Accepting the Call to Religious Life
Every time I meet a Catholic religious sister what strikes me is the joy they exude. They laugh and smile often, and seem to be free from worry and stress. I often think, what's their secret?
Popularly called nuns, the religious sisters of today are a far cry from the religious sisters our grandparents would tell us about when they were young. Perhaps you were told a story about a nun who was strict at their Catholic school or maybe your grandparents warned you about the women religious that would watch you if you weren't paying attention at Mass.
I've never come across a sister that fits that age-old stereotype, and I'm pretty sure I never will. The religious sisters who have been placed in my path are some of the most lovely people God has created.
There is something mystical about women in religious life. It's fascinating to hear their inspirational stories of the "calling" they received from God, and to learn about their rules of life, charisms and ministries. They live strict lives of prayer as they have given themselves to Jesus Christ and consecrated service to the Church. Chosen by God, these women accept the vows of poverty, chastity and obedience. Whether younger or older in age when taking vows does not matter: it's a commitment for life, one that brings with it immense love.
These women are a part of the increasing number of young women who are discerning the call to religious life.
Sister Therese Marie
Although nationwide statistics would prove otherwise, the state of South Carolina was happy to report an uptick in younger religious sisters taking vows in 2021, one of which was Molly Rusciolelli of Indian Land. A parishioner of Our Lady of Grace Church on Waxhaw Highway, Molly took her vows Oct. 2, 2021, at the Cathedral Basilica of the Assumption in Covington, Ky.
During the novitiate period, a time of prayer and training after the first vows are taken, religious sisters are given a name. Molly received the name of Sister Therese Marie.
Women who become religious sisters choose a specific order, or community, which are defined by their spirituality, rule of life, habit and ministry. Of the thousands of different religious communities worldwide, Sister Therese Marie chose the Franciscan Daughters of Mary out of Kentucky, which serves mothers, children and families. She will be involved regularly in distributing food, operating a medical and dental clinic, facilitating a crisis pregnancy center and conducting other services and outreach to vulnerable and underserved populations.
In addition to the vows of poverty, chastity and obedience, Sister Therese Marie also took the vow of upholding the dignity of human life.
In a press release sent out by Our Lady of Grace, Sister Therese Marie's mother said, "It is very gratifying to see her living out her vocation and following God's will for her life. It has been a joy to watch this unfold and we are excited to see how God will continue to work in her life."
Sisters Catherine Rose & Susanna
From the Upstate at Prince of Peace Church in Taylors, Samantha Johanning was clothed as a cloistered nun and given the new religious name Sister Catherine Rose of the Immaculate Conception on May 1, 2021. She is now part of the Carmel of Jesus, Mary and Joseph in Fairfield, Pa.
And then there was Sister Susanna who joined the Order of St. Clare, or Poor Clares, on June 11, 2021, in Travelers Rest.
In the Poor Clare's summer newsletter, Sister Susanna said it was "a tremendous grace to make such a promise and vow to God, and to do so during Mass, kneeling next to the altar, and placing my hands in those of our abbess, Sister Nancy."
Sister Alma Marie
Sister Alma Marie Learner, OP, from the Basilica of St. Peter in Columbia, became one of the Dominican Sisters of St. Cecilia in Nashville, Tenn. She explained that her calling was not right away or exactly obvious at first.
"I began to consider religious life when I was in high school," Sister Alma Marie said. "I had always admired the life and example of Mother Teresa and knew she was a religious sister, but I thought that becoming a sister was something only really holy people did. When I was a junior in high school Sister Maris Stella, a Dominican Sister of St. Cecilia, came and gave a very brief talk about being a religious sister ... I was struck by her witness because she was young, wearing a habit, and she was incredibly joyful. I remember thinking, 'Whatever she has that causes her to be so joyful, I want that!'"
She said that after she went to college, she began going to daily Mass and spending time in silent prayer before the tabernacle.
"I didn't even know what prayer was supposed to be, but I remember Mother Teresa saying in prayer we should go and sit in the silence and allow the Lord to speak to us and just be with him. So that is what I did."
After about three months of sitting in silence, she read the scripture passage where Jesus asks Simon Peter, "Do you love me?" and like St. Peter she would answer "Yes, Lord, you know that I love you."
"One day it dawned on me," she said. "'Oh you want me to love you! That is my mission!'"
After that, she went to a vocations retreat with the Dominican Sisters of St. Cecilia and said she loved every moment.
"I felt at home and each of the sisters was just as joyful as Sister Maris Stella but each in their own way," she said. "I thought maybe this joy could be for me too."
However, it still took Sister Alma Marie some time before she fully answered the call.
"I had this idea of wanting to be a physical therapist, do research to help children who had muscle wasting diseases and have a large family of my own. When I was about to apply to physical therapy programs as a senior in college, I again began to feel the tug and think, 'What about becoming a sister? Why am I putting this off?'"
She stopped at that moment, left the computer and drove to the nearest church. Looking at the tabernacle, she said, "I knew that whatever my vocation would be I should be seeking the deepest desire of my heart. After that I began the process to enter the Dominican Sisters of St. Cecilia, and I entered the Feast of the Assumption in 2014."
She added that her community is blessed by several new postulants each year.
"I think that authentically holy lives are very inspiring. Hopefully, it is the witness of the joyful religious striving for holiness that are inspiring youth to make their lives a gift to God because it is in doing so that ultimately will make them happy and free," Sister Alma Marie said.
---
Theresa Stratford is a freelance writer for The Miscellany. She lives in Charleston with her husband and three children and attends Blessed Sacrament Church. Email her at tmmart89@gmail.com.