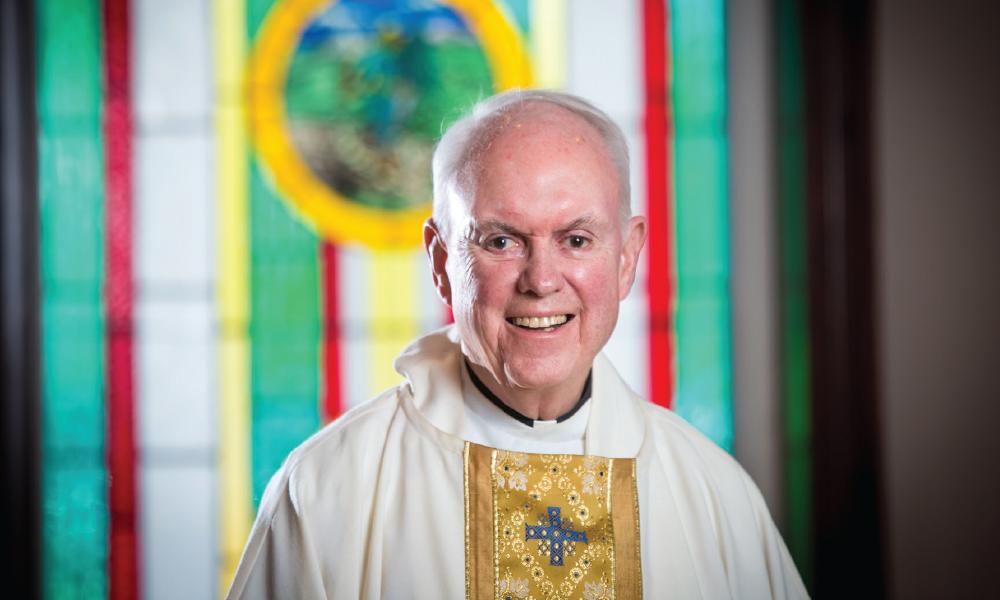 ---
Father McDevitt Reflects on 50 Years as a Priest
For Oratorian Father Edward McDevitt, a strong community is the key to strong faith.
He recently celebrated 50 happy years of priesthood with a variety of events, including Mass at All Saints Church in Lake Wylie with people he has served, plus a festive dinner at a local country club.
"Father Ed has a knack for bringing people together," Father John Giuliani, pastor at All Saints, said. "His Irish wit and his genuine love for people lead them to want to help and support him in whatever is needed."
A Massachusetts native, Father McDevitt was raised in a devout Irish-Catholic family. He was ordained April 16, 1971, in St. Theresa Church in Boston.
Although the northeast was his home, Father McDevitt said he felt a call from the beginning of his priesthood to serve in mission territory.
His first mission assignment was in the Diocese of Montgomery, Ala., where he served as a pastor, a chaplain for a convent of cloistered nuns and taught at a Catholic high school and Troy State University.
After 20 years in Alabama, Father McDevitt felt the call to join a religious community. His devotion to St. Philip Neri led him to the Oratory in Rock Hill and he realized it was the place for him. He transferred permanently to South Carolina in 1991.
"What makes community life special at the Oratory is we have a special common goal every day," Father McDevitt said. "We have community prayer, we share meals together, and we basically support one another in everything. If you're sick, if you want to go on a vacation, you always have someone who is willing to step in and help fulfill the duties at your parish."
The Lake Wylie community is near and dear to Father McDevitt because it was one of the first places he served after joining the Oratory.
He has been pastor of Divine Saviour in York, pastor at All Saints twice and served at St. Philip Neri in Fort Mill. Currently, he is part-time parochial vicar at All Saints, where he led an effort to build the parish life center. Recently, the parish revealed his portrait that will hang in the center in his honor.
Father McDevitt is touched that parishioners want to help him celebrate, reinforcing his deep love for the people he serves.
"Over the past 50 years, I've developed a tremendous love and respect for the laity," he said, noting that their respect and support is essential.
"Parishes couldn't function without their talent," he said.
That respect is returned in spades, as members of All Saints emphasize their affection for the man they call Father Ed.
"He is the most understanding and respectful priest," Jane Brzoska said. "Father Ed can be a lot of fun, and at the same time he is so caring, can be serious and get so much done."
Linda and Lance Landgraf have known Father McDevitt since joining All Saints in 1994.
"When my husband decided to become a Catholic, he wanted Father Ed to bring him into the Church," Mrs. Landgraf said. "He's such a special priest who means everything to our family."
---