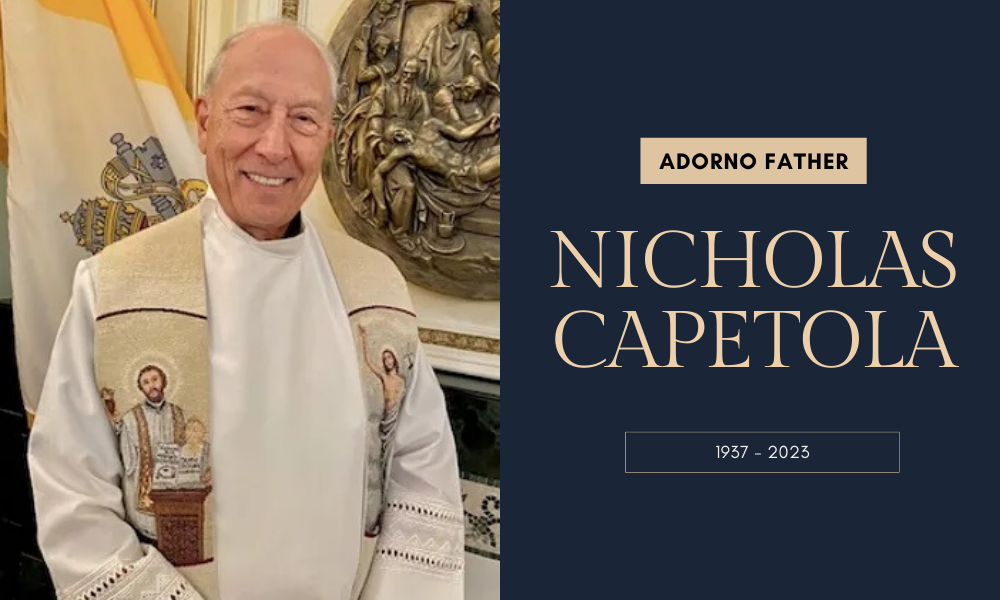 ---
Adorno Father Nicholas Capetola dies at 86
Father Nicholas Capetola, CRM, died May 21 at age 86. He was a priest of the Adorno Fathers for 61 years.
Father Capetola was born in Roccamontepiano, Abruzzi, Italy. He received his perpetual vows on Jan. 2, 1960 and was ordained a priest May 26, 1962. 
The Adorno priest earned a bachelor in philosophy from the Pontifical University of Saint Thomas Aquinas (Angelicum) in Rome and a bachelor in sacred theology from St. Francis Seminary in Loretto, Pennsylvania.
He served at St. Joseph Church in Lodi, New Jersey, until he came to South Carolina in 1989 to serve the Catholic community in Goose Creek. Father Capetola was the first Adorno priest in the state, and he served as pastor of Immaculate Conception Church, from 1989 to 1996, during its construction and dedication.
In addition to his ministry in the Palmetto State, he worked as the first superior and rector of the Adorno seminary in the Philippines. Father Capetola also served at St. Michael's House of Studies in Ramsey, New Jersey.
A Mass of Christian burial will be held at St. Joseph Church, 40 Spring St. in Lodi on May 27 with burial at Mary Rest Cemetery in Mahwah, New Jersey.
In South Carolina, a memorial Mass will be held June 6 at Immaculate Conception, 510 St. James Avenue in Goose Creek.