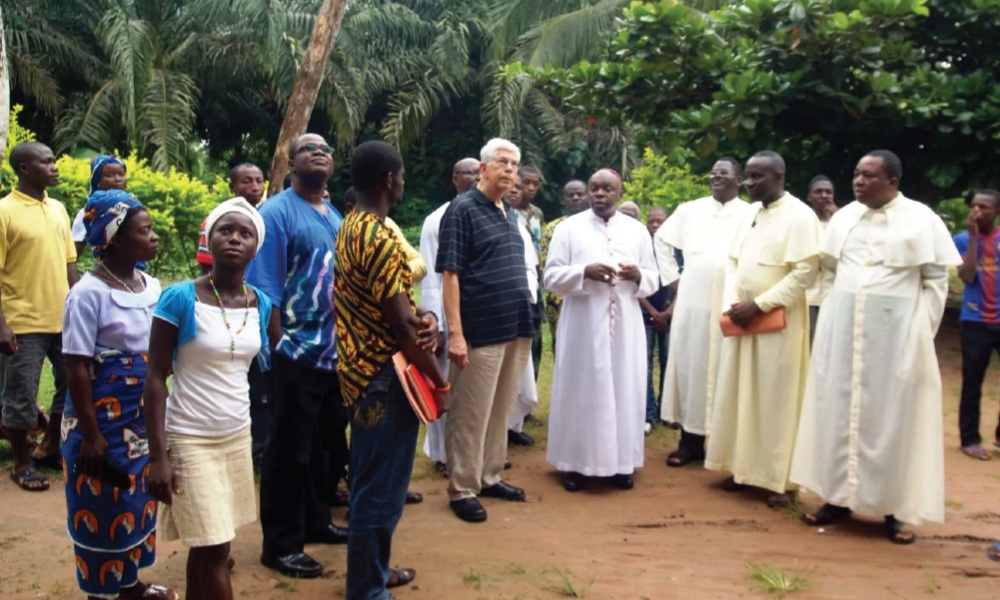 ---
World Mission Sunday
Mission work defines a priest. Msgr. Edward Lofton believes that because he has lived it.

"If you really want something to gel your priesthood, go do missionary work. This is what being a priest is all about," Msgr. Lofton said, and he would know.
FIJI
Fiji is a collection of volcanic islands in the South Pacific. Missionaries brought Catholicism to tribal villages in the 1800s.
Msgr. Lofton, diocesan director for the Society for the Propagation of the Faith, has journeyed there many times to pray, celebrate Mass and help Fijian islanders rebuild a crumbling church constructed by missionaries that predate him. He said he was floored by the faith of the villagers, and that every village wants a church.
So the now-retired priest has rolled up his sleeves and gone to work. Msgr. Lofton has raised funds and helped build six churches on the islands. Why? Because he believes in them. He said he sees the Holy Spirit lifting the faithful there a little bit more every day.
"God's kingdom develops in the family," Lofton said. "Fiji is still very much tribal and villages are family oriented. They don't have a whole lot," he added, but nobody wants for anything either.
"There's no orphans over there. There are orphaned kids, but the village takes care of them," he said.
"You wonder, and then God gives you the answer," Msgr. Lofton said. One tribal chief even thanked him for bringing Christ to their village.
"This is what being a priest is all about," he added.
Missionaries cared enough to spread God's word to the four corners of the Earth — even to an archipelago somewhere in the Pacific.
"They are very proud of what Christianity has taught them. You keep developing them because faith is what changes them," he said of the islanders. 
It works and the priest wants to expand the church in Turtle Village on Vanua Levu, the nation's second-largest island.
"It just produced three seminarians and a deacon," he said.
He wants to finish renovating a church and a gymnasium in Taveuni, Fiji's third largest island. The parish was built in the 1940s and is showing signs of rot. It needs strong doors to keep the weather out, and Msgr. Lofton is hoping they will be made of sturdy mahogany.
The gymnasium, meanwhile, is 50 years old and is cracking. It needs significant repairs so that when hurricanes pummel the island, it will be the safest place to ride out the high winds and slashing rain.
INDIA
Helena Moniz is the coordinator of the program. She and Msgr. Lofton are a two-person team when it comes to diocesan missionary work.
She sees in India what the priest has discovered in Fiji: people in developing nations have latched onto Catholicism and put it at the forefront of their lives.
"I've been to India eight times," Moniz said.
When she goes, she teaches. Parents in India use the Catholic Church as an opportunity to educate their children, and that makes a huge difference.
"One of my former students is now a teacher," Moniz said. Another is in nursing school, she added. That would not have been possible without fundraising efforts back home in South Carolina. The education includes lessons about God, Jesus and the Holy Spirit.
"Our goal is eternal life with Christ," Moniz said. "We want to teach them that God is there for them. We want them to know this."
And the word is spreading. Moniz said eight men in Dharmasagar, India, have been ordained. That is education and faith taking hold.
SOUTH CAROLINA
So when a missionary from a developing nation comes to one of our parishes and describes life in these villages, please be generous because these funds are changing lives. Moniz said every penny goes directly to the missionary and his project.
"We know who to send the money to. If we don't think we can get it there, we won't have that missionary come and speak," she saId.
Priests from many countries in Africa, and from places like Fiji and Colombia, have come to South Carolina seeking crucial funding. Some even minister here.
Moniz speaks to parishes about overseas projects, displaying photos of life in India, Nigeria or Nepal so that part of the world comes alive for listeners.
"I take pictures of churches in India, and I hang them up in Charleston. Then I take pictures in South Carolina, and I hang them up in India," she said. "We are one, universal Church."
Missionaries not only educate, but also teach people how to pray.
A missionary's "purpose is to educate and to inspire," Msgr. Lofton said, adding that if you don't have prayer, you don't have anything.
Prayer works in India. Moniz sees people helping others without being asked, and it moves her heart.
"People who are in dire straits are helping others in even more dire straits, and that's what draws me back," she saId. "Children would share a pencil that is two and a half inches long, and it would go around the room. They feel that they have a responsibility, and they feel that they are all brothers and sisters." And not just in India, she added, but all over developing nations.
"That's why we want to bring missionaries into the parishes" in our state, Moniz said, so they can see people living the word of God.
The diocesan missionaries said they need help in spreading that word. Moniz is 71, and Msgr. Lofton is now 78. They would love someone with fresh ideas to step up.
"Hopefully they will get someone younger with more energy," she laughed.
And anyone who participates will discover that mission work truly matters; they will be humbled by the flocks they serve.
---
World Mission Sunday is Oct. 22 this year. Masses are celebrated exclusively for missionary activity, and donations are collected worldwide to support churches, hospitals, schools and vocations in countries where the Church is new, young or poor. Visit propfaithcharlestonsc.com.