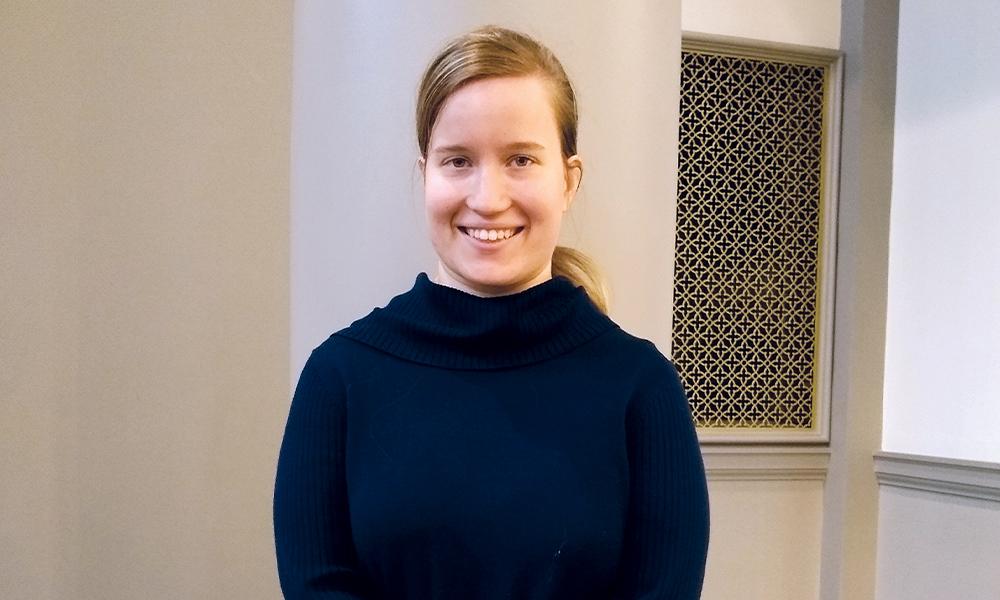 ---
Working Toward Holiness and Healing Others in Discerning Religious Life
My name is Anastasia Pierce. I was born in Russia and came to Aiken at age three when I was adopted, along with my sister Olga, who was two at the time. We also have two older brothers, and I am one of four adopted siblings. We attend St. Mary Help of Christians Church, and the parish family has always been part of our lives, including my father's service as a permanent deacon for as long as I can remember.
For most of my school-age years, my mother home-schooled me. It helped me appreciate the quiet and develop a relationship with God. After high school, I became a certified nursing assistant (CNA) and worked at a rehabilitation facility. I am currently finishing up studies to become a certified pharmacy technician.
As much as I enjoy doing things with my siblings, I was very different from them. I loved to read and play the piano, and even learned to play the organ. For several years, my mom and I visited residents in an assisted living facility — I loved getting to know the elderly. When I was in high school, I accompanied my piano teacher to a nursing home for weekly Bible studies and music sessions for the residents to brighten their day.
In my early teens, religious life became more of a recurring thought. Being an altar server helped develop a love for the Mass. I was also blessed to be involved in our youth group and would strongly encourage every young person to do the same. I was very blessed to attend many conferences, including the National Catholic Youth Conference in 2013 and 2015 and World Youth Day in Poland in 2016. It was great to meet other Catholic youth and see that following Jesus in the world could bring fulfillment and joy.
In 10th grade, I began to be sincerely open to the idea of a religious vocation since I did not feel called to marriage even at a young age. Although marriage is a beautiful vocation, and I have been surrounded by many family members and friends with healthy marriages, I never felt called to it. Through prayer, I realized that I was being called to a more exclusive relationship with Jesus.
I began attending daily Mass and praying the Divine Office to help deepen my prayer life. I also got a spiritual director to aid me in my discernment, something anyone discerning a religious vocation should do.
By my senior year of high school, I was able to say, "Yes, I have a vocation," but I was not sure where. I visited many convents and attended various discernment retreats over several years, but God's plan was still closed to me.
It became clearer when I visited a couple of religious orders that had medical apostolates, since God gave me a love for the medical field. That encouraged me to make several visits and spend over six months discerning with the Little Sisters of the Poor, whose mission and charism involve caring for the elderly. This included working five months at the congregation's home in Mobile, Ala., as a CNA.
My five-month stay with them was a time of deep discernment for me. When not caring for the residents, I spent hours in the chapel. My awareness of God's presence was growing. Although I loved the apostolate, I felt in my prayer that I was called to a community that was more contemplative and had a greater element of communal prayer.
I was sad to leave Mobile because I had no idea where my path was heading, but God is always faithful. After visiting a few contemplative convents, even though I loved their life, God directed me to the Carmelite Sisters of the Divine Heart of Jesus. It was a complete answer to my prayer. Their apostolate is service in the medical field to the elderly in nursing homes and taking care of intellectually challenged women, primarily focusing on spiritual needs. The Carmelites live a structured, communal life centered on contemplative prayer and the Divine Office.
I began communicating with the sisters of the Northern Province in Michigan in August of last year. After visiting their home in December, we concluded that God wants me to devote my life to him with the Carmelites.
God answered the prayer I made in sadness before leaving the Little Sisters of the Poor in Mobile. It is being answered amid much joy.
Now, at age 24, I cannot wait to begin the work God has planned for me with the Carmelites. I am thankful for my family, friends and all those at St. Mary for their endless support throughout my vocation journey.
---
Anastasia Pierce entered the Carmelite formation house in Wisconsin as a postulant Aug. 4.