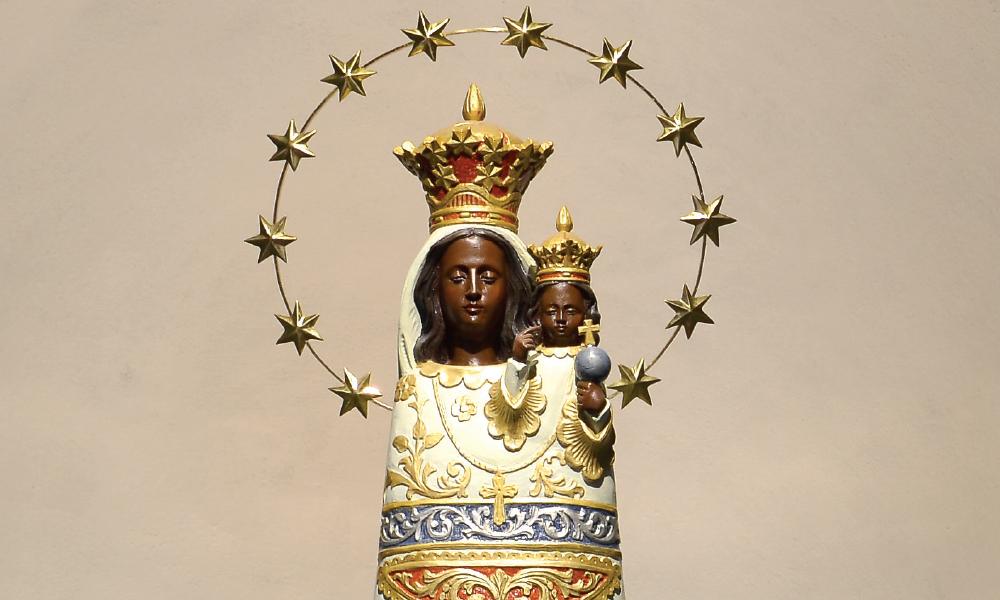 Black Madonna from Wrocław, by Pudelek (Marcin Szala), CC BY-SA 4.0, via Wikimedia Commons
---
A woman for all seasons — and all reasons
Our Lady of Guadalupe. Our Lady of Czestochowa. Our Lady of Knock. Our Lady of La Vang. Our Lady of Kibeho. Our Lady of Lourdes. Our Lady of Fatima. The list goes on. The Blessed Mother's titles, devotions to her and stories of her apparitions span continents. Catholics realize how central the mother of the Lord has been in the story of salvation history.
She links Old and New Testaments, and she is foundational to our doctrine of the Holy Trinity: called by the Father to be mother of the Messiah, intimately linked — by flesh and blood — to the Son, and bonded to the Holy Spirit, whom we call "Lord and giver of life," in the conception of Jesus and the events of Pentecost, at which she was present.
 When I was in Catholic grade school, we had October rosaries, May altars and processions. Yet, I don't think that I internalized the importance of Our Lady or her closeness. It wasn't until I was a young adult — and a frequent visitor to the Philadelphia Museum of Art — that her reality struck me. I found myself transfixed by Henry Ossawa Tanner's painting The Annunciation. 
There she was, a simple Hebrew girl, seated on a primitive bed in bare surroundings, staring at a rather undefined being of light (Gabriel) and bowing her head in what seemed like assent. Somehow it hit me: she was young, devout, believed that the Messiah would come, and she was open to God's invitation. She was full of grace. People sometimes are amused when I say that I have to make another pilgrimage to the museum made famous by Sylvester Stallone and his run up the stone steps in Rocky, but finding my way to the room where Tanner's artwork is on display always stirs my soul.
The effect is rather like that recounted in a book that the Catholic Book Club at St. Gregory the Great Church recently featured. Entitled The Virgin Mary Across Cultures, it looks at how Costa Rican Catholic and Finnish Orthodox women revere Mary. In the book, author Elina Vuola recounts how even the least catechized and poorest of women find in Mary someone in heaven who understands them. They talk about how they turn to her in every hardship, in pregnancy, in the heartbreak of miscarriage, when their marriages or families or children are in trouble, and in times of civil unrest and injustice. In popular parlance, all of the women Vuola interviewed seem to say "She gets me." They have a sense that Mary understands the blessings and burdens that women bear.
But that isn't all. I have seen over time how many clergy — bishops, priests, deacons — have a special devotion to Mary. And of course laity do. From the imparting of Mary to the care of St. John and her identification as "mother" to him, the Church has seen her as the mother of the faithful, the mother of the Church. We invite and invoke her. She is the special friend in heaven who has, as biblical scholar and convert Jeff Cavins has pointed out, the influence classically understood to be held by one who is the Queen Mother.
Every culture represents her in its own image and likeness. An anonymous Polish painting depicts a fair-haired, light-skinned Mary hanging clothes. In Mexico she looks not like a Spaniard but like one of the native peoples. In Vietnam, she is east Asian. In Rwanda, her skin is dark brown. There are Choctaw and Navajo madonnas who look Native American. She is mother of every class and every race — sometimes adorned with brocade and jewels and crowns, sometimes wrapped in less than elegant garb and sitting in a barely decorated room or cuddling an infant protectively as the "Madonna of the Streets."
The familiar Litany of Loreto hails her in elegant titles: Mystical Rose, Tower of Ivory, House of Gold, Queen of All Saints — surpassingly glorious. But it also calls upon her as Health of the Sick, Refuge of Sinners, Comfort of the Afflicted, Help of Christians, Queen of Peace — the one to whom the most desperate of people can turn. 
Belief in the importance of Mary in our lives is very basic. She is the biblical figure present at the conception of Jesus, and she is there amid his burst into ministry, at his crucifixion and following his resurrection; she is in the upper room with the Apostles. Our credal statement of belief in the communion of saints points to our close relationship not only with living members of the community of faith but also with those who have gone to God.
The Council of Ephesus in 431 A.D. declared the validity of calling her Theotokos, the God-bearer, Mother of God. There obviously was significant popular devotion to her, because historical accounts of that council speak of parades and demonstrations in the streets that led to that declaration. She lived in time, but we also are assured that she lives beyond time — a mystical universal figure who continues to care for us.
Not surprisingly, a number of events will take place all around the diocese in May. One of them, hosted at Mepkin Abbey, will be the performance on May 7 of Mary, an Oratorio, composed by Cormac O'Duffy. He is the music director at St. Theresa the Little Flower Church in Summerville and has performed, composed and conducted internationally. I expect this oratorio to be as moving as Tanner's painting in Philadelphia. It will be another example of the universality of the Mother of God: she appeals to an Irishman now living in South Carolina just as she appealed to Tanner, the African American son of a Protestant minister.
Music, sculptures, paintings, literary works, prayers — all of these reflect admiration of Mary. Whether these icons of love end up being masterpieces or are as simple as my Grandma Smith's glow-in-the-dark rosaries, they testify to how much an unassuming Hebrew girl has meant to all people for millennia.
---
Sister Pamela Smith, SSCM, Ph.D., is the diocesan director of Ecumenical and Interreligious Affairs. Email her at psmith@charlestondiocese.org.