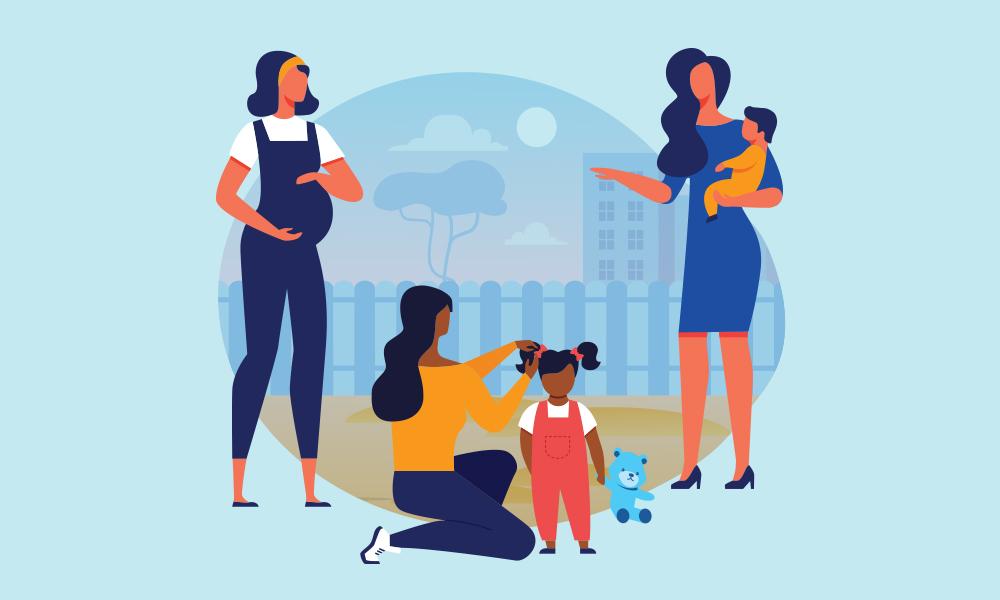 ---
Walking With Moms in Need
Some Folks Say It Takes a Village to Raise a Child.
Annette Burgess is counting on that. She says it takes a caring community to help a scared, pregnant woman bring her baby into this world and then give that young family a chance to thrive.
Burgess is in her third year leading Respect Life at Our Lady of the Rosary Church in Greenville. Now, she also is spearheading a parish program designed to lend a guiding hand and offer resources to pregnant women or new mothers feeling overwhelmed. It's called Walking With Moms In Need.
"We are here if you are feeling alone," Burgess said. "This is not just for unexpected pregnancies. It also is for mothers who are divorced and struggling. We want to be there for them, too."
Now that the U.S. Supreme Court has overturned Roe v. Wade, Burgess and volunteers have stepped up to walk the walk alongside pregnant moms.
The team has organized a thick binder full of helpful resources — community resources from all across the city.
"I'm surprised how many food banks we have in Greenville." There is one "almost every day of the week," she said.
This includes the food bank that San Sebastian Mission offers every weekday morning.
Hispanic women at San Sebastian also have volunteered to help break the language barrier for undocumented women who need a friend and support.
Burgess said women were able to help translate and assist others in filling out forms to obtain crucial benefits, such as WIC for shopping essentials like eggs, milk and formula.
"Medicaid is the first door. Once a girl is on Medicaid, she can have her labor and delivery paid for. She also has free access to rides for medical appointments," Burgess said.
Those resources are dependent on certain financial levels and needs, Burgess added, but they will never be available unless women fill out the proper forms. This is where many women need help, she stressed.
Another incredible resource, the Nurse-Family Partnership, pairs nurses with expectant mothers. The medical professional will stay in touch with that mom for two years, which can ease angst and fear.
And that is what Walking With Moms In Need is all about.
"As we build, we are going to have more people from the parish get involved," Burgess said.
She said that anyone might "know somebody who knows somebody" who can offer specific assistance.
Local contacts could prove crucial. Many services for pregnant women "are out there that they don't know about," Burgess said.
For instance, 40 Days for Life throws a baby shower in spring and fall for expectant mothers who had been considering abortion but made the choice to keep their babies, Burgess said. Their gifts can include a crib, clothing and even a stroller or car seat, something a new mother can really use, she said.
The Diocese of Charleston also has St. Clare's Home in Greenville County. The home offers women in crisis, who are pregnant or new moms, safety, parenting and life skills and the opportunity to further their education.
Babies help people grow up, Burgess said. "It's not until they have that baby that it's like, 'Wow!'"
One woman told Burgess that the birth of her daughter inspired her to get her degree and become a nurse.
"I thought, what a blessing," Burgess added, and she wants others to experience that same "Wow!" moment.
And it can happen across the state if parishes embrace Walking With Moms in Need.
"Go to your pastor and say, 'This is our chance to walk the walk and encourage parishioners to join us'," Burgess said.
All it takes is a caring community to share their resources to welcome, and also to raise, a child.
---
FOR RESOURCES or to start a program at your parish, visit walkingwithmoms.com/parish-resources.
---
Joseph Reistroffer is a long-time writer who teaches religious education classes at St. Paul the Apostle Church in Spartanburg. Email him at jrjoeyr@gmail.com.