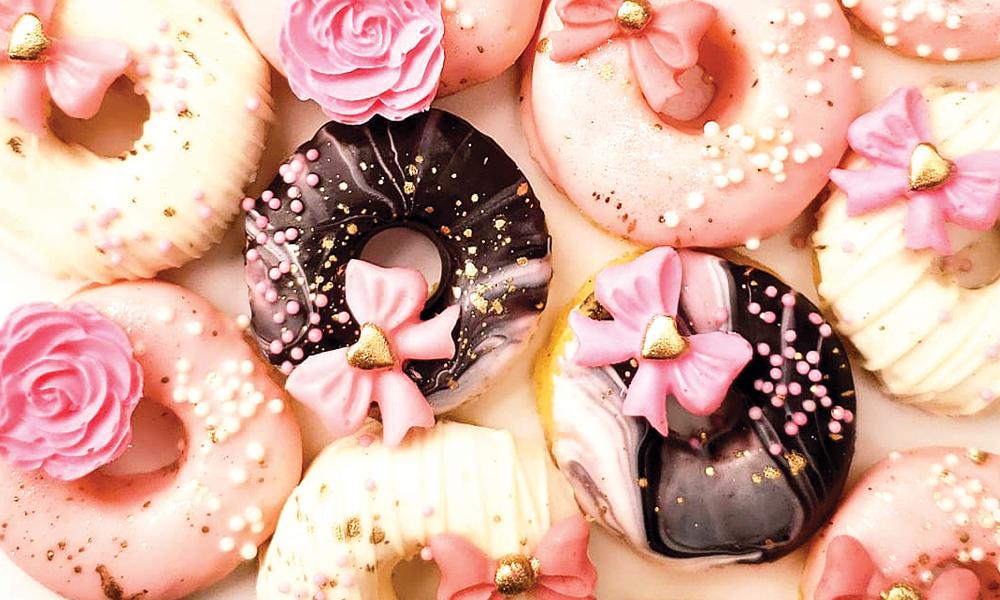 ---
Walking With Moms in Need
The Story of Johneris & Learose
When Johneris Nin found out she was pregnant on Jan. 1, 2017, at the age of 30, she admits that at first she was devastated.
"Even though I always dreamed of having a baby, my circumstances were not good, and I was afraid my life was ruined," she said.
Johneris, who is originally from the Dominican Republic, said that abortion was not an option for her despite her desperate situation. At the time, she was living in St. Mary Residence of New York, located in Manhattan, which offers housing accommodations at below-market rental rates to women, regardless of race or religious beliefs. The residence mostly takes in single women who are continuing their education, beginning their professional careers in New York City or interning.
Unfortunately, once Johneris got pregnant, she had to move out, as it is against house rules.
She sought help and assistance from the Sisters of Life, located only two blocks away. That was when she met Sister Virginia Joy, who also happens to be from South Carolina.
"She offered me support and they helped me move to the Bronx and find an apartment," Johneris said. "I worked three jobs while I was pregnant because I wanted to stay home for three months with my baby."
Johneris said the Sisters of Life continued to support her even after her baby girl, Learose, was born. "They helped me with diapers and offered some financial and spiritual support."
Johneris said she would often go to the Sisters of Life monastery and pray the rosary.
Since Johneris could not go back to working three jobs after she had Learose — one was a bartending position at night — she taught herself how to bake by watching online videos and reading everything she could.
Little did Johneris know that she had a hidden talent for baking, and her business took off in New York.
Then pandemic lockdowns started in March 2020, and since holding events took a hit, so did her business.
It was shortly after Easter when her Bronx apartment was broken into while she and Learose were sleeping.
"They came in on the fire escape. I grabbed my daughter, and we ran out."
Shortly after that incident, Johneris decided it was time to leave New York and find a better life for her and her daughter.
She had visited the Fort Mill area before, and since Sister Virginia Joy was from the Palmetto State, moving to the south seemed like the best option.
But the move wasn't easy for the mom and her now four-year-old daughter.
Johneris got connected with St. Philip Neri Church in Fort Mill and that was where she met Kathy Schmugge, a parishioner plus the senior director of the offices of Social Ministry and Family Life with the Diocese of Charleston. She also met Christy Brown, who works at the church for the Family Life Office.
The program at St. Philip Neri is called Walking with Moms in Need, and women are referred to the church when they need assistance. For Johneris, she was in need of furniture for her new apartment. She had been washing her and her daughter's clothes by hand for two months, so the parish also secured her a washer and dryer.
"If a mother needs any kind of help," Brown said, whether "with rent, a drive to a doctor's office, diapers — anything — we will embrace her and do everything we can to help get her on her feet."
Schmugge explained that many churches throughout the state offer similar services, but do not call it Walking with Moms in Need.
"I know there is a church in the Myrtle Beach area that has a great program that helps moms. There is one at the University of South Carolina, and I know Charleston and Greenville have good programs, but we need more [throughout] the state. Walking with Moms in Need is a great program to start at a parish."
Schmugge and Brown would like for other churches to take on this great service.
"The whole parish can get involved," she said. "I know one parish that helped a mom with home repairs and another one that had toys donated to a family at Christmas. I heard they were actually overwhelmed with the response."
For Johneris, she said she would not be where she is today without their help.
"They even supported my business and hired me to do some events. I feel so blessed. All I have to say to any moms who are struggling right now is that I know how hard it can be. I know you might feel that your world is crumbling around you, but you never know what God has in store. People thought I was crazy to have Learose, and now I couldn't see my life without her.
"I am so thankful," she continued. "I thought my life was over when I was in New York and I lost my jobs, but really my life was just beginning. If it wasn't for my baby, I never would have discovered my hidden talent for baking. Also, I used to be so alone before and now I am not alone. Now I live in this wonderful community.
"God will open doors for you. He will put the right people in your path," Johneris said.
Walking with Moms in Need is also helping Johneris' mother with her immigration status so that she can live with Johneris and Learose.
---
For more information on Johneris's baking business, visit Little Rose Desserts at littlerosedesserts.com — a name inspired by her daughter, little Learose.
---
Theresa Stratford is a freelance writer for The Miscellany. She lives in Charleston with her husband and three children and attends Blessed Sacrament Church. Email her at tmmart89@gmail.com.