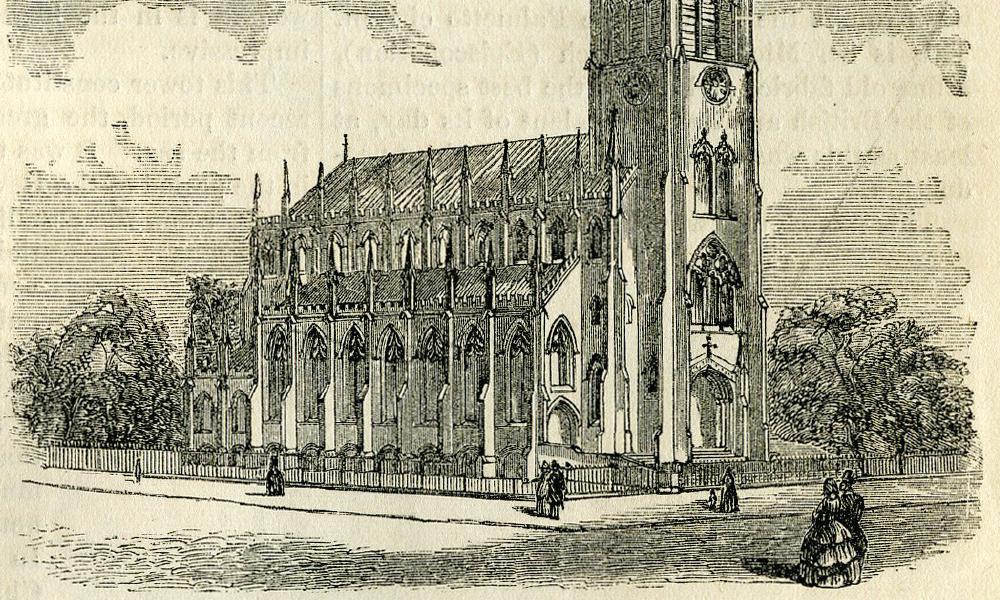 ---
Timeline of the Diocese of Charleston
Photo: An engraving of the Cathedral of St. John and St. Finbar. From the Diocese of Charleston Archives, found in Harper's New Monthly Magazine, 1857.
In the 1600s, when Carolina was still a colony of the English, Catholicism was outlawed. After the American Revolution, establishing the Catholic faith after so many years of exclusion was difficult and often met with hostility.
The first seed was planted in 1788, when a small group of Catholics established a congregation in Charleston, later known as St. Mary of the Annunciation. 
After much turmoil — with the new congregation refusing oversight from Baltimore — Pope Pius VII established the Diocese of Charleston in July 1820, covering North Carolina, South Carolina and Georgia.
The first bishop ~ 1820-1842
The new diocese also received its first shepherd, Bishop John England from Cork, Ireland.
In his 22 years of service, he grew his territory from one church, 10 priests and approximately 5,000 Catholics to 17 churches, 20 priests and nearly 20,000 Catholics.
Bishop England also issued an official constitution to govern the diocese, built the first modest wooden cathedral, founded a seminary, created the first Catholic newspaper in the country and established the diocesan religious congregation the Sisters of Charity of Our Lady of Mercy (see p. 40).
He served until his death in 1842.
Bishop Ignatius A. Reynolds ~ 1844-1855
The successor to John England had rather large shoes to fill, but Bishop Reynolds took up the challenge with his own set of strengths.
Born in Kentucky, he spent time after his ordination as a seminary professor and then president, a cathedral rector, a parish priest and vicar general. These duties earned him a background in administration and finance.
Gains and Losses
Bishop Reynolds used his knowledge to bring stability to the diocese. He successfully reduced diocesan territory and sold publications of John England's writings, and greatly decreasing diocesan debt.
He also raised funds to build a new cathedral.
Bishop Patrick N. Lynch ~ 1858-1882
Born in Ireland but raised in Cheraw, S.C., the young Lynch attended the seminary founded by Bishop England, who served as his mentor.
Bishop Lynch's 24-year episcopacy covered a tumultuous time.
Disaster Strikes
First, in 1861, a massive fire engulfed the peninsula of Charleston and burned more than 540 acres, 575 homes, numerous businesses and five churches. By the time it was out, a third of the city was destroyed, including the new Cathedral of St. John and St. Finbar.
Civil War
The war raged from 1861 to 1865. Bishop Lynch was sent to the Vatican by Confederate President Jefferson Davis to seek papal recognition of the Confederacy. He did not receive it.
While abroad, the war ended and Bishop Lynch had to sign an oath of allegiance in exchange for a pardon.
He spent the rest of his time as bishop raising money and trying to rebuild.
Bishop Henry P. Northrop ~ 1883-1916
A year after Bishop Lynch's death, Charleston native Henry Northrop was appointed his successor and served as bishop for 33 years.
He immediately faced a natural disaster with the earthquake of 1886, one of the most powerful and costly quakes to hit the southeastern United States. Charleston again suffered severe damage, with 2,000 buildings impacted and $6 million in damages (about $155 million today).
Rebuilding and Growth
After years of devastation, a road to recovery was needed. Bishop Northrop oversaw the rebuildings of St. Patrick and the Cathedral in Charleston, plus the creation of Bishop England High School.
He also worked to expand Catholic hospitals, schools and lay organizations, and to bring more religious to the area. 
Aided by women religious and his successors, the diocese witnessed extensive growth of Catholics in the state from 1891 to 1940.
Bishop William T. Russell ~ 1917-1927
A native of Maryland, William Thomas Russell was known for his work with the unemployed and his zealous evangelization.
One of his crowning achievements was working alongside the Sisters of Charity of Our Lady of Mercy for the building of St. Francis Xavier Infirmary in Charleston.
Sowing Seeds of Faith
A member of the National Catholic War Council, Bishop Russell encouraged the growth of lay organizations in the diocese. The Knights of Columbus, Catholic Women's Patriotic League, Navy Yard Choir and the Charleston chapter of the National Council of Catholic Women all expanded during his leadership to support the war effort during World War I.
Bishop Emmett M. Walsh ~ 1927-1949
The sixth bishop, Emmet Michael Walsh, was born in Beaufort, S.C. He was only 35 when he was consecrated, making him the youngest bishop in the country.
During his 22 years as prelate here, he oversaw the construction of 20 new churches.
An Era of Camp
One of his outreach efforts was Camp St. Mary, a catechetical summer camp for children founded along the Okatee River in Beaufort in 1928. The priests of the diocese and the Sisters of Charity of Our Lady of Mercy provided religious teaching to the area children.
The camp consisted of two barracks for sleeping, a dining hall and kitchen, a convent and a chapel, plus a boat dock with a diving platform on the river. Camp St. Mary operated until the early 1980s.
Bishop John J. Russell ~ 1950-1958
John Joyce Russell was the second member of his family to serve as bishop, following in the footsteps of his uncle, Bishop William T. Russell, who ordained him in the priesthood. John Russell also adopted the same episcopate coat of arms used by his uncle.
Issues of civil rights came to the forefront during Bishop Russell's tenure and remained a central focus for the next three bishops of the diocese.
Civil Rights
In 1954, the U.S. Supreme Court ruled on Brown v. the Board of Education, stating that laws establishing separate public schools for Black and white students were unconstitutional. This began an era that saw bishops, nuns and priests actively join the movement for equal rights.
The first school to be integrated in the state was St. Anne in Rock Hill, which was desegregated in 1954. St. Anne, along with the kindergarten of St. Mary Parish in Rock Hill, were the only integrated schools in the state until 1963.
Bishop Paul J. Hallinan ~ 1958-1962
Despite his short tenure, Paul J. Hallinan, who was born in Painesville, Ohio, made an impact in the diocese and on the civil rights movement.
In his early years, then-Father Hallinan served as a U.S. Army chaplain during World War II, with the rank of captain.
During his episcopacy, he worked to integrate Catholic schools; in 1962, his dedication led him to be chosen as the first archbishop of Atlanta.
Bishop Francis F. Reh ~ 1962-1964
Francis Frederick Reh was a bishop with strong connections
to Rome.
Born in the Bronx, N.Y., he was installed as bishop just as Vatican II was getting under way. Around the time of his installation in Charleston, Bishop Reh was assigned to the Commission of the Sacraments on the Second Vatican Council. As a result, he spent his tenure travelling extensively to Rome for council meetings and sessions.
After just two years as bishop, Reh was appointed rector of the Pontifical North American College in Rome.
Bishop Ernest L. Unterkoefler ~ 1964-1990
Following two bishops who served short terms, Ernest Leo Unterkoefler settled in for a long and impactful time as bishop.
Like Bishop Reh, he was active in the Second Vatican Council, where he served as a Council Father and attended the four sessions that took place between 1962 and 1965.
Born in Philadelphia, Pa., he was known as a staunch pro-life advocate and protector of the poor. He often said his greatest accomplishment was the establishment of a permanent diaconate.
Challenging Inequality
As a fierce civil rights activist, Bishop Unterkoefler marched with Dr. Martin Luther King, Jr. on Washington, D.C., in 1963. He supported integration in schools and promoted the desegregation of Catholic organizations.
A Catholic Boom
Beginning in 1970, the Catholic population saw a tremendous growth in the diocese and by 2015 had increased an astounding 328 percent.
Bishop David B. Thompson ~ 1990-1999
Like Bishop Unterkoefler, David B. Thompson was also born in Philadelphia.
He was named a domestic prelate by Pope St. John XXIII, and later was elevated to the rank of prothonotary apostolic by Pope St. Paul VI.
In 1989, Pope St. John Paul II appointed Thompson as coadjutor bishop of Charleston, with right of succession; in 1990, he became the 11th bishop of Charleston.
Bishop Thompson was known for his focus on building, rejuvenating church social agencies, ecumenism and vocations. He also held a Synod of Charleston that provided guidelines critical to the growth of the diocese.
Bishop Robert J. Baker ~ 1999-2007
A native of Ohio, Bishop Robert J. Baker held his installation ceremony at the North Charleston Coliseum so everyone could attend.
During his tenure, the diocese continued to experience significant growth and Bishop Baker founded at least three new parishes as a result. He also increased the focus and scope of Ethnic Ministries.
After eight years of service, he was appointed to the Diocese of Birmingham, Ala., and recently retired.
Building Our Faith
Under Bishop Baker, the conservation and repair of the Cathedral of St. John the Baptist was begun, which included the construction of a bell tower. His initiative was completed by his successor.
Bishop Robert E. Guglielmone ~ 2009-Present
Our current bishop, Robert E. Guglielmone, was born in New York, and has been known as a pastor to the people.
When he became shepherd of the diocese, he made it his personal mission to bring employees of the diocese together under one roof to help strengthen the sense of community and unity of purpose. He oversaw the opening of the diocesan pastoral center in September 2015, complete with a chapel and events hall.  
Bishop Guglielmone also greatly increased the presence of religious orders, saw the opening of several new schools and established five new parishes.
He submitted his letter of resignation to Pope Francis on Dec. 31, 2020, as all bishops must do on their 75th birthday. He remains in care of the diocese until the pope names a successor, who will be the 14th bishop of Charleston.
---