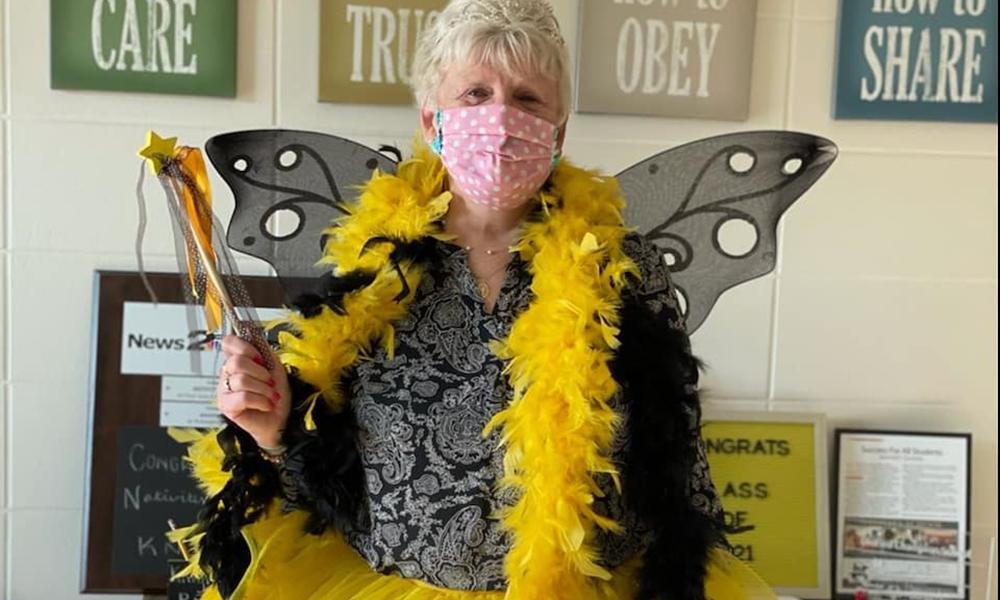 ---
Thanking Mrs. C, catechist and teacher
CHARLESTON—Carolyn Smith, or "Mrs. C" as she's called affectionately, has been the heart of Nativity Catholic School for 40 years. She's retiring this year, and her legacy is extensive. Mrs. C began her career at Nativity first as a hot dog/hamburger lady, then an assistant, the librarian and finally as the religion teacher.
She holds the highest level of catechist training the Diocese of Charleston offers and has touched many lives in her years of service. Mrs. C has been mentor and guide to teachers, godmother and Confirmation sponsor to countless students, and catechist to school children. She has boundless energy and was found most Fridays greeting families in full costume, with wings, as the "Friday Fairy."
Every Nativity student knows that Mrs. C loves them and is always available to help. Those who encounter Mrs. C witness a Catholic dedicated to living out her faith fully. She jumps in wherever she is needed to plan activities to celebrate our faith, and further embraces her role as a eucharistic minister at Mass. Although retiring, Mrs. C says she will still be a huge supporter of her Nativity Knights.
We will miss seeing Mrs. C. every day, but we are better people because she is in our lives.