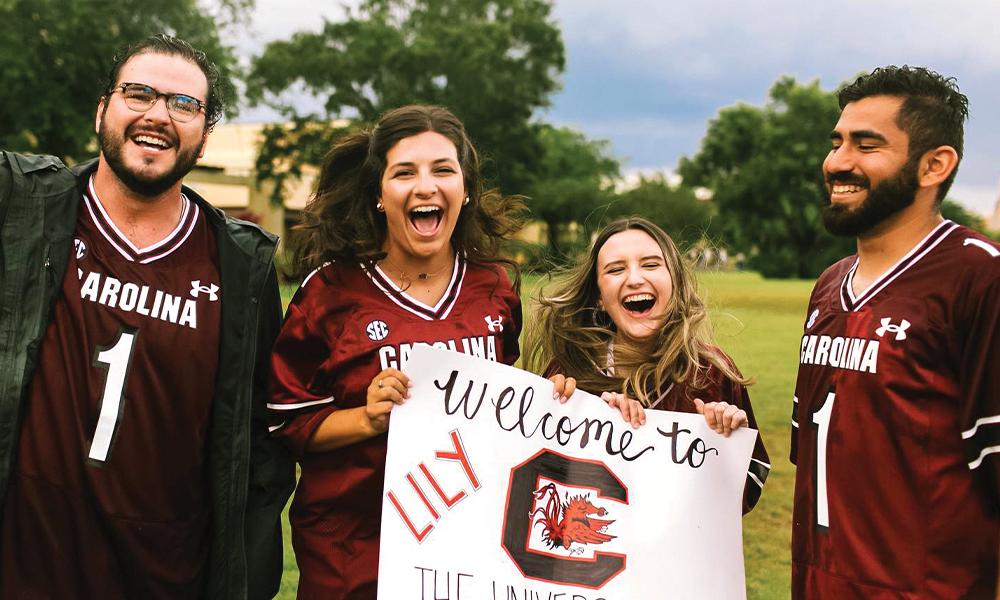 ---
Staying Catholic in College
With Change on Every Front, It Can Feel Like a Lonely Place to Grow
The pressure is on for young Catholics. They are taught that they are in this world but not of it. It feels isolating when everything that surrounds them seems to contradict their values, leaving them to spiritually sink or swim. With the internet and social media at their fingertips, they are inundated with messaging that values productivity and self over serenity and gift.
For Braiden Groller, a rising senior at the University of South Carolina, this world of instant gratification makes living a virtuous life all the more difficult.
"The world tells us to rush into things to maximize value and life," Braiden said. "God tells us to be patient and to be mindful of the decisions we make."
But the rules of the world present double standards for the faithful. Agnostic and religious persons hold the faithful to a high standard, praising them for their choice to live for God. However, being placed on such a high pedestal is a set up for rejection when Catholics fall short of the call.
"I am human and I fail," Braiden said, adding that people who praise "are also quick to criticize."
He said that judgmental comments make rigorous honesty a challenge, leading to shame and doubt. Hearing things like "So much for living a virtuous life and being a role model" or "I guess you aren't that Catholic" can hurt more than the mistakes committed, and they lead to other shortcomings quickly.
Braiden said he is able to find strength in vulnerability through the Catholic community he has on campus.
"Jesus did not carry the cross alone; Simon helped him carry it," he said. "We are not intended to live our lives alone. When we do, we lose sight of hope and reason."
---
Erin Griffin, a rising junior at Clemson University, said that navigating relationships in college is as much socially as it is spiritually challenging.
---
"You are discovering who you are as a person, but you must also strive to do so within the Church," Erin said. "You are constantly meeting new people and reinventing yourself with new-found freedom."
Meeting new people can present moral conflict, as some are set on intentionally leading the faithful astray, she said.
"It makes you question if you even want to maintain those toxic relationships or sacrifice your relationship with God," she added. "The answer may seem simple, but in those moments where you find yourself having to make a decision, it is frustrating."
These instances initially left Erin wishing for leniency in Church matters, though over time, she has found beauty and comfort in fidelity to the Church. She said demanding the faith to change is not worship of God but of self.
"The Church is that one thing in my life that is constant and steadfast in its teachings," Erin said. "I need to glorify God through my actions and be as steadfast and loyal to him as he is to me."
Although spiritual warfare has been more intense in college, having the support of the Church community has been a life raft that has kept her afloat. Speaking with priests and other lay people and turning to prayer are some of the ways she finds comfort and insight.
"It is important to remember that you are not alone in this struggle. You have an infinite desire to have a relationship with God, so the struggle of denying worldly things is worth it," she said.
---
Mary Kate Griffin is a public relations student at the University of South Carolina who interned with the diocese over the summer.