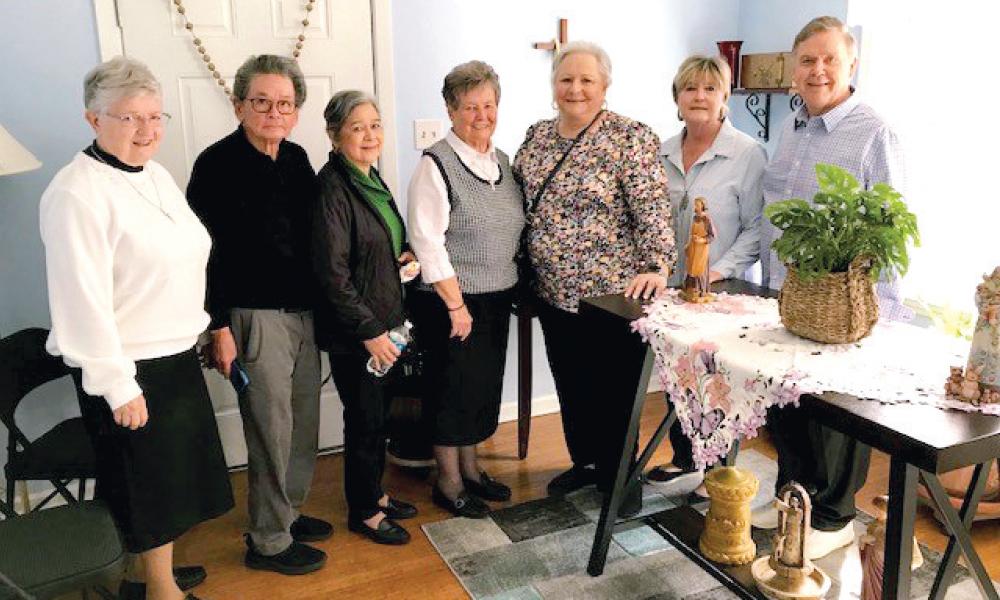 ---
St. Francis Center celebrates a decade of helping others
"Ten years and somewhere between 17,000 and 20,000 hours of helping" people who are hurting. That's the description of what the Sisters of Sts. Cyril and Methodius (SSCM) have been doing at the St. Francis Center for the past decade.
With a very small regular staff, a host of volunteers — and more recently the assistance of Sister Agnes Marie Winter — Sisters Canice Adams and Marcine Klocko, co-directors, have sustained and expanded a mission and ministry that was handed on to them.
Their weeks and days are filled with food distribution, requests for utility and prescription assistance, planning and equipping urgent home repairs for the elderly poor and persons with disabilities, arranging emergency housing for families, assisting workers and veterans who have fallen on hard times, providing food, towels, washcloths, sneakers and personal items for migrant workers — plus stuffed animals for the occasional children who accompanying them — teaching adults to read, offering tuition assistance for at-risk students and start-up funds for entrepreneurs who have overcome profound challenges.
And then, there are the special events: Christmas toys for hundreds of children, making Thanksgiving and Easter meals, delivering food to a senior center and those in outlying areas, special supplies and gift cards for Mothers' and Fathers' days. Each year presents another new project to extend outreach to the area's native Gullah-Geechee residents living on ancestral lands, plus migrant workers and persons of any and every race, age and creed who are enduring routine or unexpected setbacks.
THE BEGINNING
The outreach ministry on St. Helena Island, just outside Beaufort, began some 40 years ago at the behest of Bishop Ernest L. Unterkoefler. For the first few years, Franciscan sisters from Wisconsin began feeding people and assisting with various needs. When their order called them away, a lay couple briefly administered the facility. Then in 1987, Sisters of St. Francis of Philadelphia Sheila Byrne and Stella Breen were invited by Bishop Unterkoefler to take responsibility for what was then known as the Franciscan Center. They were asked to "beat the bushes," learning the region and the people. 
What they discovered were the hidden poor: people on rutted dirt roads living in deteriorating trailers and cabins. Migrant workers who planted tomatoes to be picked later in the season by other migrant workers who arrived in buses with blown-out windows; meager cash and barely a change of clothes came with them. The sisters continued the customary food distribution, got a program for home repairs going, made referrals, helped with paperwork and established a thrift shop. They also offered sacramental preparation for Spanish-speaking children plus after-school tutoring.
FRANCISCAN TO ST. FRANCIS
When Bishop Robert E. Guglielmone got notice that, after 26 years at this ministry, Franciscan Sisters Sheila and Stella would be leaving to return to their motherhouse, he mentioned to the diocesan Curia that the Philadelphia sisters would not be able to provide replacements. Sister Canice, founding principal of St. Gregory the Great School in Beaufort and former superintendent of diocesan Catholic schools, was feeling the promptings of the Holy Spirit to take up a ministry of direct service to the poor — she just didn't know where or how. 
From December 2012 through the spring of 2013, discussion among the sisters and the bishop continued. Sister Marcine had long experience with financial administration. She was serving the SSCM order as treasurer of their continuing care retirement community in Pennsylvania for some 350 lay people, clergy and religious. The leadership agreed that the "Franciscan" Center would be a God-inspired opportunity and tapped Sister Marcine to join Sister Canice. 
In July 2013, they assumed responsibility for what is now called the St. Francis center. In 2019, the SSCM community assumed full responsibility for the center as one of its sponsored ministries.
As Sisters Canice and Marcine were gearing up for their 10th anniversary, they determined that 2022-2023 should be marked by special events and projects. Foremost among the events was an outdoor Mass celebrated by Bishop Jacques Fabre-Jeune, CS. The reception after was catered by an entrepreneur who, after spending time in rehabilitation for an addiction, received spiritual and financial boosts from the center as she was establishing her now very successful company. Also on hand was the mother of a young man born to a migrant family who settled at St. Helena. He received financial assistance from the center and achieved excellence in his nursing studies. And recently, he was selected from among thousands to the nursing staff at the famed St. Jude Hospital. 
Others among the guests were two middle-aged men: one is now a successful jack-of-all-trades that Sister Canice taught to read a few years ago. The other was a special needs man who, for the first time in his life, is receiving some take-home pay. He helps at the center three days a week unloading food and furniture donations and carries bags to the cars of older clients.
ELIJAH PHENOMENON
The sisters have found that their education fund and monies used for start-up business ventures exhibit the "Elijah phenomenon." What began with $50,000 seed money from an anonymous donor to help bring people out of poverty has been used and used and used — and yet never seems to run dry. It's like the oil and flour which the widow of Zarephath offered to make Elijah a little cake, even as she and her son were facing starvation (1 Kgs 17). The replenished funds are primed to offer assistance again in this fiscal year.
The special project of the year has been to replace 10 roofs. For years St. Francis has had an all-volunteer home repairs committee assessing the condition of applicants' homes and specific needs. Replacing roofs, building ramps, updating electrical systems and plumbing have been regular activities. 
In one case they totally replaced an uninhabitable mobile home. But taking on 10 roof projects in one year was an unprecedented ambition. Some of the projects have required finding short-term housing for clients as work was being done. Fortunately, individual benefactors have risen to the occasion, and the result has been magnificent improvement of the quality of many lives. 
The most recent project has been at Bethlehem Baptist Church, a traditionally Black parish whose board approached the sisters and asked for help when a tree fell on the church roof. There were also exterior and interior repairs needed, so the center helped refit the pastor's office, part of the sanctuary and the children's room.
Ecumenical efforts are no stranger to the center. Many of their cooperating donors and advocates come from area faith communities and Catholic churches. Some months ago, Father Andrew Trapp, pastor of St. Peter Church in Beaufort, purchased a sizable trailer that makes monthly weekend rounds of his parish, plus Lutheran, Methodist and Presbyterian churches to collect non-perishable food. It arrives at the center every Monday. Area Episcopalians and Baptists assist with special projects, too.
Then there are the women's groups, neighborhood associations, the Order of Malta, Hibernians, Knights of Columbus, Scouts and children from parochial and public schools who collect food, clothing and do some fundraising. 
ALL THE TIME
God is good all the time. All the time, God is good. We've heard that saying over and over. The sisters celebrating 10 years have heard it echoing among people who, despite unbearably trying situations, keep declaring "I'm blessed." 
The Sisters of Sts. Cyril and Methodius say the same.
---
Sister Pamela Smith, SSCM, Ph.D., is the diocesan director of Ecumenical and Interreligious Affairs. Email her at psmith@charlestondiocese.org.