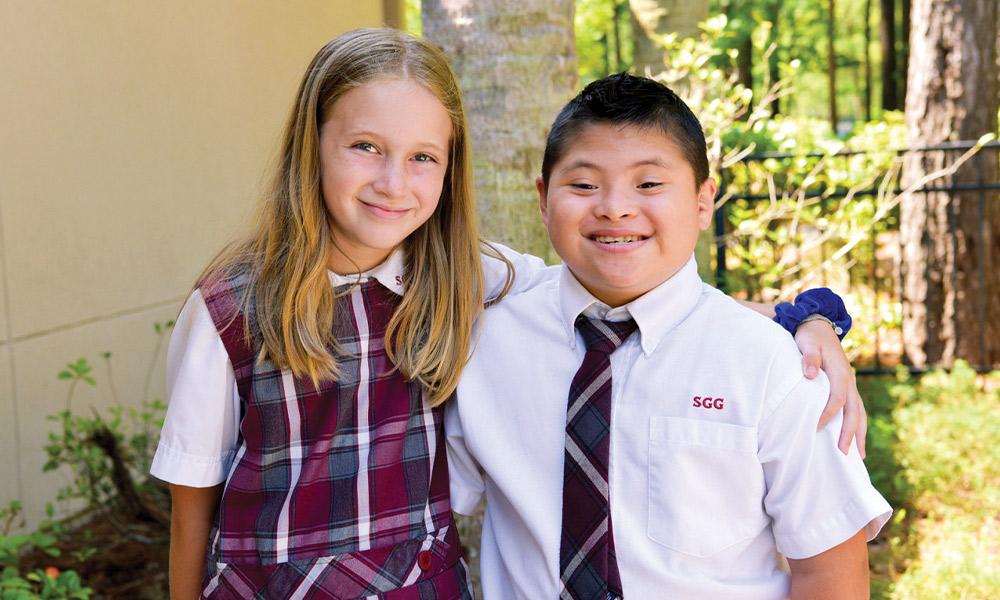 ---
The Special Gift of Special Needs
Elizabeth Kelley, principal of St. Gregory the Great School, uses simple, yet powerful words to describe the interaction between classmates of students with special needs at the Bluffton school.
"Our Catholic faith in action; these students are living out our Catholic faith, and it's been a gift for all," she said.
Celebrating its 15th year, St. Gregory has seen how full inclusion of students with special needs or developmental differences brings out the compassionate side of other students. It's helped children to show love for everyone, regardless of their needs.
Gianna, a rising fourth-grade student, has already decided her career path based on a unique bond she has with a fellow classmate, Allen, who has Down syndrome. Gianna, however, sees the only difference as his being unable to communicate in words.
"I've learned that just because he can't talk, he's still the same as me," Gianna said.
Their third-grade teacher, Christy Brock, validates their connection.
"They have a spiritual connection that transcends the ability to verbally communicate," Christy explains. "One day, Gianna got hurt on the playground, Allen came over to me, was visibly upset and managed to find a way to communicate to us that his friend needed help."
Gianna is not the only student in the class willing to help. "I've never had to ask for help from any of the students with regard to Allen and classroom tasks," Christy said. "They do it naturally and don't expect anything in return."
It is common in other classes at St. Gregory to have students on the autism spectrum, some with academic aides and some with behavior technicians. These professionals are firsthand witnesses to this demonstration of God's love.
"The school is so tight-knit and preaches such an overall message of kindness that it makes my job much easier because the students are so invested in those that have needs," said Shannon McGovern, an aide for a second-grade student.
Eileen Bertagna, the school's vice principal, is also the coordinator of student services at St. Gregory. In October, for Respect Life Month, Eileen shows a presentation to the student body and staff on the importance of respecting life and individual differences. It focuses on the fact that God makes everyone special in their own way.
"Having the gift of these children in our community reinforces that message and teaches our children to see Jesus in everyone," she added.
---
Mary Beth Lyons is a professional photographer and writer based in Bluffton. Visit her at mblyonsphotos.com.