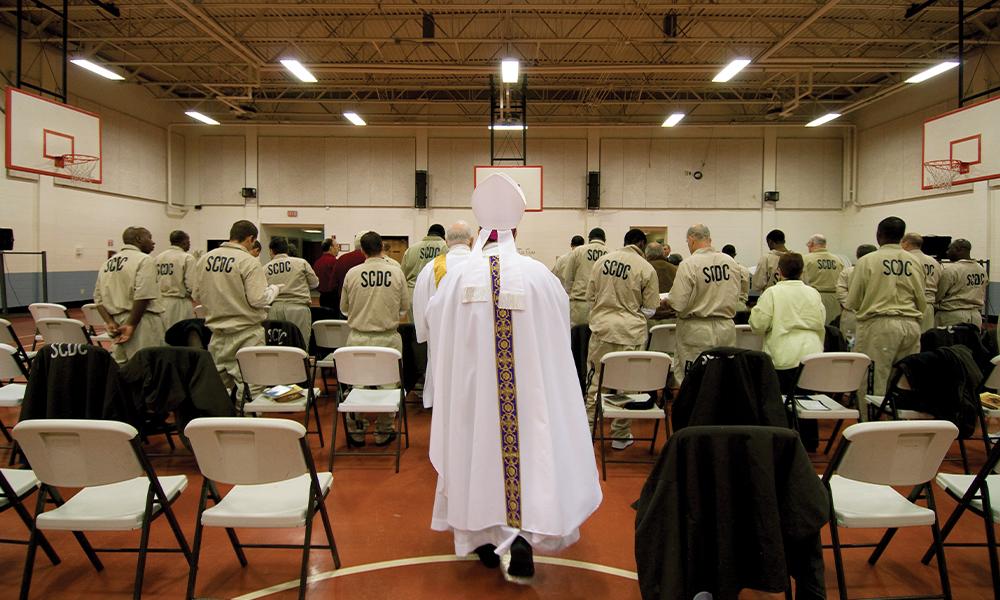 ---
Restoring Lives, Dignity and Hope in Prison Ministry
Even Castaways Need a Shoulder to Lean on or a Word of Encouragement to Survive in South Carolina's Prisons.
Deacon John Leininger and Father Ed Enverga see that need every time they walk behind bars to minister to fallen souls. Neither feels scared or threatened once the doors close behind them. They are doing God's work, and they say God is walking with them on the journey to comfort the men and women who need it most.
John is a deacon at St. Andrew Church in Clemson. He taught for 40 years, 34 of those at Clemson University, before retiring in 2019. He started in prison ministry 11 years ago, even before he became a deacon.
"I hear God speaking to me through other people. It's clear as day to me," he said, and those people are in prison. The deacon is dedicated to helping them.
Adorno Father Edgardo Enverga, who was pastor at Jesus Our Risen Savior Church in Spartanburg until his recent reassignment to the Adorno order's seminary in the Philippines, said that as long as he is doing God's work, he has no fears.
"When I come here, I am no better than them. We are all sinners," he added. "God never abandons us; we abandon God. That is why we are where we are."
He also said God is always there, "waiting for us to open the door." His job is to help people in prison find that door by working to reestablish trust and faith. Their spirit is challenged in prison, but it's still there.
It's tough at times.
South Carolina has four federal prisons, 21 state prisons and 46 county detention centers spread across the state. Deacon John said the diocese needs more clergy and lay people to step forward.
Father Ed said he sometimes drives hundreds of miles to minister to the imprisoned, and the deacon wants to change that. He wants to find churches within a 30-minute drive of the corrections facilities and encourage parishioners within that range to volunteer.
Joanne Babin, a parishioner at St. Paul Church in Spartanburg, said it takes an open heart to do this ministry, and she knows. As a child, she watched her mother, Mary Walsh, minister to prisoners through the Alston-Wilkes Society. Back then, Alston-Wilkes prepared prisoners to reenter society by "helping with rent, bills and finding jobs," she said.
"I would see mother on the phone, counseling them and helping them with money," Joanne said, but her mother went beyond that. During Christmas, 20-30 ladies would bake cookies and take them to two prisons.
"They'd lay out the cookies and the punch, and mother would read them the Christmas story," Joanne said. "This was mother's personal ministry. She did this for [many] years. I went with her, and we'd sing Christmas carols."
Deacon John hopes others will take the baton from Mary Walsh and run with it. The need is crucial, and COVID-19 has set things back, eliminating prison visits to hopefully stop the spread of the virus. He is planning a fresh start whenever in-person visits resume, and is organizing a conference in November to share ideas. He added that he wants to find the best way to teach RCIA and hold Bible study sessions.
---
And, the incarcerated are reachable, he noted. Many study Scripture and pray the rosary every day. They are hanging on and that is why the ministry is so important, Deacon John said. It makes a difference to those behind bars.
---
Father Ed said the imprisoned have to play it tough to survive, but deep down their humanity still exists.
"During confession they can be real," he said. "Many are trying to turn around," but the system won't let them. "When you are there, you become angry, and you are surrounded by people who are angry."
The crowded conditions don't help, Father Ed said. They are angry. They are too close to each other. "There is no space to be alone; no space to talk to God."
This ministry gives them a few, precious, private moments to be their true selves, Father Ed said. They look forward to that, and it helps build trust.
Prison ministers work to solidify that trust because it will be crucial in setting the foundation once they are freed and given a chance to return to society. Casting off the shackles of the rigid prison regimen won't be easy. A "new normal" means finding a job, a place to stay, paying bills, blending in and trusting.
Bishop Robert E. Guglielmone recognized this need and sought to establish a program focused on reintegrating former inmates back into society. He chose Gilbert "Nikki" Grimball to spearhead the outreach. Nikki is now the program specialist for prison ministry with Catholic Charities of South Carolina's Restorative Justice program.
In 2016, Nikki started meeting with prison system management teams to identify resources and needs. Then he met with community members to see how they could pitch in to help. He found that many of the inmates preparing for freedom had no idea what to expect.
"They needed employment, training, job skills and resumes," Nikki said. "They needed IDs, birth certificates and Social Security cards," he added, because without those people cannot reclaim their lives, find housing or employment.
They also needed a way to deal with culture shock. Many men and women had no idea how much the world had changed while they were serving their sentences. So Nikki rolled up his sleeves, went to work and helped establish RENEW for men and Esther's Journey for women, programs which make reentry into society a little less chaotic.
"We address the corporal works of mercy" with the programs he said, and prison ministers "address the spiritual works of mercy."
Together, they are helping the lost find their way back to spiritual health and freedom.