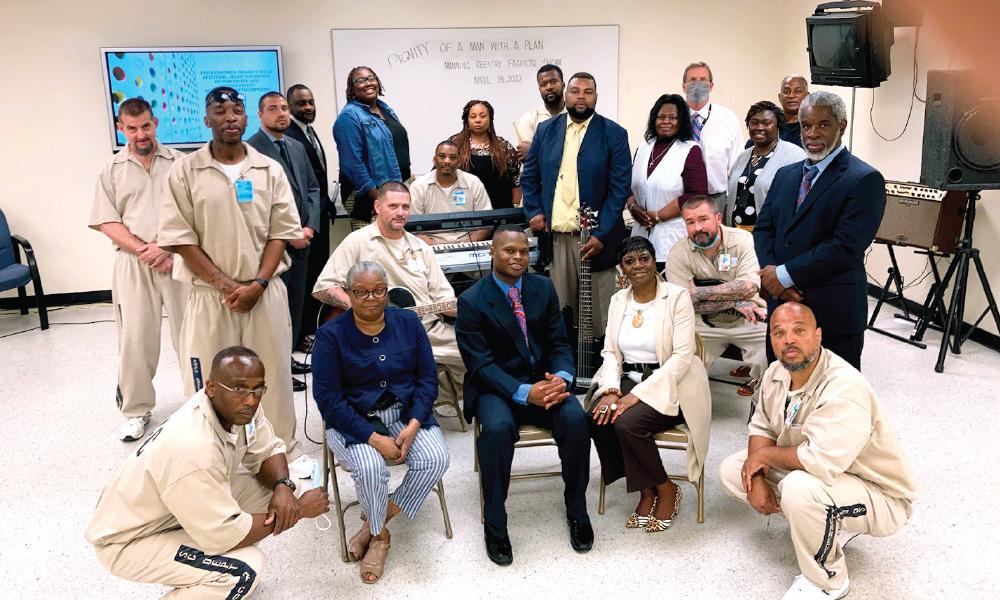 ---
Reducing Recidivism One Life at a Time
The best case scenario for people in prison is that after their time is served, they are reformed and reintegrate into society.
Sacred Scripture tells us that care for the "least," or most in-need, of our brothers is care for Christ Jesus. "For I was hungry and you gave me food, I was thirsty and you gave me drink, a stranger and you welcomed me, naked and you clothed me, ill and you cared for me, in prison and you visited me" (Mt 25:35-36).
To put it simply, people need people, and coming out of prison should not be done alone. That's where the Catholic Charities of South Carolina (CCSC) Restorative Justice Program steps in.
Per the organization's website, charitiessc.org, "Every day… [the] Restorative Justice Team shares their gifts by giving back to a community that remains a stigmatized and untouchable population," that is, people who are or have been incarcerated.
The Renew Team under the CCSC Restorative Justice Program began in 2016 with Nikki Grimball serving as the program specialist.
The program assists incarcerated individuals — those who have finished or are about to finish prison sentences — in obtaining necessary paperwork to secure employment and housing, like IDs, birth certificates and Social Security cards.
According to Lydia Doyle, executive director of CCSC, when the program started, the goal was to get people jobs coming out of prison, but Grimball quickly realized the barriers to reentry were more fundamental than that: 80% of people identified as potential clients lacked any form of legal ID. It meant that they could not get a hotel room, let alone a job, apartment or anything else. The system to get those IDs was circular — you need a birth certificate to get a driver's license or Social Security card. But you needed a driver's license or Social Security card to get a birth certificate. Without any of those things, people were stuck and didn't have the tools or knowledge to be able to navigate that system.
"Sometimes just having those documents in hand is the foundation needed in order to live independently in society," Grimball explained.
Restorative Justice is a connection of support for these individuals to get reacquainted with society.
"I've seen it happen, if a person can't get the necessary paperwork to get a job or a home, everything will just fall apart. They'll end up back in the same mess that got them arrested in the first place, and then they'll end up back in prison," he said.
Luckily, the S.C. Department of Corrections works with select inmates on résumé writing and even job training. Having that foundation is critical, but other resources are needed once people get out, especially if they can't go back to where they are from.
Grimball explained that it "takes a village" at times. Some people will need more resources than others to get reestablished.
"We work with a number of agencies to help these individuals get on track to where they need to be," he said. "It is truly a case by case basis, and no two situations are ever the same."
He said they work with the S.C. Department of Health and Environmental Control (DHEC) for birth certificates and the state's Department of Motor Vehicles (DMV) for IDs. Once people have the documents they need, Grimball said Restorative Justice works to empower the men and women to advocate for themselves.
"We want them to have the tools so that they can go out there and do everything for themselves," Grimball said. "They can get lost and discouraged without the right tools, and they'll do whatever they have to do to survive, which normally gets them incarcerated again."
The Restorative Justice program also has housing sponsorships and addiction specialists. Since its inception, the team has seen over 3,000 individuals, and the vast majority are men.
Grimball said the program is audited annually to see which clients, if any, are back in the custody of the Department of Corrections. He said they work with anywhere between 25-50 formerly imprisoned individuals each month, and the work spans all 21 incarceration facilities in the state.
Recidivism is the tendency of a formerly-convicted person to commit another crime. The national rate is approximately 44%. Just before the program got off the ground, the state's rate was 33%, but now recidivism in South Carolina is just under 22% — and Restorative Justice clients are only 8-9%.
"Gov. Henry McMaster actually recognized the low rate in 2021 and said it was one of the lowest rates in the nation," Grimball said. "He acknowledged that Catholic Charities is one of key partners in making this shift a possibility."
"It's really easy when we look at the program to see the number of people served, which is truly remarkable and a huge achievement," Doyle said. "What's harder to quantify is the fact that Nikki has not just saved thousands of lives directly through the program, he has fundamentally changed the way that our state operates. His work allows an uncounted number of people beyond our program to move forward with their lives."
With help from the Restorative Justice program, the Department of Corrections now works independently with DHEC and the DMV to secure birth certificates and IDs for people while they are in prison so they can have access to those documents once they are released. Grimball credits having those personal documents for the success of the program and reduced recidivism.
"We are merely a resource," he explained. "We realize we can't contain everything within our four walls."
He said that many homeless people were formerly incarcerated. 
"It really goes hand in hand, and so many people say that you can't find employment with a record," he added.
But Grimball said they have a solution for that too since Restorative Justice also works with the offices of the Public Defender and District Attorney to assist some former inmates with prior offenses.
"The public defenders will come out and look at their pending charges and help to get those off their dockets," he said.
They even have a volunteer who will work with program participants to identify any financial support that the men or women may be eligible for, such as back taxes, COVID-19 pandemic stimulus awards, or reconnections to Medicaid or Medicare.
"These are people who would face homelessness and now have the capabilities to have some money and move forward," he said. "We are just helping them build the structures they need to move forward."
"Nikki talks a lot about the importance of doers, which is true," Doyle added. He "is so much more than that though. He has this amazing ability to be not only a doer, but also someone who can identify problems and inspire other people to work with him to solve them. He has this remarkable way of being a force without ever being combative."
Grimball concluded with a success story. 
"This guy was 67 or 68 years old," he said. "He was incarcerated originally in his 20s and since then, he had been incarcerated seven different times. He hadn't been independent of the prison system for more than eight months in all that time. 
"We worked with him in 2016. We suggested that he not go home since it seemed like in the past every time he went home, it ended up with him back in jail. 
"He thought about it and decided that he didn't want to go home to Greenville. We got him in a program for addiction-related issues, he got a job with the City of Charleston where he got benefits and steady pay. He got an apartment and a vehicle.
"We haven't heard from him since 2020, but actually, that is the way we prefer it. We are 'what was' to him. The best case scenario is that they move on with their lives without us. But I like to tell his story because it really motivates people," Grimball added.
"His goal is always to bring partners to the table," Doyle said of Grimball, "to bring people together so that we can collaborate to find the best solutions for those in need of support. For every person he works with, his goal is to fundamentally transform their lives such that they have the tools and knowledge they need to care for themselves. We — the diocese, Catholic Charities, our clients and the state — are better because of him, his gifts and his work."