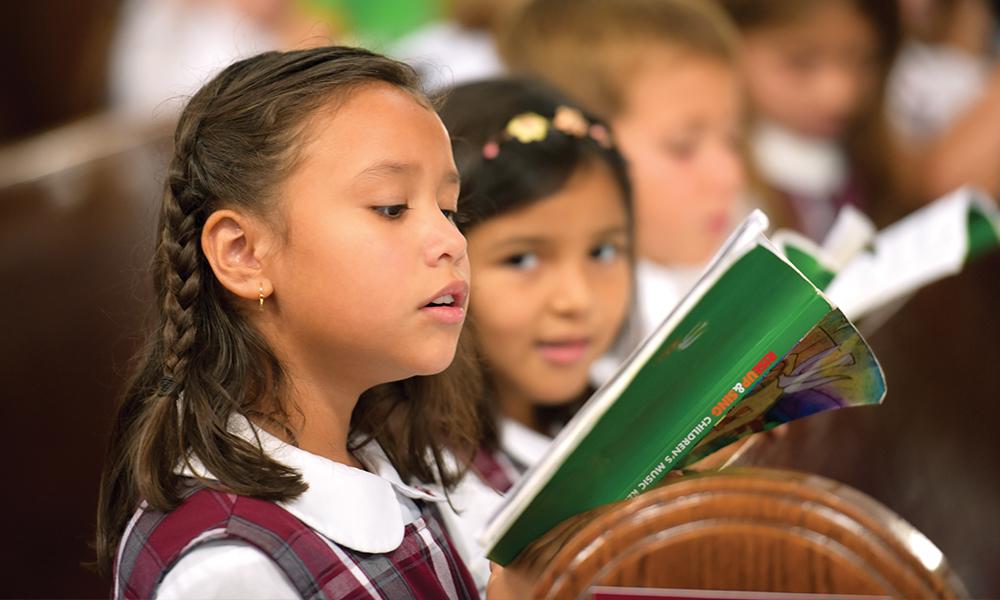 ---
The Real Kingdom Work of Catholic Schools
Built by immigrants and bolstered by modern-day saints, Catholic schools have a long history of success in South Carolina. Catholic education has played an important role in the development of education in the United States dating back to 1606 and the establishment of the first Catholic school in St. Augustine, Fla. Today, Catholic schools comprise the largest parochial school system in the world.
The Diocese of Charleston is the largest independent school network in South Carolina, serving 33 schools and more than 7,000 students. Our mission is to form disciples of Christ, focusing on the development of the whole person, in body, mind and spirit.
According to the Fall 2020 Formative Data Analysis conducted by the S.C. Education Oversight Committee, 7 out of 10 public school students in grades 2-8 were projected not to meet their grade-level standards in mathematics and language arts in Spring 2021. However, our Catholic schools had no learning loss and, in fact, all of our test scores well-exceeded the national average for all grade levels. You can look at the numbers to show our success rates.
But that is not what matters most. Our students are not simple metrics or numbers — they are brilliant and beautiful individuals with varying strengths and weaknesses, and our schools accommodate the differing needs of all children, inspiring them to reach their God-given potential.
For this reason, as a Church we support equal access to education for all children through Education Savings Accounts. If voted on by our state, this will confer onto parents the right to choose the best means of education for their child, whether public or private. Parents will decide where to send their children, and an account will be established for each child to be used to pay for Catholic, or other private, school tuition and other necessary educational services.
School choice programs improve academic outcomes for program participants and students in public schools. This can be attributed to competition in the market, which leads to higher academic standards. School choice programs also save taxpayers money. According to EdChoice, through the 2018 fiscal year, educational choice programs generated an estimated $12.4-$28.3 billion in cumulative net fiscal savings — an average of $3,300-$7,500 per student participant — for state and local taxpayers.
It is a myth that public schools do not receive appropriate funding. Rather, the funding is not spent appropriately. The average national cost to educate one student per year in a public school is $14,000 per student. Nearly half a state's budget is spent on public education. Conversely, the average cost to taxpayers for expanding educational opportunities for families is $5,000 per student participant, a 64% markdown compared to public education expenditures.
It is another myth that Catholic education is for the elite — that is simply not true. Prior to COVID-19, over $16 million was provided in tuition assistance to our schools and families. Post pandemic, our tuition assistance has substantially increased along with our enrollment numbers. Our students come from vibrant and diverse families from all walks of life.
The Church has always taught that it is the right and responsibility of parents to serve as the first and primary educators of their children. It has also taught that quality and equal education opportunities are the birthright of every child, no matter their ZIP code or socioeconomic status. When children are allowed to attend our Catholic schools, regardless of the financial situation of their family, they thrive as they are welcomed, exactly as they are, into a loving community centered on truth and knowledge.
We know this is working because:
A kindergarten student at St. Joseph School in Anderson inspired his parents to enter RCIA courses by leading his family in prayer (with the sign of the cross) before dinner and talking passionately about the saints when he came home from school;
A six-year-old boy with autism, also at St. Joseph in Anderson, who was deemed non-verbal, broke his silence and now engages in conversation with classmates;
A previously homeless fifth-grade student, with the learning level of a second-grader, was brought up to speed, learned to dream and now excels in all of his classes at St. Anthony of Padua in Greenville;
A single mom brought her son to John Paul II School in Ridgeland, and the teachers, coaches and staff took on the role of her child's second parent;
Two students, also from John Paul II School, have recently entered seminary with the hope to discern their vocational call.
This is real kingdom work, where we move beyond saying we support schools and students and actively work to give all children the educational opportunities to succeed.
St. Katharine Drexel told us that we should teach children with joy. "They will be attracted by joy to the source of all joy, the heart of Jesus," she said, and that has become the testament and legacy of Catholic education, to center a student's education journey on the source of all joy and love — Jesus Christ.
Catholic schools serve a vital role in South Carolina. Our education is unparalleled because we teach our students to embrace the fullness of their Catholic identity, to strive for personal excellence, to remain disciplined in their faith and to participate in service for the common good.
Now, it is time for educational opportunities to be extended to every child in South Carolina. Our state must recognize the importance of Catholic education and honor the rights of parents to choose the best learning environment for their child. Visit charlestondiocese.org/take-action for a pre-filled form to send to your legislator, asking him or her to support the Education Savings Account bill and educational opportunities for all of our children.