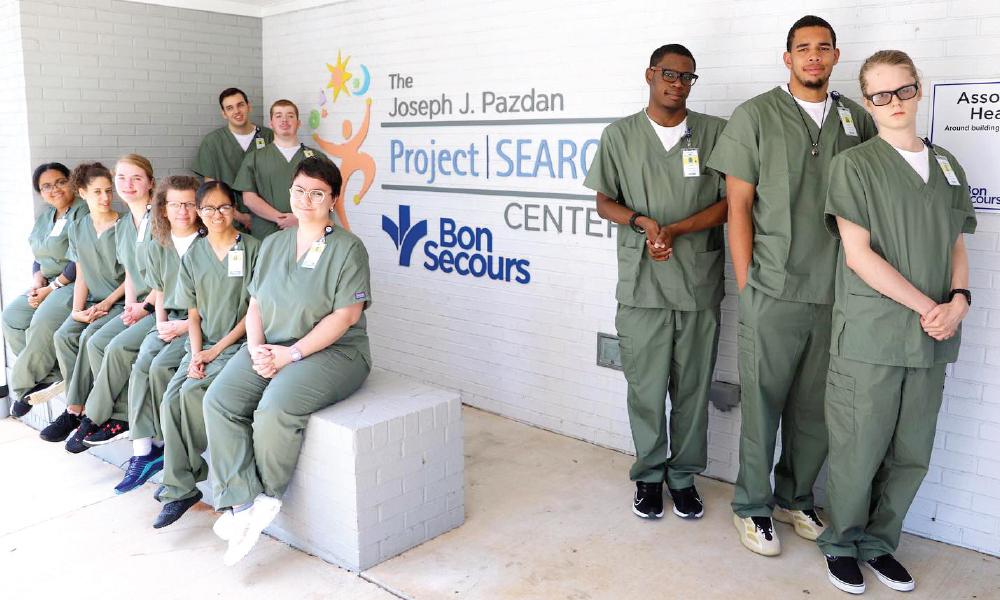 ---
Project SEARCH promotes the dignity of work
Deeply rooted in Catholic teaching is the right to fair and just work and the dignity of workers. For the vulnerable or underserved, those rights can become blurred, and for people with cognitive impairments, there can exist an unfortunate gap in the transition from school to employment.
Deacon Alex Garvey, senior vice president of mission at Bon Secours St. Francis Health System-Greenville, sought to fill that gap. He had previous experience with a program called Project SEARCH when he worked in Virginia and decided to start a chapter at Bon Secours in 2017.
Project SEARCH teaches young adults who have intellectual disabilities the skills they need to hold jobs and gain employment upon graduation. It was founded in 1996 at the Cincinnati Children's Hospital for students with various disabilities who were either in their last year or recently graduated high school. The interns are usually ages 18-21.
Jessica Weingartner, director of mission at Bon Secours, explained that most of the interns are on the autism spectrum, but there are some with Down syndrome and others may have hearing impairments or social, physical or learning disabilities.
"It's a range. We don't just accept the high-functioning. Some are completely non-verbal or very low verbal," she said.
In order to ensure the program's success, Deacon Garvey knew that seeking out partnerships with the Greenville County School District and South Carolina Vocational Rehabilitation Department (SCVRD) would be vital. Plus, placing interns in on-the-job training courses at the hospital became a mutually beneficial arrangement.
Many of the places Project SEARCH interns fill have high turnover and are sometimes difficult positions to recruit, so the health system welcomed the program with open arms. The SEARCH students are then able to go on to new careers, and some even make an independent life for themselves because the skills they learn are transferable to other industry sectors like food service, retail or the hospitality industry. This has been music to the ears of the families of the students and for the interns themselves.
For example, Evelyn Brown is a graduate of the 2021-2022 Project SEARCH class. She successfully trained in the cath lab and respiratory and transport departments during her time in the program.
"When I started the program, I was nervous and didn't have confidence," Brown shared. "I didn't think I could handle the job responsibilities. But with the support of my mom, the Project SEARCH staff, my mentors and the encouragement of my classmates, I learned I could do a lot."
She is now employed at Bon Secours St. Francis Eastside and is working as a patient transporter.
"Having a disability doesn't define you," Brown added. "We can all learn and excel in any job when we have good support. Project SEARCH helped me build my confidence and helped me learn from my mistakes because we all make them."
Project SEARCH is free for students and funded through SCVRD, the school district and other philanthropy efforts. The year-long program currently allows for 18 interns per class. Students learn skills in transport, stocking, cleaning, organizing and much more through participation in three rounds of 10-week internships with various departments. 
They are supported by a Greenville County School District teacher and job skills trainer, an SCVRD job coach and counselor, a Bon Secours workforce coordinator and a mentor from the different hospital departments. Students are completely integrated into the departments they serve.
In 2017, the program started with five students and one classroom. In 2021, Bon Secours dedicated an entire building for the program with two classrooms and several model hospital rooms. And Weingartner said they were able to purchase Chromebooks for all the interns thanks to generous community support.
She said that while Bon Secours can't hire all the graduates — each receives a Project SEARCH graduation certificate — they go on to fill many roles in multiple community sectors because the skills they acquire in the program are transferable. It's important to note that the interns have to fill out standard applications for employment and go through normal hiring processes.
"They aren't given special treatment," Weingarter said, "and employment can be competitive."
Since Project SEARCH's debut in South Carolina, 94% of the interns found employment upon graduation: 17 students were hired by the health care system, and all of the class of 2020-2021 were employed within nine months of graduation, working at least 16 hours a week. Program leaders hope this sets the example for other Upstate businesses.
In Catholic tradition, work is not just a means of obtaining money to support oneself. Vocations are a way in which people achieve fulfillment as human beings. Catholic health care organizations contribute to the dignity of the individual and the demands of justice by promoting avenues for meaningful employment for people with disabilities. 
Project SEARCH in Greenville successfully upholds this Catholic teaching and inspires all of us to encourage the dignity of "a hard day's work."
---
Theresa Stratford is a freelance writer for The Miscellany. She lives in Charleston with her husband and three children and attends the Cathedral of St. John the Baptist. Email her at tmmart89@gmail.com.