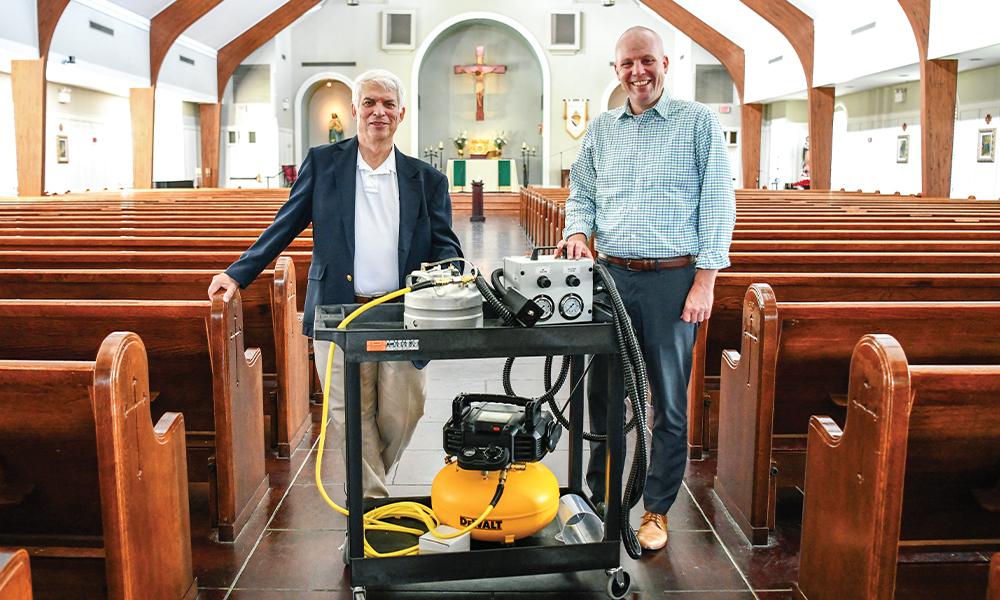 ---
Plant-based Anti-pathogen Led to a Nobel Prize Nomination
Never Underestimate Who Might Read Your Weekly Church Bulletin: A Simple Announcement Could Lead to an Abundance of Blessings.
St. Gregory the Great Church posted a notice in the Sunday bulletin about a school project called Heaven Scent: A Luffa Sponge Gourd Soap Project. It was awarded a Science, Technology, Engineering and Math (STEM) grant. When Art Martin saw it, he contacted the school's then-principal, Chris Trott, to help. Little did the school team know that they were about to embark on a journey with a future Nobel Prize nominee.
Martin is the owner, president and principal research scientist at Global Infection Control Consultants, which is based in Bluffton. He holds a bachelor's degree in environmental engineering with a focus on biology, a master's in mechanical engineering and a doctorate in engineering management. His company has expanded to more than 20 countries and is known for its Path-Away product, a non-GMO, plant-based anti-pathogen that has been approved by the Environmental Protection Agency. It has a variety of uses in the agricultural and medical fields.
After reading the bulletin, Martin offered to work with students to create their own soap using Path-Away. He shared the product and his global contacts to assist with growing luffa sponges and making the soap, and his work with the students was invaluable.
---
When COVID-19 started ravaging the country, Martin developed a solution to treat the airborne transmission of the disease by using Path-Away in a fogging machine. Creating a very fine mist, the solution would fill a room and then be carried through ventilation systems.
---
This type of sanitization was first used for the Bluffton Police Department in the spring of 2020. Path-Away was also used to clean and sanitize police vehicles.
When St. Gregory began developing a reopening plan for the 2020-21 school year, Martin reached out yet again to assist and to use his product to help neutralize COVID. Meeting with Trott, who now serves as the parish manager for St. Gregory Church, teacher Barbara Pittman, plus the church maintenance staff, Martin provided gallons of Path-Away. The school and church purchased the fogger. Throughout the year, the school and church used Path-Away regularly in the sanctuary, parish life center and classrooms, and staff and parents were comforted by using a product that was safe for children.
Recently, Martin's work of more than 20 years in researching and developing organic-based products and systems to counter pathogens, including the current COVID-19 (SARS Cov2) strain, was deemed of significant value and was under consideration for a Nobel Prize in Chemistry. Though he was not named a winner, we congratulate him for all his achievements.
---
Christopher Trott is the parish manager of St. Gregory the Great Church in Bluffton, and Barbara Pittman is a teacher at St. Gregory the Great School.