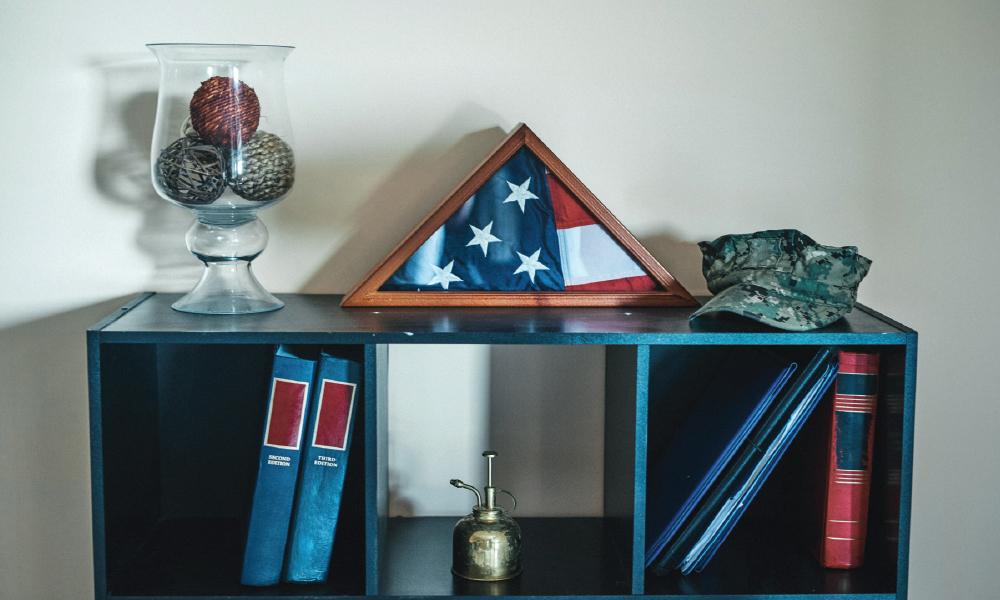 Photo by Getty images/Charday Penn
---
O Beautiful… In the Splendor of Creation and Human Life
Among my father's memorabilia that my mother kept was an autograph book from his high school days. For decades, these books, smaller than a Kindle or Nook reader but larger than an iPhone, offered pages in which friends and classmates could write messages. They were often standard "Remember me forever" sentiments, or references to youthful pranks or good times — much like the autographs in high school yearbooks.
But they also typically had at least a page on which the owner of the book could put personal data. My dad's included a place for him to name his favorite song. Unlike my mother, who loved music and had an elegant soprano voice, Dad was pretty much monotone with nondescript musical tastes. I imagine he felt pressed for something to name when he designated "America the Beautiful" his favorite song. 
Yet his life gave testimony to that choice. He and my mother both served in the U.S. Coast Guard during World War II. They believed in American principles and the American dream. Upon return and marriage, my dad was dedicated to exploring whatever region in which we found ourselves. When we lived in Queens, New York, we had to take a ride up the Hudson to Bear Mountain to see something other than cement, tall buildings, row houses and subway platforms. When we moved to north central Pennsylvania, we explored every rural road within a 50-mile radius. He loved taking me to Girl Scout camp and my brothers to Boy Scout camp and noted all the scenery. When we went to visit my aunt who lived year-round at the Jersey Shore, he headed gladly for the dunes and the water, though I never saw evidence that he, a city boy, could swim. In short, he loved America and he loved its manifold beauty.
America's natural beauty is still striking, and we can name many of its wonders, from Alaskan glaciers and the Grand Canyon to the Hawaiian Islands, the Great Lakes and the Green Mountains of Vermont, to name a few. Many of our neighborhoods are beautiful, and those which aren't — slums, for example, or rows of rickety trailers — periodically make some attempts to create oases of beauty for the residents. Sometimes it's a wildflower planting project in a vacant lot; other times it's a community vegetable and herb garden. There's a theology of beauty that insists natural and humanly created beauty inspire us, soothe the soul and speak of God. Theologian John Navone has noted that Jesus Christ is what he calls "the transforming glory of God," and he urges that this transforming glory can also be found in the beauty of the created world and in human life on earth.
All that having been said, we can wonder about the status of the deeper beauty of America. We have much about which to examine our consciences, and if we are honest, we will confront some ugliness there. The casual attitude toward abortion is our fatal flaw. Our acceptance of capital punishment, dismissive attitudes toward refugees, persistent racism, cavalier attitudes of the underserved and our environmental apathy are grave wrongs. Though news from around the world and our neighborhoods is accessible second by second, we are content to tune out and return to our own interests, comforts and financial concerns. We admire our beautiful churches, liturgies, properties, nature preserves and parks, but I wonder whether we often enough dig deeply into our beautiful call to be lovers of God and neighbor. 
There is a liturgical prayer that shows up on the 17th Sunday in Ordinary Time. In quoting it here, I hope that it will inspire us to heed beauty, value it mightily and let that beauty who is God transform us: "God our Father, open our eyes to see your hand at work in the splendor of creation, in the beauty of human life. Touched by your hand, our world is holy. Help us cherish the gifts that surround us, to share your blessings with our brothers and sisters, and to experience the joy of life in your presence." Having prayed that for years, I hope we open our eyes and our arms. As we celebrate one more Independence Day, may we — like my Dad and Mom and uncountable others who have sung beautifully, with patriotism and piety — sing of America, "God shed his grace on thee/And crown thy good with brotherhood/From sea to shining sea."
---
Sister Pamela Smith, SSCM, Ph.D., is the diocesan director of Ecumenical and Interreligious Affairs. Email her at psmith@charlestondiocese.org.