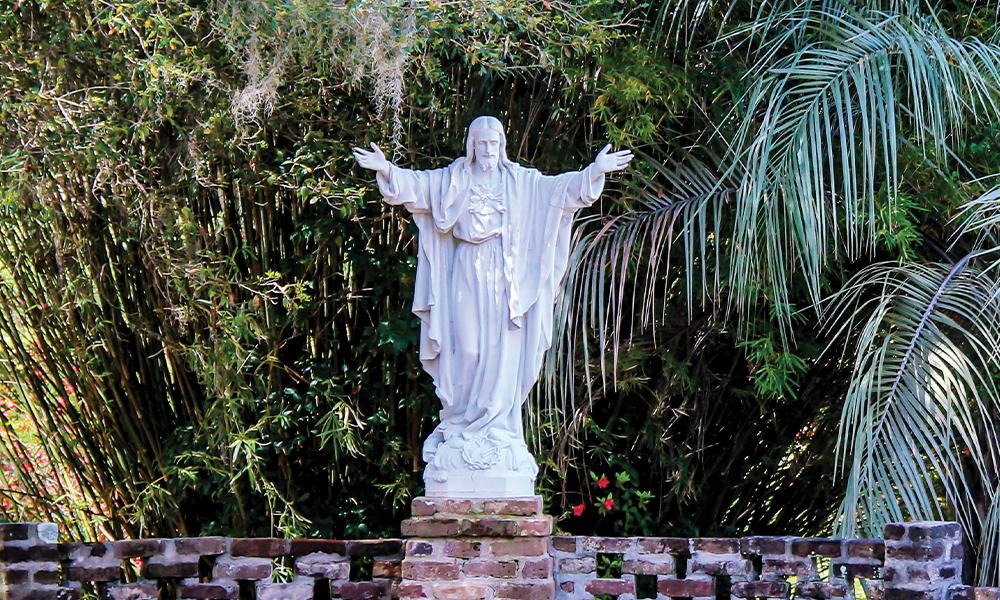 ---
The Monks and Remembrance
Thomas Merton, a Trappist monk and renowned mid-20th century memoirist and spiritual writer, once said, "People have no idea what one saint can do: for sanctity is stronger than the whole of hell."
The observation came in the immediate aftermath of World War II and amid the first phases of the nuclear age. Later, when Merton began writing about racial justice and the conduct of the war in Vietnam, he is said to have wondered aloud whether the only reason that our world had not already blown itself up was that contemplatives and so many of the faithful were persevering in steady, silent prayer.
While Merton was making Gethsemani Abbey in Kentucky famous, our diocese became home to the Trappist community at Mepkin Abbey, just outside Moncks Corner, in 1949. The property was donated by Clare Boothe Luce, an author and U.N. ambassador, and Henry Luce, the publisher of Life, Time and Sports Illustrated. Many of us first came to know of the Trappists through Merton's writings and then met them firsthand on visits to Mepkin. We admire and wonder at their hours of prayer, silence, unobtrusive labor to support the monastery, vegetarian diet and hospitality. What we don't necessarily expect is activism. When Merton became a critic of social mores and engaged with matters of justice, he evoked not only misunderstanding but also hostility. People often expect monks to keep to their monastic cells and simply pray and smile a lot.
However, that isn't the sum of their lives. They are titans who hold the world in prayer, and in that, they have a prophetic role to play. They point to the depth of Gospel values and ultimate matters of human dignity and destiny.
They live in service of the kingdom of God — the one that is yet to come and the kingdom in our midst. So, we should not be surprised that our monks at Mepkin engage in some projects that touch consciences and prod us to enlarge our embrace of our human brothers and sisters.
Two current projects in which the monks at Mepkin are involved are cases in point. One is a memorial, whose main feature will be a sculpture entitled "Thy Father's Hands." The monks are working with a collaborative group, including our diocesan Office of Black Catholic Ministry, to honor the enslaved who lived and worked at Mepkin long before anyone dreamed of an abbey. Through artistry, landscaping and narrative, the project will remember the enslaved and the Native Americans who once inhabited the property, many of whom were laid to rest in unmarked graves. As beautiful as it promises to be, it will remind us of a sad truth of history — people sometimes victimize and capitalize on other people.
Another event will be held on Pentecost Sunday, June 5. In response to the Lord's call "that they may be one," the abbey is hosting an event of shared prayer, sermon, song and a concert with people of varied faith traditions.
A main feature of the event will be a concert performed by the Taylor Festival Choir of Charleston. The work is an original composition by Cormac O'Duffy, music director at St. Theresa the Little Flower Church in Summerville, and based on the prison poems of Father Max Josef Metzger. Father Metzger was the founder of Una Sancta — a German movement to draw Christians together in faith, prayer and cooperative action for the common good — and was executed under the Nazi regime in 1944.
For those of us who aren't monks, the humanitarian and religious projects at Mepkin will be a great reminder that we can be missionary disciples by what we say, what we do, how we pray, what we remember and what we support.
The world sorely needs our witness.
---
Sister Pamela Smith, SSCM, Ph.D., is the diocesan director of Ecumenical and Interreligious Affairs. Email her at psmith@charlestondiocese.org.