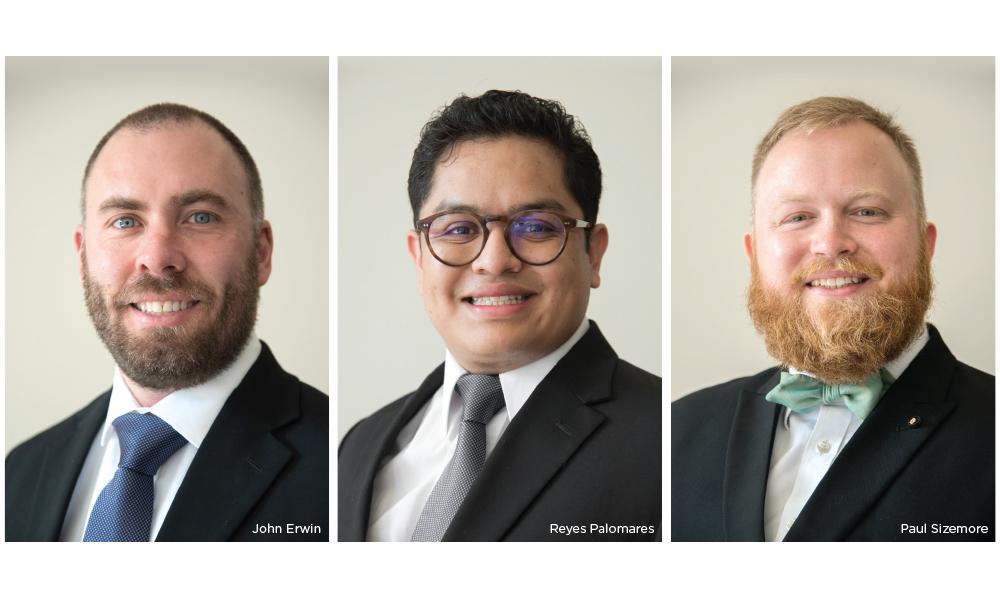 ---
Meet Your Seminarians - John, Reyes and Paul
The Serra Club is working with The Catholic Miscellany to provide a series of profiles on the Diocese of Charleston's seminarians. We invite you to meet three of the men in formation to be priests in South Carolina.
John Erwin is in his second year of pre-Theology studies at St. Mary's Seminary in Houston, Texas. His expected time of ordination to the priesthood is June 2026 or 2027. Reyes Palomares is in his fifth year of studies at Holy Trinity Seminary in Dallas, Texas, with an expected ordination in June 2027. Paul Sizemore is in his second year of studies at St. Vincent de Paul Regional Seminary in Boynton Beach, Fla. His expected ordination is May 2026 or 2027.
How did you discern your vocation?
John: My family moved to the Montgomery, Ala., [Maxwell-Gunter] Air Force base in 1988. As an altar server much of my youth, I was frequently encouraged by priests to consider the priesthood. However, I stopped attending Mass while pursuing an electrical engineering degree at Auburn. Following graduation, I moved to Charleston for engineering with the Department of Defense and then a local power company. After living the nightlife scene, I realized the emptiness in living for myself. I began visiting parishes, found a faithful group of young Catholics at the Daughters of St. Paul bookstore and was a resident of Drexel House for over a year. I was accepted by the UAB Physical Therapy program and decided to return to Alabama for school. I was deciding between celibacy or marriage. Seven years later working as a physical therapist and making discernment retreats, I requested to be a Diocese of Charleston seminarian.
Reyes: It's been a slow process of discernment that is still ongoing. I always wanted to help people yet was unsure of how. I had plans to go into business, previously worked in a bank and was part of my high school business program. I never felt satisfied. Although I deeply enjoyed being an altar server at my parish, I was never open about it. After conversations with my spiritual director and pastor, I made a visit to Holy Trinity Seminary, which was a life-changer for me. The next year, I applied to the diocese and was accepted. The path to discerning the priesthood is very challenging, yet it brings me peace and joy. I have met many who have blessed me on my vocation journey in a way that ministers to me and encourages me to stay on the path.
Which part of your vocation gives you the most joy?
John: Once I realized that many beautiful and amazing people and things in life reflect their Creator, I realized that I needed a closer relationship with him. Seminary has allowed space for internal reflection and self-examination, which has been a great blessing.
Paul: I have really enjoyed the intellectual conversion that I have experienced over the course of these past two years. What brought me to seminary was love and faith, but it was purely emotive. With priestly formation, particularly due to the study of philosophy, I believe that my faith in the Lord and his Church has become more integrated — more substantial — and I no longer feel as though it's merely "blind" faith.
The Lord has now given me sight, with the light of reason, to behold the beauty of truth, to ponder the mysteries of the faith and to abide in his love and grace.
Which pastime are you happiest doing?
Reyes: Painting, sketching and playing the guitar.
Paul: Growing up so close to Augusta, Ga., golf has always had a presence in my life. My father, being an avid golfer, taught me to play as a child. He taught me many other hobbies and sports, but golf is by far my favorite pastime. Though I do enjoy playing a round solo or with friends, I enjoy playing with my father the most.
What is a typical day and week like in seminary?
John: Most days are peaceful with a great prayer-work rhythm. We have "house jobs" we normally perform on Friday. My jobs this seminary year are infirmarian, helping brothers who are sick and need meals or Eucharist brought to them, also gardening manager and assistant sports coordinator.
Which skills and talents are you bringing to your vocation?
Reyes: I am bilingual from two different countries and understand the different essences of these two cultures.
What are some causes you care about?
John: My parents were always helping out in soup kitchens, so that is something I gravitate toward. I pray the rosary at abortion clinics with my seminary brothers and help financially at crisis pregnancy centers. The Catholic Near East Welfare Association is great about getting money to conflict areas for humanitarian relief and vocation efforts. I support them.
Who is a person you admire and why?
Paul: There are so many men and women that I have come across in my life, either in literature or real-life encounters, that I have held in high esteem. However, I would have to say that none of them compares to the character and genuine goodness of my father. I have often told confreres and close friends that if I am able to be just half the man that my father is, then I can say that I have accomplished something in my life. He is the best man that I ever met in my life, and I am proud to be his son.
Which part of your vocation has been the most difficult or surprising?
Reyes: As seminarians we are called to develop a missionary heart and be men who can be called at any moment in time to various ministries. We are taught not to become attached to any particular place or people, and this is difficult.