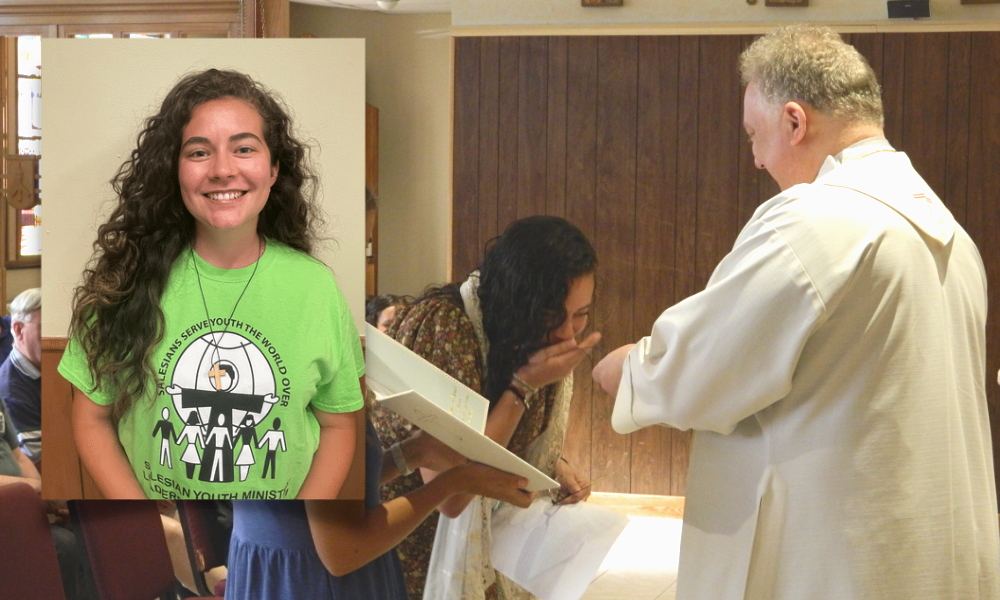 ---
Mara Fenn Commissioned as Salesian Lay Missioner
Five Salesian Lay Missioners, SLMs, were commissioned Aug. 18 toward the end of their retreat at Don Bosco Retreat Center in Haverstraw, New York.
One of the new missioners is Mara Fenn, a parishioner from Our Lady of Grace Church in Lancaster, South Carolina.
Mara, 24, earned a degree in international business at the University of North Carolina at Charlotte. Her SLM posting will be at Hogar Maria Auxiliadora, an orphanage for girls in Cochabamba, Bolivia, replacing missioners stationed there for the past year.
"I love the Salesian mission carried on from St. John Bosco to help kids in need," she said. "I hope to be able to love the girls the way Christ loves them. I'm sure the joy and hope of the Lord will be made present in a new way this year, and I'm so excited for what God wants to teach me and how he will work through and around me."
Mara is the second SLM from the Diocese of Charleston, preceded by Olivia Elswick in 2013-2014.
As part of the weeklong retreat leading up to commissioning, SLMs were introduced to Don Bosco and the Salesians to be given an understanding of mission and inculturation. They received safe environment training, completed necessary paperwork and were given opportunities for parish service.
The other new missionaries are Paul Chappell of Scituate, Rhode Island, who will be assigned to Kami, Bolivia, near Cochabamba; Katherine Mendoza of Frisco, Texas; Adam Goetz of Peosta, Iowa, and Timothy Hughes of Carlsbad, California, both of whom will go to the St. Dominic Savio School and youth center in Colima, Mexico.
Father Timothy Zak, Salesian provincial, presided over the commissioning rite. He introduced the missioners by linking their sending forth to what the early Church did in the Acts of the Apostles.
In his homily, Father Zak cited the Salesian rector major's recent call for a "time for generosity" in the congregation, specifically for missionary generosity. The courageous example of the congregation's first missionaries and modern ones spurs on the whole community, the priest said.