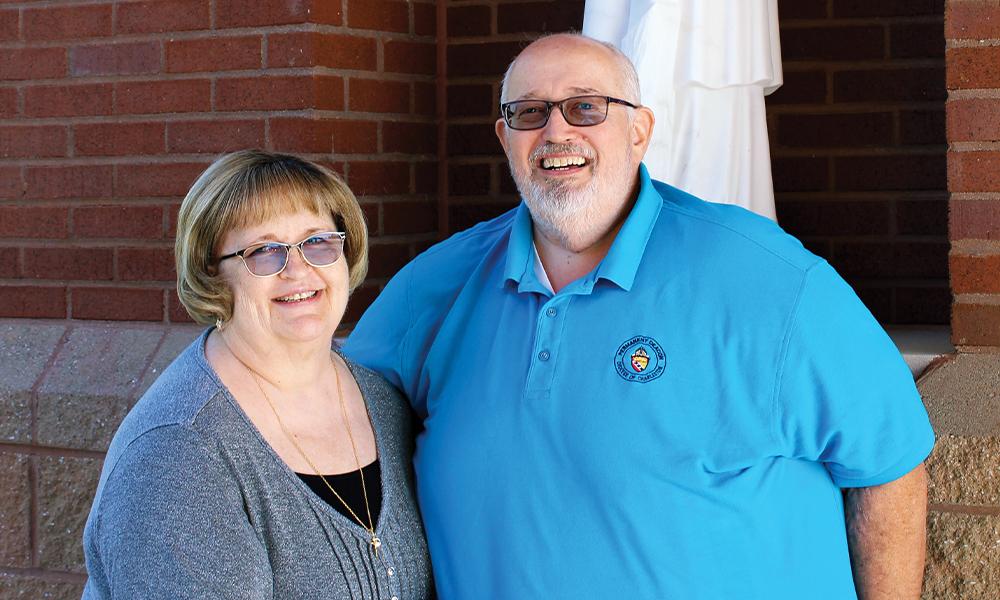 ---
Hospice: End-of-life Care Is Pro-life Care
Hospice Nurses Don't Have Wings, but for Families Who Are Hurting, They Fly Like Angels.
Deacon John Hall and Sheila Stacy have seen these angels in action, and they are awed.
Sheila and Gil
Sheila's husband, Gil Ramsey, was suffering from Stage 4 lung cancer, COPD and congestive heart failure.
"He was given six months to live," Sheila said. Then hospice came in and took over. "Under their care, he lived two years," she said.
They made a difference. They were attentive, kind, compassionate and treated him with dignity, she added. They also took the stress off of her.
"You have to have help" in caring for a dying husband, Sheila said. "From the time they get to your house to the time they leave, they have one mission: take care of their patient."
John and Mary Beth
Deacon John Hall saw that same devotion from the hospice nurses who looked after his wife, Mary Beth, who had a brain tumor. Doctors performed two surgeries to remove it. The first one, to cut off blood supply to the tumor, came on Dec. 8, 2011, the feast of the Immaculate Conception. The second operation, to remove the actual tumor, was successful.
"She had to virtually relearn how to do everything," John said. So she went to nursing homes and rehab to restart her life.
"The last nursing home, they did not clean the wound on her head properly, and it got infected," he said.
Her organs began to shut down, and the infectious disease doctor told John that his wife was going to die.
"They told me she had two weeks to live," he said.
The news staggered him and his family, and they turned to prayer and their parish for support.
"Every night at 7, the parish we grew up in (in Pennsylvania) would say a rosary."
When he needed something, the parishioners at his church, All Saints in Lake Wylie, S.C., were there.
"There was always somebody coming through to make her comfortable," John said.
Still, it was a terrifying ride — then hospice showed up.
He had to convince Mary Beth that it wasn't the final step before the cemetery.
He said, "She's going to look at me like I'm throwing in the towel." They soon discovered that hospice brought specialized, one-on-one care.
"They came in and got everything set up," John said. They brought in a hospital bed, a wheelchair and a walker.
Barb and Samantha
Barb McGoye, the registered nurse, worked diligently in cleaning the wound. She also was instrumental in changing Mary Beth's medications.
Barb's dedication and knowledge soon won John over. He said she wanted to be there; she wanted to help. "She would always try to lighten things up."
Samantha Williams, a certified nurse assistant, quickly gained the family's admiration through her work.
"A lot of people forget the CNAs," John said. "They get the ugly end of it."
But the "ugly end of it" was crucial in establishing dignified, respectful care. Samantha's efforts showed, and John said the bedridden Mary Beth and Samantha became close friends.
Both health care providers were humble, caring and loving, John said, and under their charge, Mary Beth began to heal.
Hospice looked after Mary Beth from September 2013 to September 2014. Then she graduated, grew healthier and survived.
"Now, she's fine," John said.
Now the business manager at St. Anne in Rock Hill, John is a deacon at All Saints. Mary Beth now "posts and balances the collection for us" at St. Anne, he said, and she also sings in the choir.
Mary Beth and Barb have become  friends over the years.
"She still has a deep passion for people," John said. "She loves her job, and she wants to see people get better."
Gwen
Gwen Painter feels the same way. She is the administrator for Elite Home Care and Day Center in Spartanburg, but she worked for hospice for 15 years and still answers the call during the weekends.
"I love my job," she said of hospice, where she started as a staff nurse. "I enjoy hands-on nursing care," and the opportunity to focus on a patient's quality of life. "They take your stress and put it on their shoulders," she said of hospice, which works with Medicare and Medicaid, cutting through many of the difficulties that families face.
Ultimately, "God is in control," Gwen said of end-of-life issues.
And at the end
Most of the time, patients who come to hospice are not seeking a cure. They just want a little dignity before they die. But every once in a while, a patient will live, and that is when hospice throws a graduation party for them and their family, celebrating life.
John and Mary Beth Hall got that second chance, but Sheila Stacy did not. She still admires the care hospice gave her husband Gil, and she wishes that she had known about them in the early 1980s when she took care of her bedridden grandmother.
It's a tough job for anyone to watch a loved one become a shell of him or herself as the end of life draws closer. Hospice, however, holds them up with grace.
"They are an awesome service. We called them our angels on earth," Sheila added.