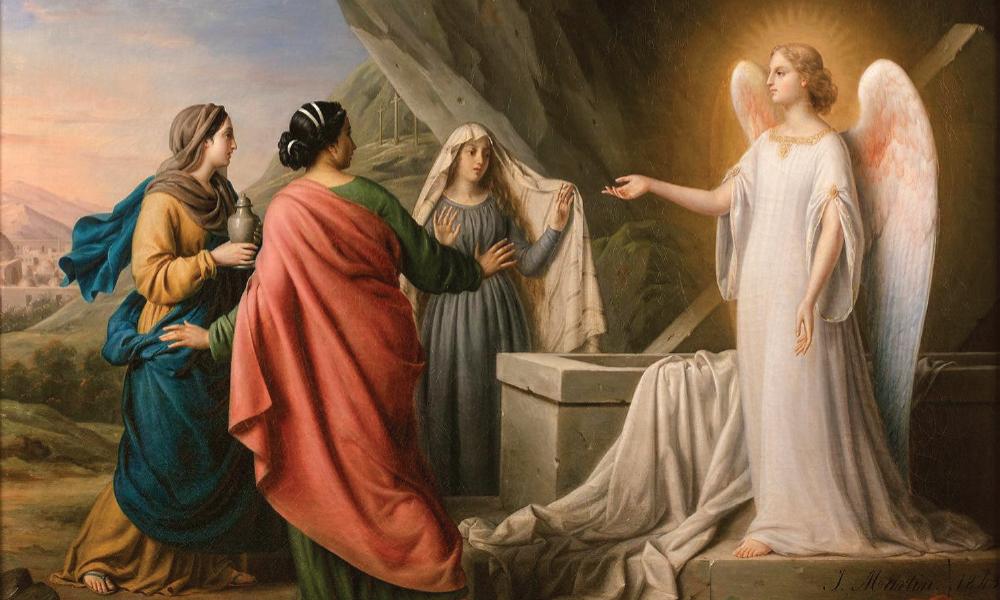 Artwork: The three women on the tomb of Christ, painting by Irma Martin, CC0
---
Holy Saturday and a Lesson on Grief
The bleakest time to step into a Catholic church or chapel is Holy Saturday morning. The altar has been stripped since Holy Thursday evening, and all sorts of adornments have been removed. But after the conclusion of the liturgy which commemorates the Last Supper, the altar of repose is there, bedecked with flowers and candles, and adoration of the reserved Blessed Sacrament continues to midnight.
On Good Friday there is no Mass, but the main altar is set with a few linens, the priests and deacons are in red vestments, there are prayers, readings and recitations, veneration of the cross and reception of holy communion. There may be indoor or outdoor stations of the cross — some of them, like those at St. Gregory the Great Church in Bluffton, are performed as a full passion play. But by day's end, everything is gone. There are pews, walls, shadows, a barren sanctuary. And morning comes. Even if morning light, shining through stained glass, casts some splotches of color on the walls, those few bright glints simply seem out of place. The silence is palpable.
I've often thought that the desolation of Holy Saturday morning is a kind of icon of how the Blessed Mother and the Apostles must have felt after the gruesome crucifixion of Jesus and his burial. They had no way of knowing what would come next, even though he had offered some hints — seemingly baffling ones.
The Blessed Mother must have sat that morning staring at dead walls and furnishings while she had no desire to eat, take a sip of water or speak. She must have felt as though her heart would surely stop, even as her tears seemed to have been dammed up somewhere inside her.
Any of us who have lived through wrenching loss know what it is to sit stunned and mute, unable to move or sleep. Our world shrinks, and we wonder if we are trapped in a bad dream. After the initial grief, though, we summon up grit. We have to do something — check on an elder, feed a child, open a door. The Blessed Mother certainly had to tend to some ordinary duties and persons at hand. She had to fetch water and possibly comfort the apostle John and Mary Magdalene.
Once we have passed from the aggrieved shock to the grit that simply makes us get moving, it seems that we can begin to summon up reserves of generosity. We're sensitized to the pain of others. We see who needs help and how we might possibly bolster them, and thus we become receptive to great grace.
For Mary and all the disciples that grace came quickly. By Sunday morning there was an empty tomb, and the first appearances of the risen Lord had begun. Mary Magdalene went to the tomb. Peter and John hurried to discover the rolled back stone and the abandoned grave cloths. And they began to see him — in a gravesite garden, in a room, on a road to Emmaus, on a beach. Our own moments of grace may come more gradually. But for people of faith, they do come: the assurance that the loved one is at peace, that God's immense mercy has surrounded him or her with fatherly welcome. We sometimes find humor at wakes and reminders in eulogies. One recently celebrated at the Chapel of the Holy Family in Charleston had the brother of the deceased noting that he felt the man being eulogized spoke to him in the dark to remind him: "It's a celebration, stupid!"
True, we terribly miss our departed family members, friends and colleagues, and we deeply lament their physical absence. Yet our resurrection faith comforts us. We have confidence that our connections are not broken, and our love is not lost as we transition from this life to the next. We talk about the Church Suffering (those being purified in purgatory after death), the Church Militant (the faithful on earth) and the Church Triumphant (the saints, canonized and uncanonized, in heaven) with good reason — Christ is alive, and the Body of Christ encompasses the living and the dead.
We are grateful for the time that we have had. As everyday people, we treasure memories and mementoes and tell and retell stories of those who have passed from this world to the next. As a Church, we understand that this is how the Gospels got preached and written, why the Acts of the Apostles makes a point of saying that Mary was present praying in the upper room as Pentecost unfolded, why Paul and James and Peter and John and Jude wrote letters, and why the visions and trials of the Book of Revelation end so majestically. Our gratitude has taken shape in devotions, special rites and the whole sacramental system, which climaxes in the ever-repeated Eucharist, source and summit of our faith and keystone of our worship. Our gratitude also leads us to remember those heroes that we call saints.
Grief, grit, generosity, grace and gratitude.
By sunset on Holy Saturday our churches have exploded with flowers, and as the new fire is lit, the paschal candle is inset with incense, its light moves from person to person, and the darkness slowly opens into light. At the Easter Vigil, more scriptural readings are proclaimed than on any other day in our liturgical year, and they traverse salvation history. Thunderous voices and instru-ments break into alleluias, and sacraments of initiation and welcome are celebrated.
The desolation of the morning is a dusty memory. Light and life burst forth as we are elbow to elbow with people in the pews and also, mysteriously, mystically, surrounded by "a cloud of witnesses" — Mary, the holy ones, angels. With the Lord who is truly risen, glory is the consoler and conqueror of all grief. We need never be empty for long. Easter is, and the Lord of Life is alive.
---
Sister Pamela Smith, SSCM, Ph.D., is the diocesan director of Ecumenical and Interreligious Affairs. Email her at psmith@charlestondiocese.org.