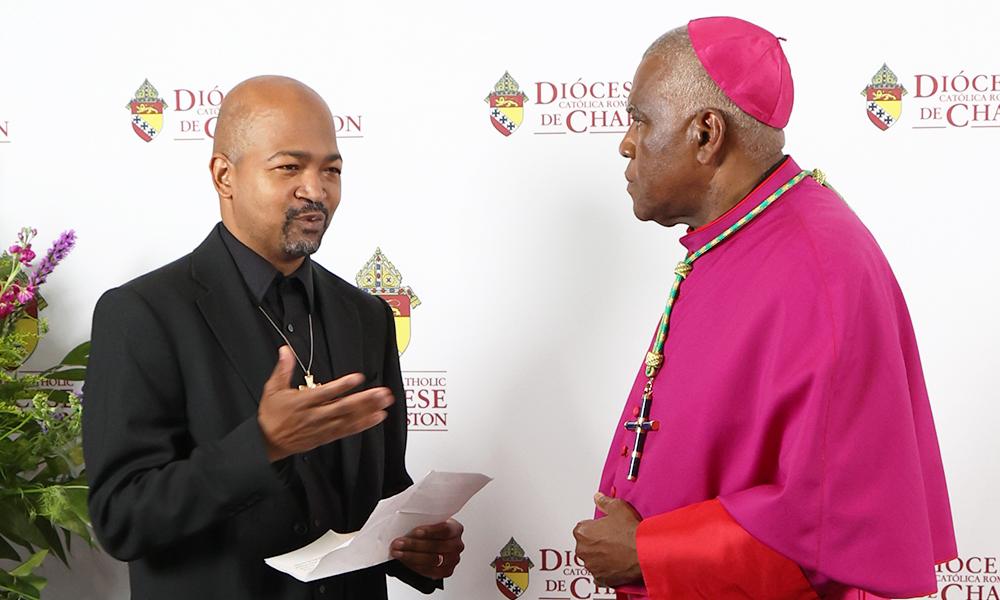 ---
An Historic Event Calls for Special Vestments
As excited as the Catholics of South Carolina are to welcome Bishop Jacques Fabre-Jeune, CS, as the new bishop, it is important to take a second and ponder the gravity of his appointment.
What we are witnessing is history. Bishop Fabre is the first Black bishop for the Diocese of Charleston and only the second Haitian American to be appointed a bishop in the United States.
Deacon Melvin Tardy, president of the National Black Catholic Clergy Caucus, said it best, "His history and journey speaks to a lot of us with African descent."
Deacon Tardy, originally from New Orleans, is a deacon for the Diocese of Fort Wayne-South Bend, Ind., and an associate advising professor at the University of Notre Dame. The NBCCC's mission is dedicated to the spiritual, theological, educational and ministerial growth of Black Catholic clergy, religious and seminarians to meet their spiritual and social needs more effectively.
This unspoken bond that Deacon Tardy and other members of the NBCCC have with Bishop Fabre was recognized at the new bishop's ordination May 13, when the deacon presented vestments at the reception.
"It isn't easy being the first," Deacon Tardy explained in an interview.
He brought up Ven. Father Augustus Tolton (1854-1897), the first known Black Catholic priest in the U.S. Deacon Tardy also spoke about Servant of God Mother Mary Elizabeth Lange, also born in Haiti, who founded the Oblate Sisters of Providence in Maryland, the first community of Roman Catholic sisters of African descent in America.
He mentioned that in many cases it is the Black clergy that are often carrying the "firsts" as well.
"This really speaks to us. It's groundbreaking," he said.
Deacon Tardy admires Pope Francis for appointing Bishop Fabre and said it "will bring us closer to being that universal church — to becoming one."
Since Bishop Fabre speaks fluent English, Spanish, Italian, French and Creole, he will be able to directly communicate and reach out to the diverse population that makes up the Diocese of Charleston.
"Bishop Fabre embodies what we are all aspiring to become," Deacon Tardy added. "The Catholic religion is probably the most diverse religion in the world, but on Sunday, you will see us segregating ourselves. We need to be those universal Catholics where all are welcome."
Deacon Tardy said that seeing Bishop Fabre at the alter will help to open the Church and become more inclusive and accepting.
The honor of presenting the vestments to Bishop Fabre was not something the deacon took for granted.
"As the president of the NBCCC," he said, "I will let him know that we embrace him, and we will pray for him."
Deacon Tardy has presented vestments to Black bishops over the years, including Cardinal Wilton Gregory in Washington, D.C., and Archbishop Shelton J. Fabre of Louisville, Ky. Archbishop Fabre is a distant relative of Bishop Fabre-Jeune.
Vestments, which are worn by bishops to celebrate Masses and other sacraments, are garments with meanings that are special to each man's consecrated role.
"The announcement that Bishop Fabre would become Bishop of Charleston came during the season of Lent," Deacon Tardy explained. "… a spectacular rose-colored chasuble, the color of Laetare Sunday and the color of joy [was created]. My presence there was a sign of the joy and hope of Black Catholics around the country for the ordination of our brother, Bishop Fabre. Joy in the midst of struggle is one of the characteristics of African American spirituality.
"We hope that these vestments will always remind him of our mutual joy in his ordination and will serve as a sign of hope," the deacon continued. "… we, his brothers and sisters, are always with him, that we are always praying for him, and that Christ who is the dawn and the source of all joy is ever-present as well."
Deacon Tardy said that he can identify with the joy and sense of excitement that Bishop Fabre must be feeling.
"I don't know him on a personal level yet, but I know how significant this role is," he said.
Deacon Tardy hopes to see the Catholic Church grow under Bishop Fabre's leadership.
"I would love to see larger parishes," he said. "I would love to see them bearing fruit. I would like to see larger faith communities and more vocations."