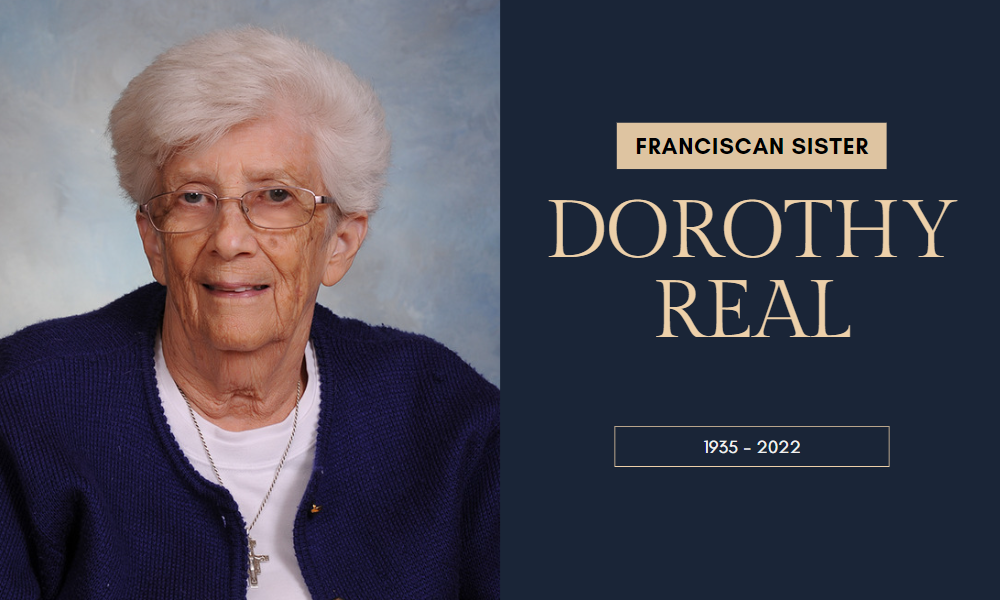 ---
Franciscan Sister Dorothy Real Dies
Sister Dorothy Elizabeth Real, OSF, formerly Sister Marie Patricia, died Oct. 19 in Ashton, Pennsylvania. She was 87. She was a professed member of the Sisters of St. Francis of Philadelphia for 63 years.
Sister Dorothy was born in Baltimore, Maryland, where she was a member of St. Anthony Church and a graduate of The Catholic High School of Baltimore. She entered the congregation in 1957 and professed her first vows in 1959. She earned a bachelor's degree in English from Neumann University (then Our Lady of Angels College) and ministered primarily in elementary education.
Sister Dorothy ministered for many years in the South. She spent 17 years in the Diocese of Charleston, where she taught at St. Paul School in Spartanburg; Our Lady of Peace School in North Augusta; and St. Joseph School in Anderson.
Sister Dorothy also spent 15 years in the Diocese of Mobile, Alabama, at Most Pure Heart of Mary School where she served first as a teacher and later as a volunteer. Additionally, she worked for many years in various dioceses and schools in Florida, Delaware and Washington, D.C.
In ­­­­­2015, she moved to Assisi House in Aston, where she served in prayer and hospitality until her death.
Interment of her ashes, following a Mass of Christian Burial, will be at Our Lady of Angels Cemetery in Aston. Sister Dorothy is survived by her sister Kathy Gladding, her many nieces and nephews, and her Franciscan family.
Donations in her name may be made to the Sisters of St. Francis Foundation, 609 S. Convent Road, Aston, PA 19014.