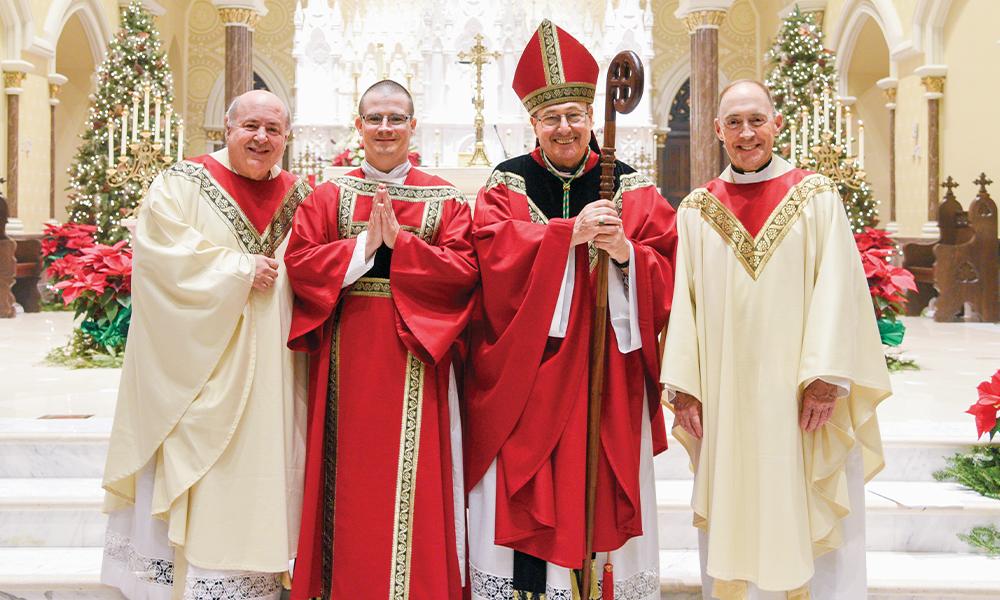 ---
Finding a Way to Serve the Lord
A couple of years ago, Susan Wallick was struggling, wanting to offer herself to the Lord. "How can I be His hands and feet?" she thought. "How can I share Christ's love for the world? I am only one person."
And there was so much to do. The tasks were too daunting, too overwhelming.
The answer finally dawned on her during Lent while she was in line for Communion: contribute to the Bishop's Annual Appeal.
"I do not have the time, talent and treasure required to run a powerful ministry like Clean of Heart in downtown Columbia, but through the BAA, I can support those with the gifts of how to care best for our neighbors looking for necessities of daily living," she said.
Teamwork gets the job done. Pitching in and letting each person do their part can yield amazing results.
That is how supporting the BAA brought Susan and her husband Dan a sense of peace and gave them a mission, she said.
"It still fuels and orients my life," she added.
Their response to the BAA has allowed the Wallicks to do much more than they could do on their own. They realize this and revel in it.
"The BAA helps us support prison ministry, shelter others and even bury the dead," Susan said.
The diocese holds dear these corporal works of mercy and so many others. Another biggie the BAA supports is Catholic education.
Susan said their stewardship is worth it if it helps "just one young soul attending Catholic school realize the love of God for them."
That mission is bearing wonderful fruit.
Jake Nadeau and Colin Doering received Catholic educations in the Diocese of Charleston. They also were part of the Christian Leadership Institute (CLI), a five-day summer camp program for high schoolers to develop and build Catholic leadership.
Then they worked on the diocesan Evangelization Team that organizes conferences for middle schoolers and high schoolers.
Now, both men are studying at Holy Trinity Catholic Seminary in Irving, Texas, to become priests for the Diocese of Charleston.
Jake and Colin came from very different backgrounds, but activities funded by the BAA brought them together and encouraged them to pursue a deeper life with God.
Jake said he grew up with a very supportive family, who planted the seed of faith and nurtured it. He attended Catholic schools from first through 12th-grade, and his older brother paved the way for him in youth ministries and the Evangelization Team.
He called the summer camps "the most fun week of the whole year." While there, Jake witnessed youths living out their faith.
"That made all the difference for me. I remembered how happy they were," he added.
He also spent three years on the E-Team and saw how "very committed" the members were.
Jake said that Colin joined his senior year, and they became buddies.
"Me and Jake met at CLI," Colin said. "The friendship wasn't that strong until we got on the E-Team. Then we grew a lot more and were able to be a lot more personal with each other."
In fact, Colin said Jake was the first one he told about discerning the priesthood and applying to seminary.
"I was on fire for my faith," he said.
The road leading to that decision was not an easy one. Colin said his family went to church on Sundays and said grace before their meals, but that was about it.
They did, however, believe in Catholic education and sent both Colin and his older sister to Catholic schools.
Colin attended St. Francis by the Sea on Hilton Head Island for pre-kindergarten, then St. Gregory the Great in Bluffton from kindergarten through sixth grade, and finally John Paul II High School in Ridgeland.
That educational foundation led Colin toward youth ministries, where he "learned a lot more about the church and its teachings," he said.
He attended every summer camp from sixth grade through his senior year in high school, and the Christian Leadership Institute had a huge impact on him.
"I was impressed by their testimonies and how they came to the faith," he said. "These people are happy, and I desire that happiness."
At home, however, things were not so happy.
"Family life wasn't very steady," he said, as his parents divorced when he was young, and then his father died. "But through it all, we received a lot of support from the Church, and I felt called to offer my services to the Church. I'm really blessed."
Jake said his calling grew stronger after COVID-19 hit and he began to focus on reading. He said he read Bishop Robert Barron's Letter to a Suffering Church and realized that "God is looking for better leaders."
Then he read Diary of St. Maria Faustina Kowalska: Divine Mercy in My Soul in less than two months, and it changed his life.
Now Jake and Colin are in a Texas seminary together, supported by the Bishop's Annual Appeal, and discerning the priesthood. Jake can't wait to get back to South Carolina.
"I plan to be a priest in the Diocese of Charleston," he said.
Like Susan Wallick, with the help of the bishop's appeal, he has found a way to serve the Lord.
---
Bishop's Annual Appeal Funding
$5,000,000 Goal
29%
Ministry & Outreach | $1,500,000
Catechetical and evangelization programs
Child Protection Services
Ethnic Ministry programs
Family Life programs
Hispanic Ministry programs
And many more services
20%
Vocations, Seminarians & Priest Retirement | $975,000
Seminarian education
Permanent diaconate
Priest retirement pensions and healthcare
Women religious vocations
17%
Catholic Charities | $850,000
Clean of Heart laundry & shower facilities
Food pantries
Pregnancy case management
Response preparedness
Senior care management
And many more services
15%
Catholic Schools | $750,000
Tuition assistance
Catholic school grants
Support of educational initiatives
13%
College Campus Ministry | $650,000
Conferences and statewide retreats
Minister and student training
Catholic student center spaces
And many more services
6%
Youth & Young Adult Ministries | $275,000
Education and training
Youth retreats, camps and conferences
Regional young adult communities
---
Joseph Reistroffer is a long-time writer who teaches religious education classes at St. Paul the Apostle Church in Spartanburg. Email him at jrjoeyr@gmail.com.