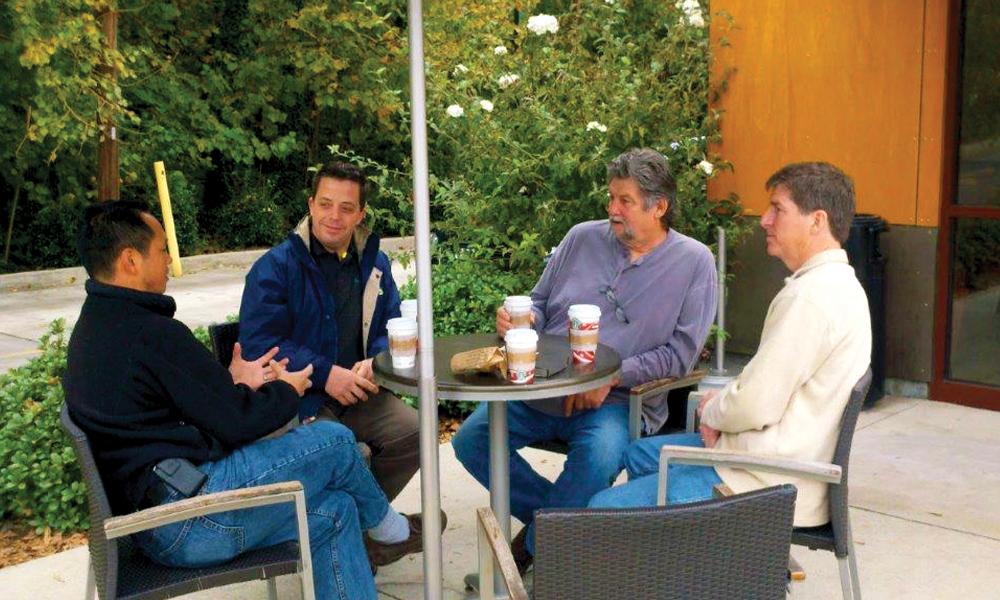 ---
Finding Support
In the Gospel and Each Other With Men@Prayer
Bill Pace came down from the Smoky Mountains to be with two dozen other guys at 7 a.m. on Christmas Eve at St. Paul the Apostle Church in Spartanburg. The men reflected on Sunday's Scripture readings for the Feast of the Holy Family.
He could have stayed home. The others could have, too, especially during the holiday with children and relatives flocking in from all parts of the country. But Men@Prayer is important to Bill and to all those who showed up.
On this particular morning, John Slaughter gave the readings and reflection. One passage stood out for him in the second reading from Colossians 3:12-21: "Fathers, do not provoke your children, so they may not become discouraged."
Then John asked everybody in that room whether they had a difficult child and how they dealt with the strife. Just about every man raised his hand, and the topic sparked spirited debate.
Some found the answer in that same reading from Colossians: "Bearing with one another and forgiving one another…"
In other words, bite your tongue, be patient and don't lash out. Seek common ground and work from there.
It's not easy, but that is the beauty of Men@Prayer. They are a support group for each other. If any man has a problem, they know they have a buddy out there with a shoulder to lean on who is praying for them. They also know that other men are going through the same difficulties, and they are not alone.
At the end of the session, the men gather in a circle and bring forth their prayer intentions for that day and week. Then each intention is prayed over by the others.
"We have to hold on to humility like a liferaft," said Jody Armstrong, who brought Men@Prayer to Spartanburg in 2009.
"We are not a service organization," he said. "We are a prayer group. We keep it simple."
Jody said the idea of a prayer group for men was prompted by Chris Stone, a friend from Miami.
"He knew I was moving from Florida to Spartanburg in 2004, and he urged me to start it. I was scared to death. This is not something I would do," he added.
The thought stayed dormant for a couple of years, then Jody met Dr. Tommy Leong, who was moving his family from Texas to Spartanburg.
"His van broke down in front of my house, and we invited him and his family in. We ordered out for pizzas and we fed them," Jody said.
A friendship grew from there, and he bounced the idea of a prayer group off of Tommy, who responded, "If you start one, I'll come," Jody said.
So, the first Friday in October 2009, Jody launched Men@Prayer with about four or five guys. Tommy was one of them. He had kept his promise.
"I was calling everyone I knew," Jody said. "I did promise God that I would bring coffee and some kind of food for two years if he would send the men."
God sent the men, and Jody kept his promise. Now, Men@Prayer meets at 7 a.m. every Friday morning in the gym at St. Paul. They even offer a Zoom option for those who can't attend in person.
"We have people from all over the Upstate coming to Men@Prayer. We have guys from the Baptist church coming," he said, adding that men from Florida, Iowa, North Carolina and Pennsylvania have Zoomed in.
"It's Scriptural and Holy Spirit-based," said Steve Miller, who attends the Friday morning meetings. "I think that is what draws men," he added. "It's a safe space for men to say what's on their heart."
He said it is also a great preparation for Sunday Mass.
As Men@Prayer grows, the group has added tables in St. Paul's gym for discussions before the final prayer intentions.
"There are men that God put at Men@Prayer who are amazing," Jody said. "They have helped me learn so much about the faith."
Perhaps that is why Bill came down from the Smokies on Christmas Eve. It was a chance to learn a little bit more about prayer and the role men play in spreading the Word of God.
---
Joseph Reistroffer is a long-time writer who teaches religious education classes at St. Paul the Apostle Church in Spartanburg. Email him at jrjoeyr@gmail.com.