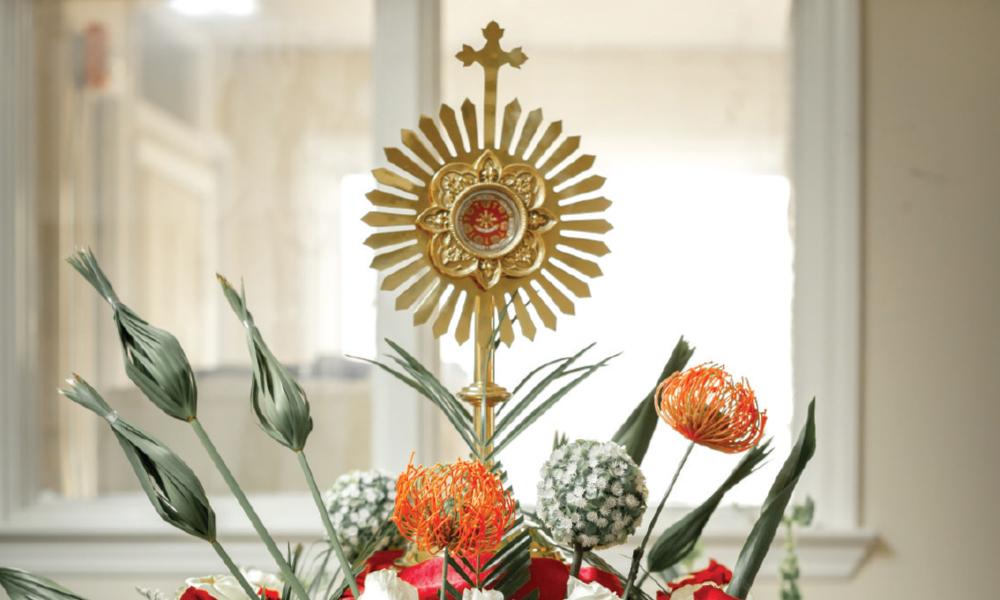 ---
Eucharistic Miracles from Around the World Traveling South Carolina
The heart of Jesus beats loudly today because a young Italian boy loved our Lord so much that he wanted to share that love with the world.
Carlo Acutis did this by researching and documenting eucharistic miracles that occurred through the centuries around the world. He then designed and created an online exhibition of those miracles, www.miracolieucaristici.org.
Acutis died of leukemia in 2006 at the age of 15. The Vatican beatified him and declared him blessed on Oct. 10, 2020. His work on the miracles of the Eucharist is nothing short of amazing.
"It will blow your mind," one believer said.
Prepare to have your mind blown on June 16, 17 and 18, when that exhibition comes to St. Paul the Apostle Church in Spartanburg courtesy of Bill and Mary Rykman.
June 16 happens to be the feast of the Sacred Heart of Jesus. It is followed by the feast of the Immaculate Heart of Mary June 17. So, what better time to organize a pilgrimage to St. Paul and rediscover the Eucharist, the core of our faith, the body and blood of our Lord truly present in the consecrated host.
"I don't understand it, and I'm a physician," Bill said. His faith, however, carries him through.
Scientifically, it is a hard thing to grasp, he added, but he believes. So does his wife, Mary. That is why they developed a traveling display of Blessed Carlo's research and took it around to parishes near and far.
"I never knew there were so many eucharistic miracles," Bill said.
These are special. They happened during times when faith seemed to lag and falter even among the faithful — even among priests celebrating Mass. God gave these folks a gift.
"A eucharistic miracle occurs every single day when we go to Mass, and people don't even recognize it," Rykman said.
During the liturgy of the Eucharist, priests all over the world are present at the Last Supper by changing the bread and wine into the body and blood of Christ.
"Only 30 percent of Catholics believe that that is Jesus," he said. That is a sad statistic.
Like Blessed Carlo, the Rykmans are on a mission to change hearts.
"This boy was only 13 years old, and his love of the Eucharist was so great," Bill said of Acutis.
Blessed Carlo's love was so big that it brought his mother back to the Church, so that is also the Rykmans' quest: to bring people back to believing in the Real Presence of Jesus in the Eucharist.
The Rykmans' exhibit was on display at the Eucharistic Congress in Charlotte, North Carolina, in 2022, and it caught the eye of two parishioners at St. Paul, according to Norma Stokes, director of religious education. She said they wanted something to celebrate the Year of the Eucharist.
Right after the congress in Charlotte "we took the display to Indian Land," Bill Rykman said. "It was accepted so, so well. It was a 'wow' situation."
The wow part came from how that exhibit moved a security guard at the Masses.
"He was a fallen-away Catholic," Bill said. "He kept peeking in." All it took was a couple of glances at these eucharistic miracles. "He said, 'I think it is time to come back to the Church.'"
These panels of eucharistic miracles have the power to wow people. It includes 152 miracles from 22 countries.
Pope Francis was a witness to the 1996 miracle in Buenos Aires, Argentina, when he was bishop. A consecrated host began to bleed and developed heart muscle, and medical tests and investigations verified it.
Dr. Rykman's favorite miracle occurred in Lanciano, Italy, around the year 750. A doubting priest saw the bread and wine transform into human flesh and blood during the consecration. The host was placed in a special vessel and put on display.
In the 20th century, the host was tested again and doctors concluded that it was living heart tissue. They also found that the blood type was AB, the same as the miracle in Argentina.
"It has all the same qualities that fresh blood has," Dr. Rykman said. "If they put a wire on the host, they would have an EKG shown."
Then there is the 1348 miracle in Alboraya-Almácera, Spain. A priest was crossing a river to bring communion to villagers, when the hosts spilled into the river. Several fish gathered up the hosts in their mouths and brought them back to the priest.
These miracles have been investigated and verified.
"The entire display is approved by the Vatican," Dr. Rykman said. "Seeing is believing. There are so many there. They are seeing scientific proof on paper. This is truly Jesus Christ present."
Stokes urges visitors to pray before visiting the exhibit.
"Everyone is invited," she said, "and when you come, come with some time so that you don't have to rush through it. Take it slow and enjoy."
Stokes encourages teachers and parents with small children to visit the exhibit. She wants them to understand exactly what the Real Presence means and instill that faith in the youngsters.
"Our young people are hungry for anything that can bring them closer to Jesus, and they want more," she added.
Stokes said she is praying for everyone who visits the exhibit.
"I'm hoping that it will awaken something in them. It may not change their mind, but it will open their mind," she said.
Dr. Rykman believes this exhibit of Eucharistic Miracles will change hearts.
"That's what miracles are for," Stokes said. "To blow our minds, because they don't happen every day."
The Eucharistic Miracles Exhibit will be at St. Paul the Apostle Church in Spartanburg June 16-18.
The diocese has a curated Eucharistic Miracles Exhibit that will travel to various parishes across the state. Visit online at charlestondiocese.org/eucharist-miracles for a schedule and to view the online portion of the exhibit.
---
Joseph Reistroffer is a long-time writer who teaches religious education classes at St. Paul the Apostle Church in Spartanburg. Email him at jrjoeyr@gmail.com.