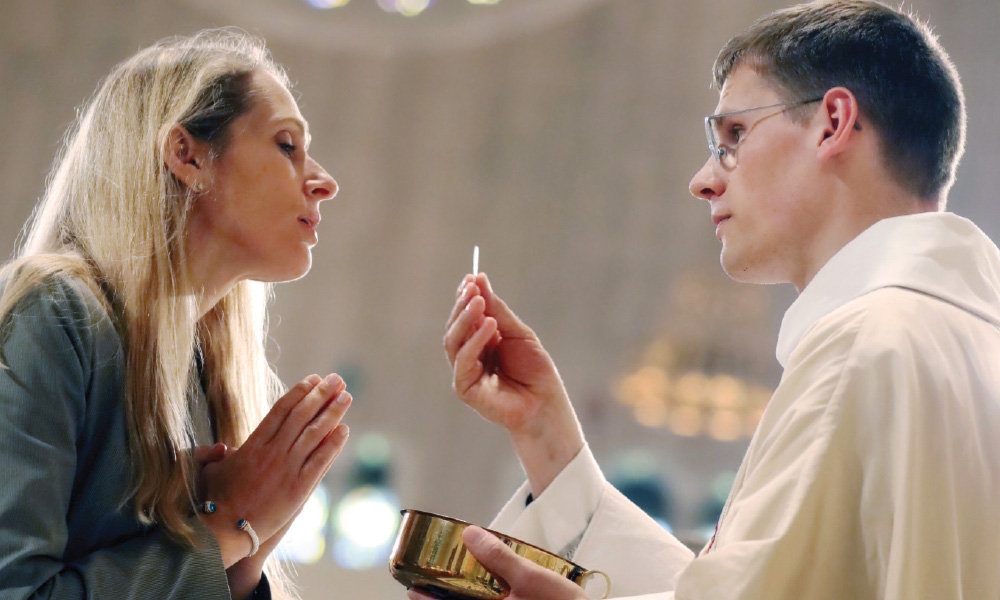 ---
The Eucharist: Reception with Gratitude
A year ago, we reflected on the Eucharist as a thanksgiving offering, which is precisely what the word Eucharist means. We discussed the fact that this offering is a reciprocal one of ourselves and all that we have received from God back to God. This offering, including the greatest gift we have received, Christ himself, reminds us that all we have, including ourselves, belongs to the Lord. I want to revisit this theme to reflect on the idea of receptivity and particularly receiving with gratitude.
As I have mentioned many times before, the Eucharist is a gift, the gift, that is meant to be received. Part of this reception is preparing ourselves for our Lord's presence. When we hear this, we rightfully think of making regular usage of another amazing gift, the sacrament of reconciliation. This beautiful sacrament deserves its own treatment, but suffice it to say, we are never able to declare that we deserve the gift of the Eucharist. However, our hearts are better disposed to receive the gift of our Lord by embracing the grace of the sacrament of reconciliation to help us turn away from sin. It eliminates barriers to the intimacy of the relationship we are invited into via the Eucharist. Receiving the Eucharist with the right disposition of gratitude involves embracing this and all the sacraments and living a sacramental lifestyle.
In addition, with the intimacy of the gift of the Eucharist in mind, it is important to note that our preparedness also entails being conscientious in our hearts and minds of who we are about to receive. This involves cultivating a suitable inward disposition that is influenced by our outward demeanor. The word that is often used here is reverence, which can mean different things to different people. Reverence can also be the type of notion that can make one group of Catholics ostensibly opposed to another. 
So when we talk about reverence here, we are not simply talking about an outward show for others but about positioning ourselves with a consciousness of the gift we are about to receive. True reverence resonates within one's heart. And, the gestures we make with our body can reflect and inform this disposition of the heart. This is all part of what we can think of as being actively receptive.
After all, receiving with gratitude should always be our goal when we approach the Eucharist. Like all of God's gifts, Christ's self-gift that we encounter in the Eucharist is not something that we have earned or that we can claim that we deserve. We often think of receiving as something passive, however, reception is anything but passive. When we receive something, we, in a way, offer ourselves in turn reciprocally to the giver. A gift remains only an attempted gift until it is received. 
Think of any gifts that you have given or received. Even in the reception of the most simple thing, there is something important communicated in the act of taking of the gift. While it is possible for someone to receive a gift with a sense of entitlement, that attitude and demeanor undermines the generosity of the gift and the giver. And the larger the gift, the more pronounced the incongruity becomes.
This actually raises another aspect of grateful reception: often what holds us back from actively receiving the generosity of others is our pride. It's true particularly when we are offered a large or costly gift. We either think that we do not need the gift or that we do not need the giver's generosity to obtain it; perhaps we don't like admitting that we need others. Active reception requires an act of humility.
I've written previously about humility with regard to receiving our Lord in the Eucharist. Receiving the Eucharist is the greatest privilege we can have as human beings and the greatest expression of humility that we are capable of embodying. In it, we express that we need our Lord's presence and that we cannot make a claim on it. It is freely given to us. Christ's graciousness, then, calls forth our active reception by preparing ourselves internally and externally in a disposition of gratitude.
---
Michael Martocchio, Ph.D., is the secretary of evangelization and the director of the Office of Catechesis and Christian Initiation. Email him at mmartocchio@charlestondiocese.org.