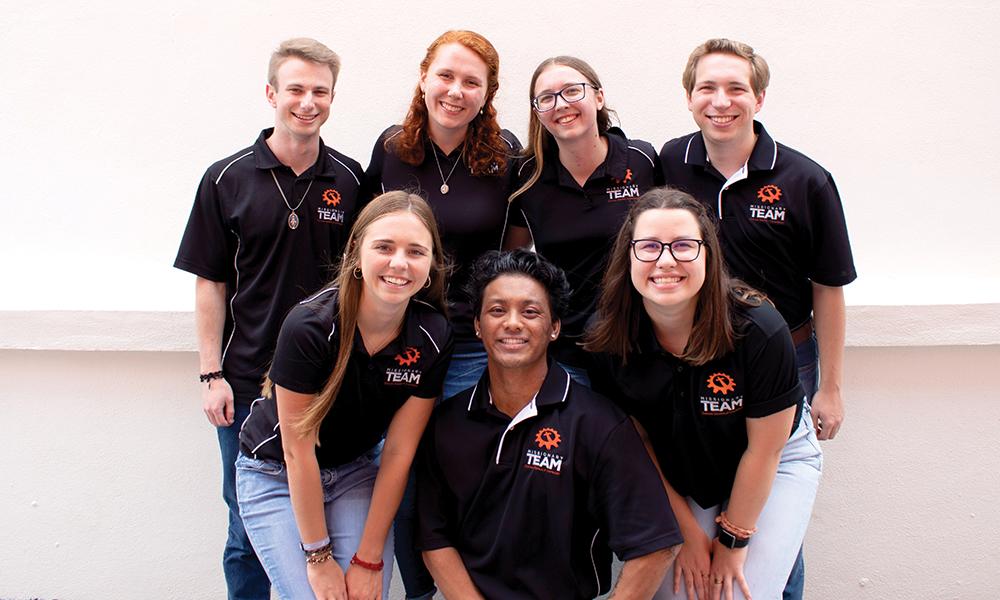 ---
Diocesan Missionary Team Shows God's Love to Youth of SC
There is a period of time in life either right after high school or just after graduating college where many young people are not quite ready to enter the "real" world. Perhaps they know deep down inside that they need to be doing something else before they begin careers or families.
Many will travel the world and some will pursue higher degrees. But there is another opportunity in South Carolina within the diocese's Office of Youth and Young Adult Ministry — it's called the Diocesan Missionary Team (DMT), where young people can flourish through sharing God's word.
The DMT is a group of young Catholics, most of whom have just graduated college, who have a passion for reaching out to younger Catholics through parish or school retreats. Their mission is to share the Gospel of Jesus Christ and teach about his truth, and the young adults who join the DMT desire to take their Catholic faith to that next level.
The team commitment is for one year, and members live in downtown Charleston at the Drexel House during their tenure. Their focus is to live and breathe missionary work, and together they spread the message of God's love around the state.
Ryan Altenbach was a member of the DMT in 2016, which was also its founding year, and he is now the associate director of Youth and Young Adult Ministry for the diocese.
As one of the first participants, he helped to shape DMT's reputation with youth ministers and administrators at Catholic schools throughout the state.
"We meet the kids where they are at with their faith," he explained. "We can cater our retreats and presentations to really anything that the youth in that particular parish or school would like to listen to and learn about."
He noted that one of their most popular retreats is for confirmation. He said they will often just speak about the Holy Spirit and who Jesus is, or they can contour a retreat to be about something specific like grief.
Many DMT members go on to work as youth ministers at parishes or find careers with the diocese, like Altenbach did.
"For those ex-DMT members that do not go on to have careers in youth ministry or with the Catholic faith, this experience sets them up to be future active Catholics in their parishes. They are trained to spread the Word so they become major assets to any church," he said.
DMT members come from a variety of backgrounds, but most current members are not from South Carolina. They hail from Ohio, Texas, California, Arizona, Kansas and Illinois. Many have theology degrees but not all. A couple of the current members have business degrees. Altenbach said that several members of the team are interested in going into missionary work, and participating in DMT is a fantastic starting point.
He described the year as a DMT member as challenging. Living at the Drexel House downtown is a perk, but the members are busy preparing for retreats, planning talks and going to present at various locations across the state almost every weekend.
Deacon Jerry White, director of the Youth and Young Adult Ministry office, has been working in the Diocese of Charleston for 25 years. He began the DMT in 2016 based on the National Evangelization Team that travels the world. He said he always wanted something similar like that but more local to the state.
"I noticed that many youth ministers would have a hard time giving retreats, especially the confirmation retreats," Deacon White explained. "They needed help."
He said he recruits members every year based mostly on word of mouth.
"We review applications and start interviews in January each year," and then invite the potential candidates to stay for a weekend in Charleston.
"We discern and pray when we invite the candidates," he said.
DMT consists of six to eight team members annually.
Christian Badilla, from California, is on the current team. He was a seminarian and decided to try missionary work. He said the DMT was recommended by a friend while he was working as a missionary in Seattle.
"I knew I wanted to continue doing God's work so I thought I would give it a try," he said.
Badilla remarked that he enjoys helping youth find God in their heart.
"Being a DMT member has been a calling for me," he added. "I love seeing the fruits of God's love come out. That's the best part."
For Altenbach it was also a calling.
"I didn't know what I wanted to do after college. I kept having doors slammed, but DMT felt like a perfect match. It was definitely an answer to my prayers," he said.
---
The 2022-23 Diocesan Missionary Team members are Haley Augustyniak, Christian Badilla, Madeline Baniewicz, Katie Collin, Colin Doehring, Antoinette Hanning and Patrick O'Sullivan.