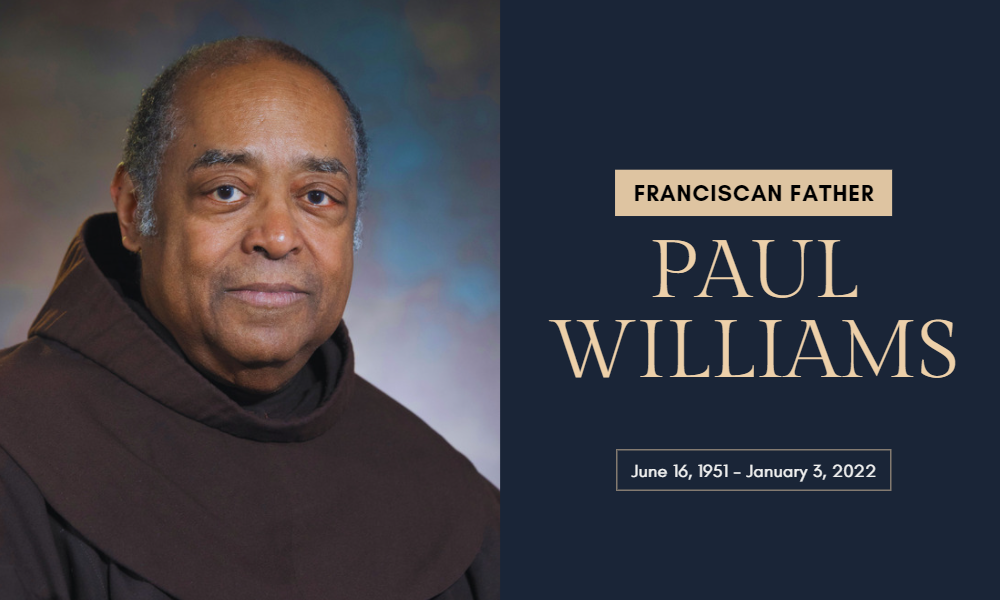 ---
Death of Franciscan Father Paul Williams
Father Paul Williams, a professed Franciscan friar for 44 years and a priest for 35, died on Jan. 3 at St. Camillus Friary in Silver Spring, Md. He was 70 years old.
Father Paul devoted his life to serving the Black Catholic community in the South and Mid-Atlantic regions of the United States.
A viewing is scheduled from 9-11 a.m. Jan. 13 at St. Camillus to be followed by a Mass of Christian Burial. Franciscan Father Kevin Mullen, provincial minister, will celebrate the Mass and Father Brian Jordan, OFM, will give the homily. The Mass will be livestreamed by St. Camillus Church at facebook.com/stcamillusmd.
Early Years
Father Paul was born on June 16, 1951, in Alexandria, Va. The son of Harold and Clarise (née Williams) Rice, he graduated from George Washington High School there and attended Northern Virginia Community College.
Father Paul was received into the Order of Friars Minor on June 23, 1976, at St. Bonaventure University in New York, and professed first vows at St. Francis Friary in Brookline, Mass. He continued his formation at Holy Name College in Washington, D.C.; while there, he also began studying at George Mason University. He made his solemn profession before Franciscan Father Alban Maguire on June 21, 1980, in New York City and graduated from George Mason in 1982.
Father Paul attended Pope John XXIII National Seminary in Weston, Mass., from 1982 to 1986, graduating with his Master of Divinity degree. He was ordained on May 3, 1986, by Bishop Emerson Moore at the Church of St. Francis of Assisi in New York City.
Ministry
Following his ordination, Father Paul served at the Church of St. Francis of Assisi before he was appointed pastor of St. Anthony of Padua Church in Greenville, S.C. He served there for 15 years before becoming pastor of St. Martin de Porres Church in Columbia, S.C., where he worked for nine years. During that time, he also served as regional dean for the Diocese of Charleston, vicar for the diocesan Office of Black Catholics, and as a member of the Presbyteral Council and Diocesan Priests Personnel Board.
In 2007, Pope Benedict XVI honored Father Paul with the Pro Ecclesia et Pontifice Cross in recognition of his dedicated service to the Lord, the Church and the diocese. The medal is the highest award that a Franciscan can receive from the papacy.
In 2011, he was appointed pastor of St. Joseph Church and School in Anderson, S.C., where he served for three years before he became pastor of St. Joseph Church in Wilmington, Del. During his seven years there, Father Paul also worked as director of the Wilmington diocese's Ministry for Black Catholics. He moved to St. Camillus Parish in 2020, where he ministered until his death.
He is survived by his sister, Denise Lucas, and his niece, Tarsha Rice, of Alexandria, Va.
Memorial donations may be sent to Franciscan Friars – Holy Name Province, 144 West 32nd Street, New York, NY 10001-3202.