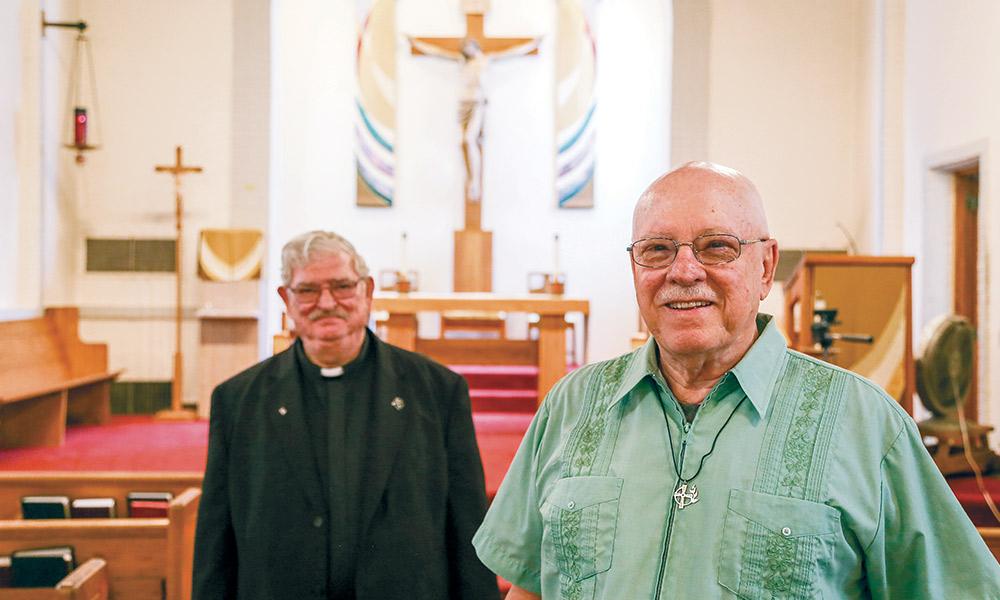 ---
Christian Brothers Leave the Diocese
Brother Ed Bergeron remembers when he first joined St. John Church in North Charleston as the parish life facilitator in 1997. Some parishioners wondered why they hadn't been assigned a priest instead.
"We learned to trust and love one another," he recalled.
Since 1997, he has been overseeing and fulfilling all the ordinary services and operations of the parish, which does not have a resident pastor. Masses are celebrated by Father JohnBosco Ikemeh, chaplain at the Medical University of S.C., or other visiting priests.
Now, 24 years later and at age 74, Brother Ed will depart the parish for a new assignment. He said he couldn't be prouder of the people of St. John, specifically for their welcoming and accepting attitudes towards others.
"That old saying, 'If you find a job you love, you will never work a day in your life' became true for me at St. John," he said.
Brother Spencer Tafuri, also stationed at St. John, will depart, too, since both have been reassigned. They leave this summer.
The provincial leadership of their order, the Congregation of Christian Brothers, has decided to consolidate the decreasing numbers of men — due to death, aging and illness — to fulfill contracts and commitments elsewhere.
Brother Ed will go to Guadalupe Regional Middle School in Brownsville, Texas, to be president of fundraising and public relations. Brother Spencer has been reassigned to Tampa Catholic High School in Florida, where he will provide ministry services.
Brother Ed said he is sad to leave, but that he accepts that God obviously has more in store for him.
"I am heartbroken," he said, "but am reminded of an old adage. It goes, 'A true missionary goes where he is needed, but not wanted. He stays until he is wanted, but no longer needed.'"
Originally from Schenectady, N.Y., Brother Ed became fascinated by the brothers who were teaching classes at his Catholic high school.
"I enjoyed their availability, enthusiasm, prayerfulness and playful spirit. By my junior year, I began to think that I might like to be a brother. I joined the vocation club in the school, and this confirmed my desire to try it. I entered the Congregation of Christian Brothers in 1965 after graduating high school," he explained.
After his final vows, he taught for a short time in Newark, N.J., before being sent to Peru, where he spent 17 years teaching adult education and parish ministry.
He was then sent back to the United States, where he worked with the Maryknoll Fathers, and then to New York to work for the archdiocese.
In 1996, he and three other brothers were seeking new opportunities to work with the impoverished. They visited 10 different dioceses in the Southeast, Charleston being the last one, and then-Bishop David B. Thompson asked them to stay.
Brother Spencer joined Brother Ed at St. John in 2000. He provides RCIA for new Catholics and ministry to the homebound. He has also been the spiritual advisor for the Knights of Columbus.
"I had a late discernment," he said, "and actually worked in accounting before becoming a brother."
He explained that he was called to help the poor while listening to a homily one Sunday at church. He has been in the Congregation of Christian Brothers since 1992.
"I have been so blessed to have been able to serve the parish of St. John. Walking with candidates through RCIA and being with parishioners as they pass on to go be with God — it has all been such a privilege," Brother Spencer explained. "I cannot express enough the joy that has been given to me here in North Charleston. It will be tough saying goodbye."
---
Theresa Stratford is a freelance reporter for The Catholic Miscellany. Email her at tmmart89@gmail.com.