---
Celebrating the Upstate's Newly Ordained
A celebration is definitely in order when not one, but two men from the same church are ordained — one as a priest and the other as a transitional deacon. But when the ordination of another transitional deacon happens at the same time, you call that an outright triumph.
That's exactly what happened for St. Mary Church in Greenville. Father Vincent Bernhard, OP, was ordained to the priesthood for the Dominican Friars of the Province of St. Joseph on May 20. Peter O'Steen was ordained as a transitional deacon on May 26, along with Erik Roman, whose home parish is St. Anne Church in Rock Hill.
Father Bernhard was ordained at the Basilica of the National Shrine of the Immaculate Conception in Washington, D.C., while Deacons O'Steen and Roman were ordained at St. Mary in the Upstate. In 2024, the deacons will be ordained to the priesthood for the Diocese of Charleston.
On Pentecost Sunday, May 28, Father Bernhard celebrated Mass at St. Mary with Deacon O'Steen assisting. Father Jay Scott Newman, pastor, noted the significance of having two vocations from the parish at the altar together.
"Each Wednesday afternoon at St. Mary's Church, we prayed to the Lord for vocations to the priesthood and religious life during an hour of eucharistic adoration, and in May our prayers were fulfilled in a beautiful way," Father Newman said. "To have two sons of this parish together at the altar was a splendid blessing for our congregation and for all those whom these men will serve as instruments of God's grace. And then the newly ordained Deacon Erik Roman will spend the summer with us for his first experience of diaconal ministry, thus crowning these gifts of grace in response to so many prayers for the Lord to send laborers to his harvest."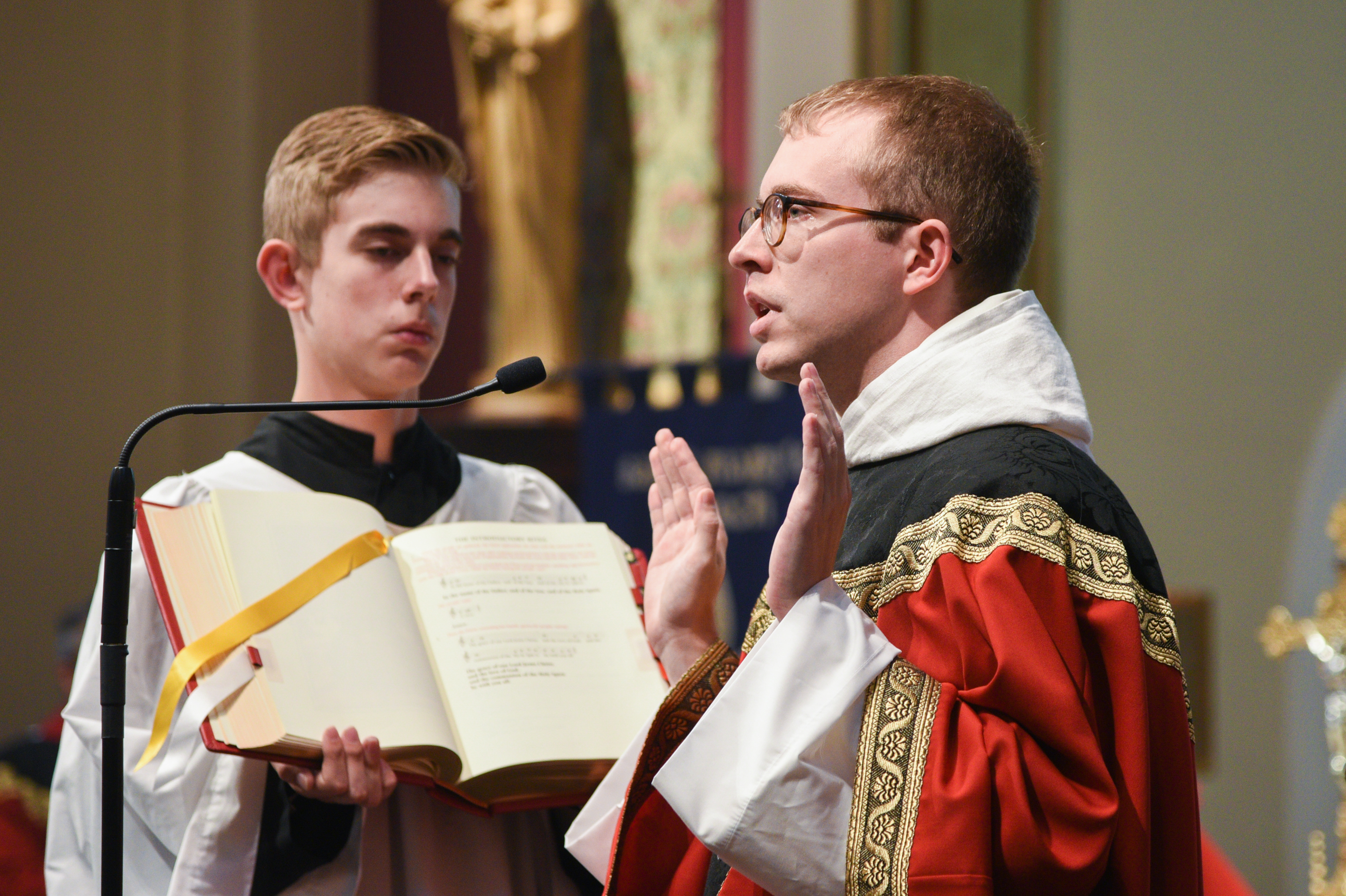 Father Vincent Ferrer Bernhard, OP
It is often thought that priests feel called to religious life, or perhaps an "aha" moment made them realize the priesthood was right for them. For Father Bernhard, who grew up in Easley, it was much simpler.
"Today, we tend to over complicate the notion of discernment," he said. "For one living the life of grace through the sacraments and prayer, the desire is enough for one to pursue a vocation to the priesthood and religious life. The simple desire to become a priest made me go down this path, fostered in a Catholic family and strengthened through prayer and the sacramental life of the Church."
Although he knew from a young age that he wanted to be a priest, Father Bernhard didn't know until later on that he wanted to pursue the Dominicans' charism.
"At first, I considered pursuing the priesthood as a diocesan priest in the Diocese of Charleston. It is a great diocese! But when I met the Dominicans in college, I realized the desire to pursue the priesthood after the pattern of St. Dominic," he said.
Father Bernhard entered the Dominican Order in 2017 and took solemn vows in 2022. He said he is excited to see how the Lord uses him in the work of salvation.
"Dominican friars are men fascinated by grace — it is often said that we are an order of grace. I look forward to existing as a conduit of this grace as a priest, especially as a minister of the sacraments."
Father Bernhard offered advice to others considering the priesthood.
"Thank God for the desire to consider the priesthood, and ask him to fan the flame into a fire of burning priestly charity if he so wills," he said. "Make time for silence and pray every day. Entrust yourself to Mary through the rosary. She will work in your life in amazing ways if you ask her! And of course, talk to someone, such as a priest or a trusted friend. Don't be afraid to take part in vocation weekends for the Diocese of Charleston or a particular religious order."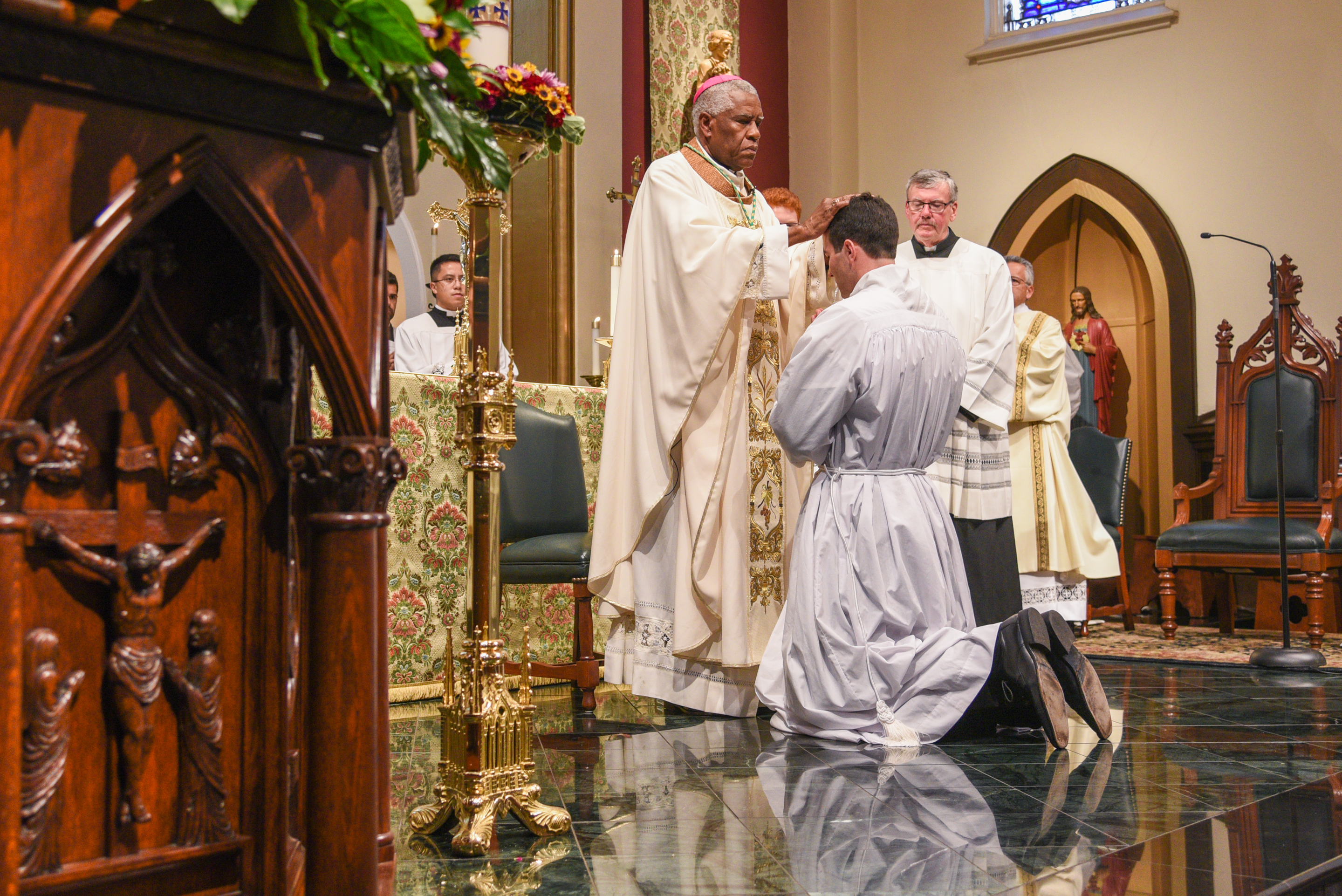 Deacon Peter Rex O'Steen
When Deacon Peter O'Steen recalls his childhood, he describes it as a fairly normal upbringing with all the usual age-related ups and downs.
"I was born and raised in Greenville. I grew up in a stable household with my two parents, Rex and Srebrenka, and four brothers: Luke, Paul, Jordan and Andrew. I attended public school my entire life. From kindergarten to fifth grade, I went to Sara Collins Elementary. My time there was full of fond memories and lasting friendships engulfed in childhood innocence. In third grade, my mother became the school nurse at Sara Collins. For me, that was a dream come true because I love my mom."
In middle school, Deacon O'Steen said that his focus began to change when he was exposed to more outside influences.
"I began to shift my academic attention to trying to grow in popularity," he said. "I no longer cared about being on the honor roll. I felt more gratification at making a good joke in class or getting a laugh out of my friends."
He admitted that it continued throughout high school and even into college at the University of South Carolina, where he joined a fraternity.
"This was a recipe for disaster. The disciplinary troubles that began in high school only got worse. To make a long story short, during the fall semester of my sophomore year of college, I got into some serious trouble with my fraternity. I got kicked out of the fraternity, the fraternity house and I was worried that I would get kicked out of school as well. This was one of the lowest moments of my life," he said.
Determined to turn things around, Deacon O'Steen and his twin brother Jordan decided to move to a new apartment that happened to be near St. Thomas More, the university's Catholic Student Center. 
The brothers resolved to pray the rosary daily, and after a few months, "many changes began to occur in my life. Firstly, the faith began to make much more sense to me. For the first time ever, I believed in the Real Presence of the Eucharist, and I began to attend daily Mass. I also had a desire to read the Scriptures and the lives of the saints. I dropped many of the sinful habits I had grown accustomed to and found myself desiring to grow in sanctity instead. I even began to ask God what he wanted me to do with my life. Lastly, God blessed me with the example of many holy Catholic men who helped me grow deeper in my love for Jesus."
For Deacon O'Steen, there wasn't an "aha" moment that made him decide to pursue the priesthood. It was during Lent of his sophomore year that the idea popped into his head.
"I just remember I couldn't get it off my mind," he added.
He decided to share the thoughts with his twin brother and a mentor.
"Voicing it out loud was extremely helpful. Additionally, I decided to talk with the priest at St. Thomas More. Father Marcin [Zahuta, who died in 2020] gave me wonderful advice that probably saved the initial sparks of my vocation. He advised me to keep these thoughts to myself, to continue to grow in my prayer life and to continue to meet with him for direction."
As graduation approached, Deacon O'Steen knew what he had to do and applied to be a seminarian for the diocese. He graduated with a degree in management science in December 2017 and was simultaneously accepted to the seminary. He began studying philosophy at St. Vincent De Paul Regional Seminary in Boynton Beach, Florida, in the fall of 2018 where he is currently studying, and added, "I've never been happier."
Deacon O'Steen said he advises anyone thinking of becoming a priest to "pray, get a spiritual director and move forward with a decision either way. It's never good to stay frozen because of fear. Life is about walking in faith and sometimes it involves taking scary leaps of faith. Remember that Jesus is with you, and he will lead you where you need to go. But for him to lead, you need to start walking."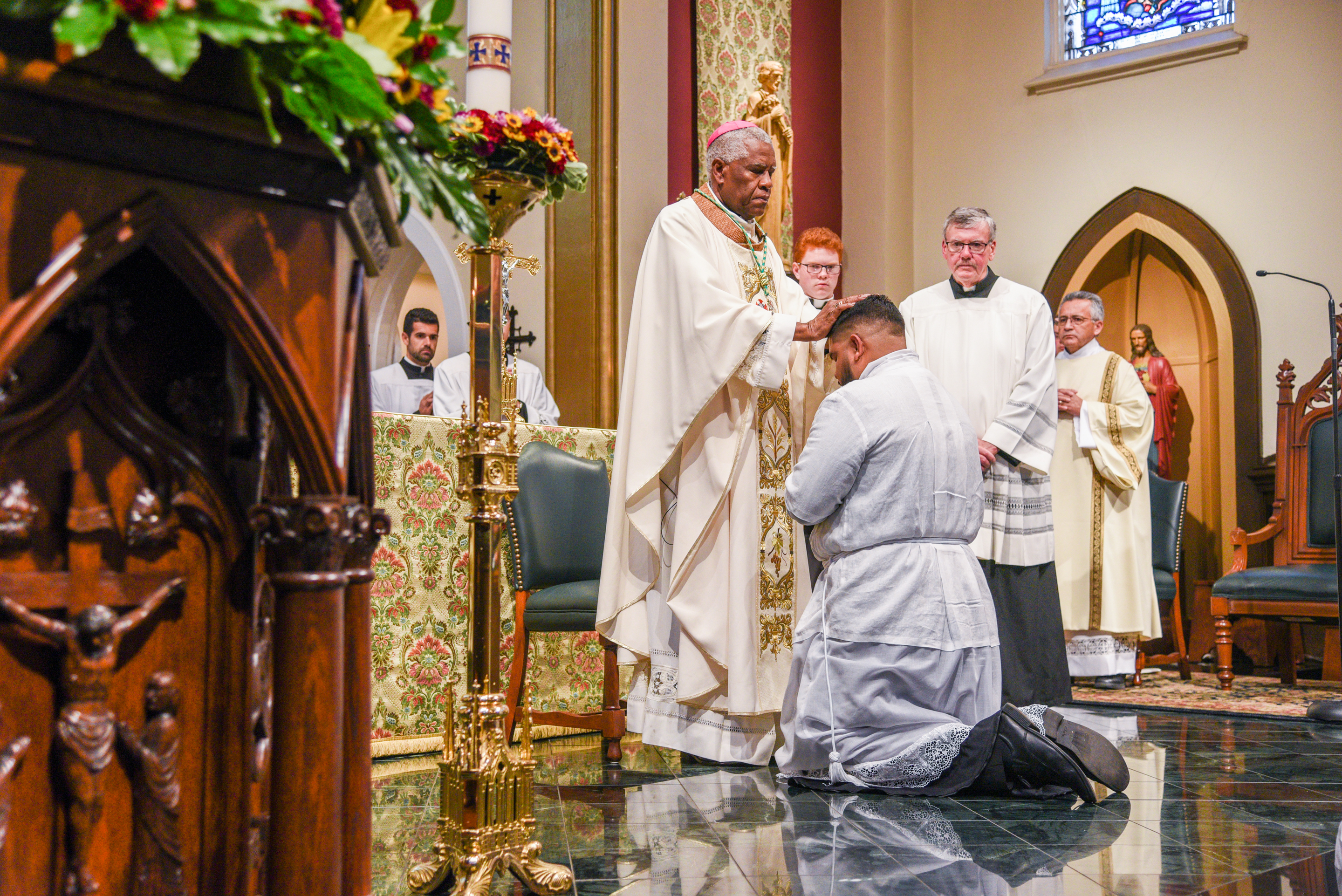 Deacon Erik Beristain Roman
The pivotal moment of discernment for Deacon Erik Roman came to him in high school. Before that, he always saw himself working in sports, maybe as a commentator. He grew up in Rock Hill with his parents and three brothers. Deacon Roman said he owes his spiritual formation to his parents' closeness to the church and to St. Anne School in Rock Hill, which he attended from first to eighth grade.
Although he attended public high school, it was then that he realized priesthood could be in his future.
"I shuddered and sort of scoffed when the thought of the priesthood entered my mind because it was something that I knew other people had thought about for me — my mom and the pious ladies at the parish — but not something that I had ever taken seriously," he said.
His mother signed him up for a retreat while he was in high school, and at that retreat, a priest asked him to consider becoming one.
"I went to confession with a priest, and during his counseling, he asked if I had ever thought about becoming a priest. Needless to say, I was stunned. I told him that I hadn't really thought about the priesthood in a serious way, and he advised me to simply open my heart to the priesthood and see what happens. So that day, my heart became open to the idea," he said.
Although Deacon Roman continued on to have a fairly normal time in high school playing sports, focusing on his grades, working and dating, he said he always felt like he was running away from something.
"Eventually, I just got tired of running," he said. "I took time in prayer and then set my sights on what it would look like to enter seminary."
He knew one thing: he was always happiest when he was at Mass. Deacon Roman recalls a time in high school when a career counselor came to talk to his class about the future. He said students searched online to find resources on the careers in which they were interested.
"I found myself on [the former] charlestonvocations.com looking for more insight on the seminary," and he signed up for a discernment retreat with the diocese. Ultimately, it led to his full commitment to becoming a priest. 
"I have never met a sad priest or one that regretted his decision to join the priesthood," Deacon Roman said. "There's a certain peace and joy I see within priests that love what they do and that makes me want to be that for others as well."
He said that God never left his side, and that "there is no reason to doubt his presence now."
The new deacon is most looking forward to the intimacy experienced by priests in the confessional, since that is where the journey to the priesthood began for him.
"It's being the person of Christ for what are such pivotal moments in people's lives. I know how that feels, because that is how it was for me," he said.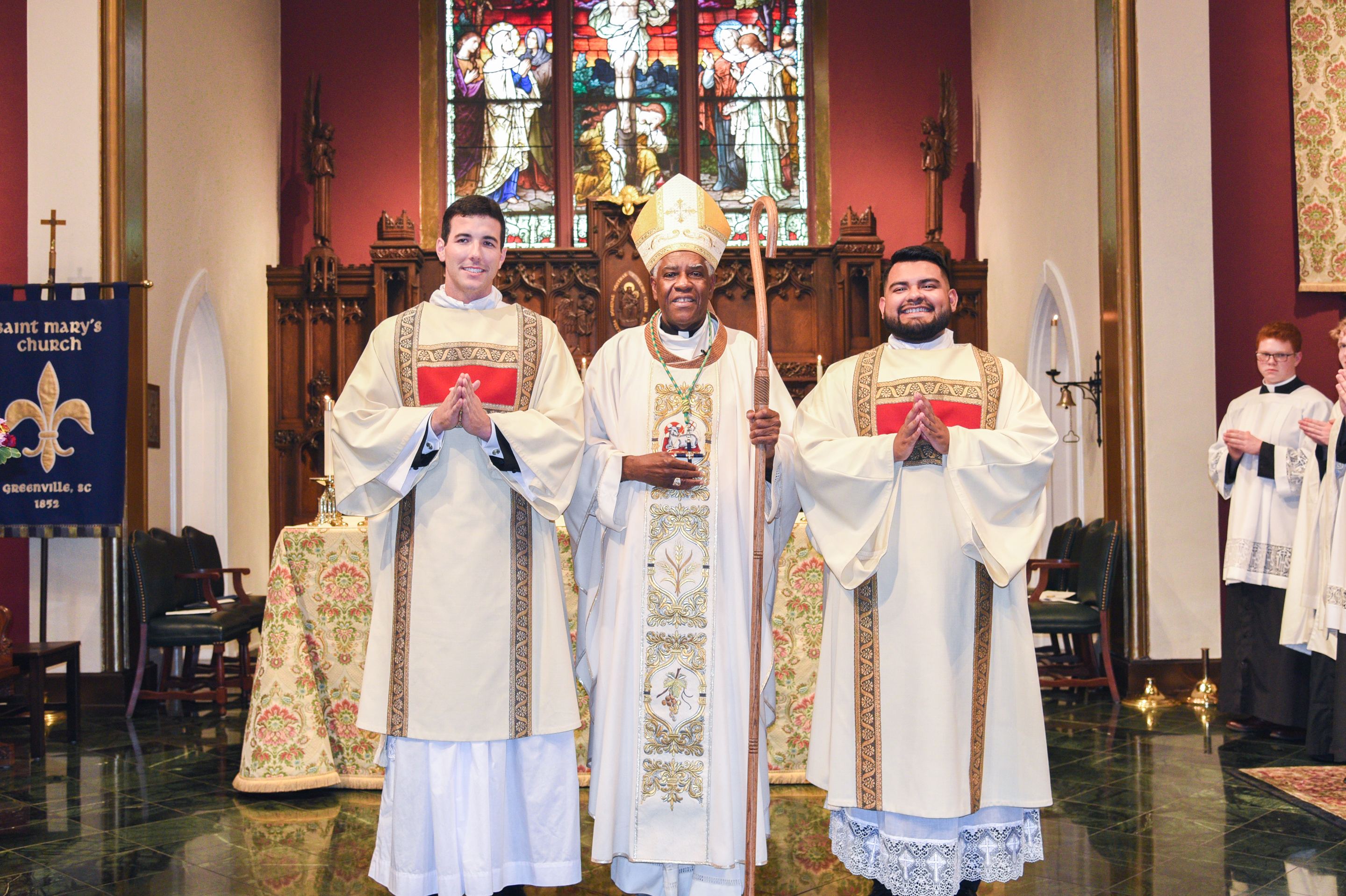 ---
Theresa Stratford is a freelance writer for The Miscellany. She lives in Charleston with her husband and three children and attends the Cathedral of St. John the Baptist. Email her at tmmart89@gmail.com.