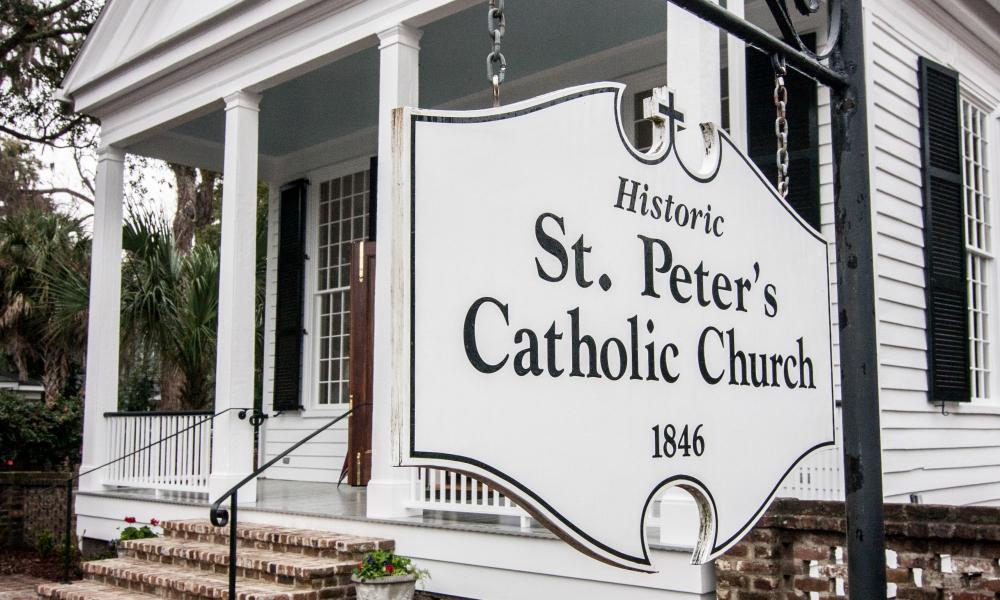 ---
Celebrating St. Peter Church: 175 Years of Faith in Beaufort
On Nov. 14, 1846, Bishop Ignatius Reynolds dedicated St. Peter as the first Catholic church in Beaufort. That was 175 years ago with only a dozen parishioners or so. On Saturday, Nov. 14, 2021, the parish, which is now up to about 1,550 registered families, celebrated this milestone anniversary with a eucharistic procession, Mass and party.
The church has been through a lot over the years — the Civil War, many devastating storms and more. But as time went by, the parish grew, and St. Peter needed more space. In 1987, a larger church, one that can seat 1,200 people, was built on Ladys Island. The current worship space is home to a large parish life center, and two Catholic schools — one for pre-K through sixth grade called St. Peter's Catholic School, and the other for seventh grade through high school called John Paul II Catholic School. Father Andrew Trapp is the current pastor.
Theresa Pulliam, a long-time parishioner, has been attending St. Peter since she was a child and can remember attending Mass at the original historic church, which was restored in 2012.
She said, "I remember Father Doyle … Father Faase, and so many other priests who have served our church. I can even remember when there was no air conditioning during Mass!"
Pulliam has served as a docent for the historic building in downtown Beaufort since 2013.
"I love giving the history of the parish to visitors from the beginning, when the church and the graveyard were deeded to the diocese for only $3," she said. "It has survived the Civil War, World Wars and some pretty damaging hurricanes. I could talk for hours telling the stories of our graveyard residents."
She added that she was happy to celebrate the 175th anniversary, since she won't be here for the 200th. "I hope to be a graveyard resident myself," she said.
The celebration Nov. 14 began with Mass at the main church on Lady Island, followed by a reception. Dr. Larry Rowland, a parishioner of the church and well-known historian, gave a speech about the founding of St. Peter and its history in Beaufort. Then a eucharistic procession walked from Waterfront Park and along the historic back streets of downtown to the historic church for prayer.
The once small, wooden building in the coastal Southeast is now a vibrant, growing community with a large Hispanic/Latino population, two schools and thousands of families, already looking forward to its next 175 years.
Visit www.stpetersbeaufort.org for additional celebration coverage. Read a related article on Theresa Pulliam and her history with the old St. Peter Church at www.islandpacket.com/living/religion/article255764436.html.
---
Theresa Stratford is a freelance writer for The Miscellany. She lives in Charleston with her husband and three children and attends Blessed Sacrament Church. Email her at tmmart89@gmail.com.