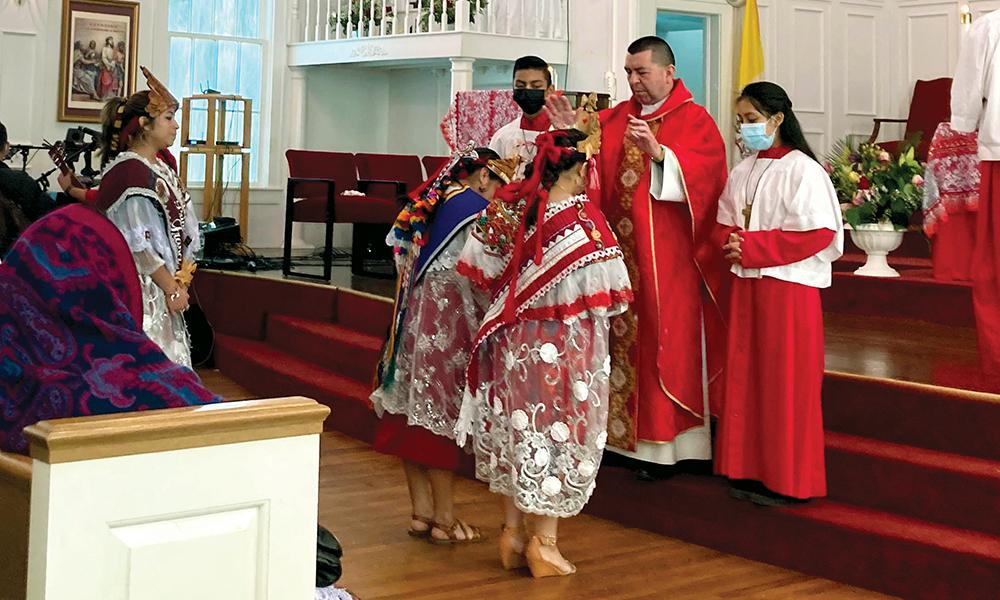 ---
Catholic Indigenous Mayans Call South Carolina Home
In the United States, Hispanics make up 31% of the Catholic population. A poll by The Barna Group, a California Christian polling firm, reported that these Hispanics mostly hailed from Mexico, but some were from Cuba, Puerto Rico, Dominican Republic, El Salvador, Colombia, Guatemala and Honduras. In South Carolina, Spanish-speakers make up about 10% of the population, but that number has grown steadily since the recorded seven percent in 2013.
Although not all Hispanics in South Carolina are practicing Catholics, the majority are and embracing these populations in our Catholic parishes is at the heart of what the Diocese of Charleston stands for, and it's also part of our new bishop's charism.
One of these unique populations has thrived in the upstate for about 15 years. Indigenous Mayans from Guatemala are part of the San Sebastian community, a mission of St. Mary Church, on Old Buncombe Road in Greenville. With almost 800 registered families, San Sebastian offers Masses only in Spanish, and the parish includes people from Mexico, Colombia and other Spanish-speaking countries.
Gustavo Valdez, Ph.D., is director of Hispanic Ministry for the diocese and works to ensure Hispanics in the state have appropriate religious services. He explained that there are two main groups of Mayan Catholics in Greenville — at San Sebastian Mission, where sacraments are celebrated, and a cultural community center called Santa Eulalia. Valdez said these groups speak dialects of their native language, with those at San Sebastian speaking Chuj and people at Santa Eulalia speaking Canjubal, but Spanish is their common language. He added that although the mission is Spanish speaking, the young people are mostly bilingual and speak English also.
Originally, the Mayan community met in homes when they first started to gather for Mass 15 years ago. Valdez said they eventually rented a garage space, and then acquired a worship space 10 years ago where they gather today. While Father Jay Scott Newman is the pastor, Father José Orlando Cheverria Jimenez is the presider and holds sacramental responsibilities for the parish.
Father Cheverria, who spoke through a translator, and Valdez both said that the Mayans hold deep connections to their culture and to the Catholic faith. One of their unique traditions is crowning a princess each year in February.
"The princess they appoint will be the voice for the community and is at every social activity," Valdez explained. "The crowning celebration is huge, with food and dance. They even have their own unique dresses."
He said that celebrations like this keep the Mayans linked to their Guatemalan roots, which is vitally important to them. It's also why the community wanted a parish home of their own so that they could keep language and cultural ties close and active.
Father Cheverria echoed that the princess crowning is a huge celebration that will sometimes go on until 2 or 3 a.m. "We'll have rice, beans and carne asada — tons of food," he said.
The priest said Mayans also have a close relationship with the saints, who are celebrated with events and processions. Everything, down to the cultural dress, is included in the festivities, and community members will light incense and present roses at saints' statues. Some of the most-loved holy ones are, of course, St. Sebastian, but also Sts. Peter, James and Anthony of Padua.
"There are many different feasts to celebrate saints," Father Cheverria said.
Valdez and Father Cheverria said they are excited to welcome Bishop Jacques Fabre-Jeune, CS, who is bilingual, to visit since he will be able to speak directly to Hispanic Catholics across the state.
"The main goal," Father Cheverria observed, "is to help the Mayan children born here not to lose their tradition and culture. We want to teach the small children the dialect. No one wants to see the culture disappear."
In a Church that is truly universal, the Mayans in South Carolina won't have to worry about that.
---
Theresa Stratford is a freelance writer who lives in Charleston with her husband and three children, and attends Blessed Sacrament Church. Email her at tmmart89@gmail.com.