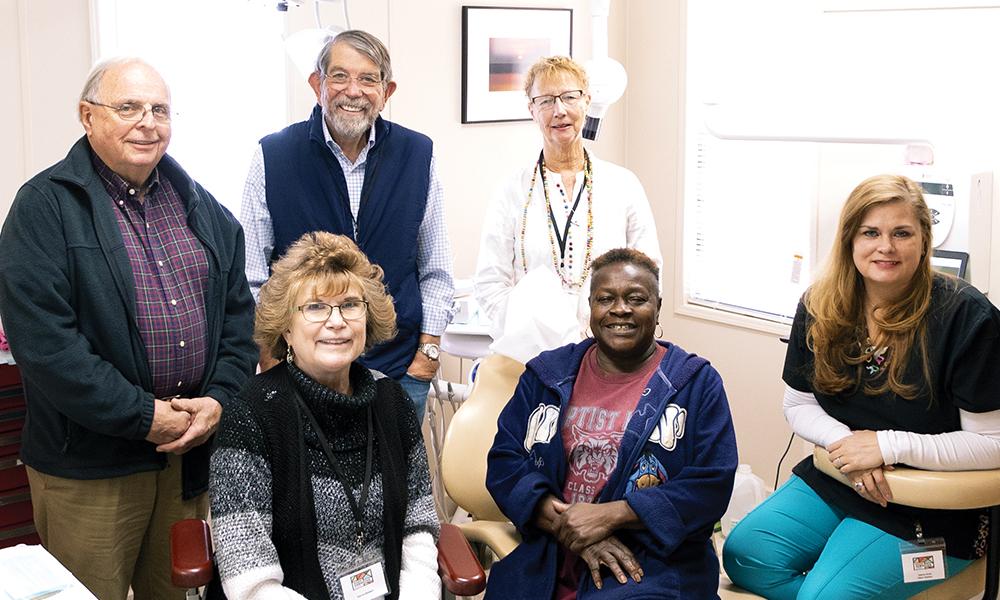 ---
Catholic Charities Adds Smiles Back to the Upstate
"Smile and the world smiles with you, cry and you cry alone." Stanley Gordon West got it mostly right in his 1949 book, Growing An Inch. Smiles do indeed draw positive responses.
Those crying because of aching teeth, however, are not crying alone any more. They now have an advocate: Catholic Charities of South Carolina, which is helping to ease their pain in several ways.
Jessica Thrall, site administrator for Catholic Charities in the Upstate, said the organization has partnered with several groups to restore lost smiles.
"We take our oral health for granted until something happens," she said.
Jessica said students from the Greenville Tech dental program hold wellness workshops for clients who will be receiving dentures. The workshops teach people about proper nutrition, brushing, flossing and overall dental care.
Catholic Charities also has partnered with Affordable Dentures & Implants in Greenville, which performs partials and dentures. But that means a lot for somebody who has lost teeth and is suffering.
"It gives them hope," Jessica said.
She also said the organization has formed a partnership with Palmetto Denture Care in Spartanburg, which has stepped up to do partials and extractions for Catholic Charities clients.
"It's nice to offer all those options," she said.
"This makes a world of difference" in the lives of people who have dental pain and have lost teeth.
"They can't eat certain foods. They can't get the right nutrition, and their health suffers," Jessica said of her Save A Smile clients. "Almost all of them are very depressed because they don't feel like they look good."
Giving clients their smiles back builds confidence, which in turn energizes their search for jobs and raises their self esteem, Jessica added. People turn to Save A Smile because dentures are out of their price range and "This is kind of their last resort."
The majority of clients are older people who are surviving on a small income.
"The cost of dentures is really expensive to them, and they don't have the access to preventative and restorative care that they need," she said.
Catholic Charities screens them, makes appointments and gets them the help they need.
"One lady had her dentures for almost 20 years, and she lost them." Jessica said Catholic Charities reached out to help her replace them.
Another client received her appointment during the week of Thanksgiving.
"You are giving me my life back … how much more thankful can I get?" a woman named Teressa said. Mattie, another satisfied client, said she can eat better with her new dentures and "everyone notices" her big, beautiful smile now.
The world, indeed, is smiling with Mattie and Teressa, thanks to Catholic Charities.
---
Photo Caption: Standing from left to right are Dr. Theodore Ravenel, and Will Wright and Mary Jensen, volunteers. Seated at left is volunteer Glenna Baldwin and at right Geneva Singleton, the first patient financed by Catholic Charities at the Good Samaritan Clinic on Edisto Island.