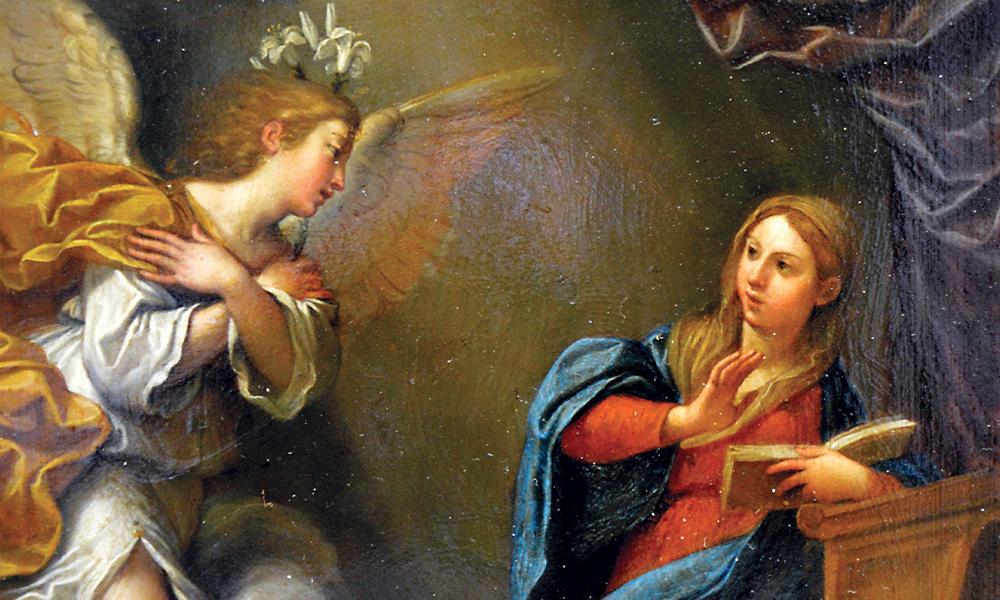 ---
Blessed Among Women
In good times, motherhood is filled with joy and laughter. Yet, it is in times of suffering and sacrifice when true motherhood is tested, when her role to profess and witness the faith in hopes to lead her children to heaven is challenged. Throughout history, we have heard of heroine stories of such mothers, especially when faced with religious persecution.
Without a doubt, few stories in the Bible can compare to what the Maccabean Mother and her seven sons endured in their martyrdom for refusing the king's command to violate God's law (2 Mc 7:1-42). This is more than a story of martyrdom, and the Maccabean Mother is not just any mother. While she was never given a history or even a name, it is this powerful and simple title, "the Mother," that she receives more than a history. Through words spoken about her and through her own words, she is the prefigurement of another mother, the Mother of God, the one who stood at the foot of the cross — Our Lady of Seven Sorrows.
As we acknowledge what both mothers suffered, we also see their fortitude, faith, utter trust in God and obedience to his will. While Mary was not martyred in the true sense of the word as the Maccabean Mother was, Mary did share in her son Jesus Christ's death through a spiritual martyrdom. Simeon even prophesied this when Jesus was brought to the temple as an infant saying to Mary "… and you yourself a sword will pierce so that the thoughts of many hearts may be revealed" (Lk 2:35).
There is no detailed scriptural account of how Mary felt or what she may have said at the foot of the cross. While art and movies have helped to depict the depth of her sorrow, the words used to describe the Maccabean Mother seem to echo from the Old Testament, fulfilling the new, describing in absolute exactness, Mary standing at the foot of the cross:
"Most admirable and worthy of everlasting remembrance was the mother who, seeing her seven sons perish in a single day, bore it courageously because of her hope in the Lord. Filled with a noble spirit that stirred her womanly reason with manly emotion …" (2 Mc 7:20-21).
Yet, courageous as the Maccabean Mother was, she would not be worthy of human understanding if we did not believe that she felt an incredible sorrow as she was forced to watch seven of her sons tortured and killed. It may be true that she exhibited "manly" emotion, but that was needed to provide her sons the fortitude and courage to withstand the pain and death for the justness of the cause. However, we must not overlook the "noble spirit that stirred in her womanly heart."
That is, we must never forget that the Maccabean Mother and Our Blessed Mother were, first and foremost, mothers. Overlooking this human connection leaves truth and hearts unrevealed. This is solace for all mothers who must be courageous for their children especially in times of religious persecution.
The words spoken by the Maccabean Mother to her youngest son urging him to stay true to God is the epitome of the perfect mother:
"Therefore, since it is the Creator of the universe who shaped the beginning of humankind and brought about the origin of everything, he, in his mercy, will give you back both breath and life, because you now disregard yourselves for the sake of his law. … Do not be afraid of this executioner, but be worthy of your brothers and accept death, so that in the time of mercy I may receive you again with your brothers" (2 Mc 7:23, 28).
These passages are a testimony of pure faith, hope and love in God and his plan for mankind. And yet, this passage by the Maccabean Mother is only a faint foreshadowing of the intense declaration of faith spoken in the Canticle of Mary (Lk 1:46-55) and ultimately at the foot of the cross where Jesus gives his mother to us as our heavenly Mother.
It is not by a mere coincidence that the number seven appears in both the Second Book of Maccabees passage and as one of the titles of Mary, "Our Lady of Seven Sorrows." The number carries scriptural significance as meaning perfection. The Maccabean Mother exemplifies the perfect martyrdom; her perfection as a mother lies in her prefigurement of the perfect mother — Blessed Mary, Mother of God.
---
Cynthia J. Wood, JD, is a writer and presenter. She has taught religious education for more than 40 years. Email her at cjwood013@gmail.com.