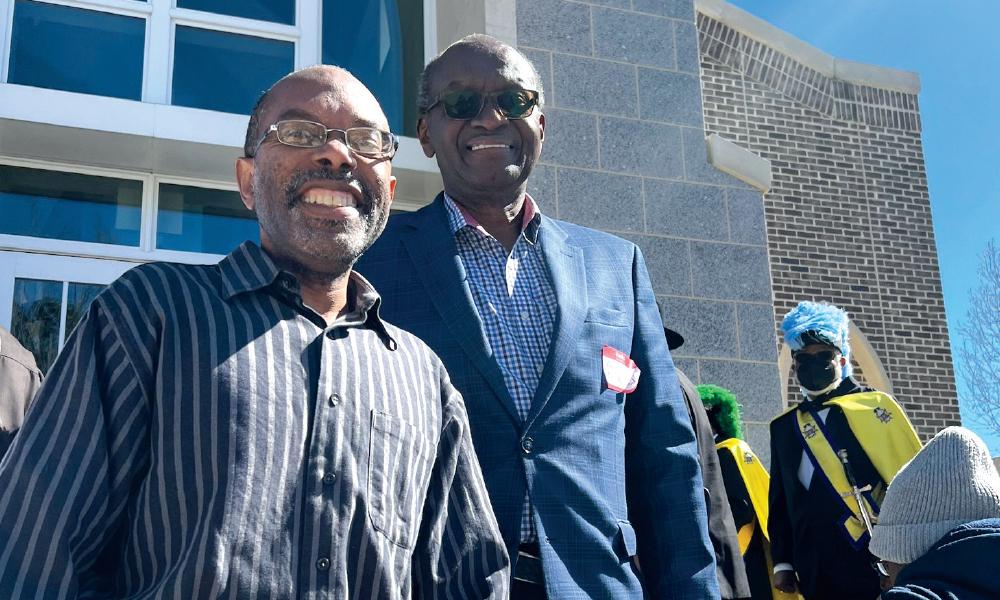 ---
Black Catholic Evangelization: A Prophetic Call to Thrive
People from across South Carolina gathered at the Diocese of Charleston's Pastoral Center Feb. 17-18 to celebrate the gifts that Black Catholics bring to the Church. The event included discussing challenges in evangelization and dialogue with Bishop Jacques Fabre-Jeune, CS. The diocesan Office of Black Catholics and St. Patrick Church, an historically Black parish in Charleston, hosted the event in which over 150 people participated.
The first evening's dialogue focused on the U.S. Conference of Catholic Bishops document, Open Wide Our Hearts: The Enduring Call to Love — A Pastoral Letter Against Racism. Bishop Fabre noted that we should not be surprised that racism exists because people still have not accepted Jesus Christ fully. Deacon Larry Deschaine presented a historical account of the Native American experience and racism.
"It warmed my heart when the bishop, during his talk, apologized directly to me for his initial reactions and misunderstandings of Natives," Deacon Deschaine said, "and how he was surprised and made aware of the many things he did not know" because he had not been taught about them.
Amy Johnson, art teacher at Bishop England High School, shared some of the artistic work of her students in response to reading the pastoral letter. Bishop Fabre, originally from Haiti, and Dr. Alison McLetchie, from Trinidad and Tobago, shared similar experiences in racism as examples of colorism. This experience of discrimination based on skin color is also a part of African American history. Bishop Fabre commented on the importance of distinguishing Black cultures, making references to those of English, French and Portuguese descent, and the dialogue concluded with McLetchie requesting to lead with empathy when hearing the concerns of minority Catholics regarding racism.
The next day, Bishop Fabre celebrated the Black Catholic Heritage Mass, highlighted by his interaction with young people during the homily. The bishop reiterated that young people are our future. The heritage choir provided music consisting of voices from across the diocese under the direction of Charlton Singleton. Singleton is a two time Grammy Award-winning artist and a member of Ranky Tanky, an American musical ensemble that specializes in jazz-influenced arrangements of traditional Gullah music.
At the afternoon discussion, participants shared with the bishop that "Black spirituality" is exemplified in the music of Black Catholics and can be heard every Sunday in most of the eight historically African American Catholic parishes across the state. This is the result of the hard work of Black Catholic history makers, including Cardinal Wilton D. Gregory, in the establishment of the Lead Me, Guide Me hymnal. Michael Gourdin, assistant director of the Office of Black Catholics, shared a musical composition that used the words of Servant of God Sister Thea Bowman: "What does it mean to be Black and Catholic?"
Bishop Fabre concluded with two action items for the diocesan office:
Establish early childhood development centers at historically African American parishes for greater evangelization.
Promote and support historically African American churches' events, activities and Mass schedules.
The youth track, under the direction of McLetchie and the heritage youth committee of St. Patrick, presented to the bishop and adults handwritten prayers of thanksgiving, love and acceptance of God and what they see is needed for the future. The bishop provided words of gratitude and encouragement to each young person to continue engagement in their faith.
Father Michael Okere, vicar for Black Catholics, stressed the importance of training priests and other leaders on Black Catholic evangelization, African American culture and Black spirituality — especially for the priests from other countries who are serving in our diocese. The Nigerian-born priest shared his experience of coming to South Carolina 20 years ago and his immersion into the African American community.
Additionally that afternoon, diocesan delegates for the upcoming National Black Catholic Congress (NBCC) were recognized as the team of leaders to implement a pastoral plan for the evangelization of Black Catholics over the next five years. The NBCC will be held this July 20-23 in Maryland.
The history of Black Catholics in South Carolina is one of strength and perseverance. This Heritage Celebration is an important first step in implementing new ways of evangelization.
---
Registration for the National Black Catholic Congress is open to all Catholics, and everyone is invited to join and participate. Visit www.nbccgathering2023.org.