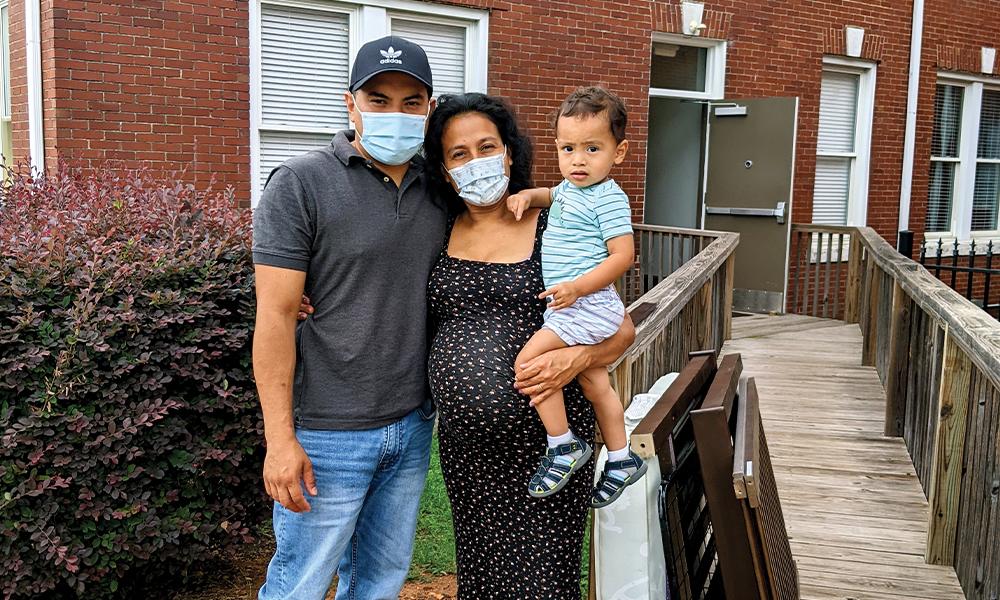 ---
Assisting Immigrants is Deeply Rooted in Catholic Teaching
As immigration remains a top news story, and in light of a potential federal investigation into the national Catholic Charities USA border response, you might be wondering what stance the Church takes on this topic, especially since Catholics as a whole make up a melting pot of cultures and nationalities.
According to the U.S. Conference of Catholic Bishops (USCCB), the Old and New Testaments tell compelling stories of refugees forced to flee because of oppression and persecution. Exodus tells a story of the Chosen People of Israel who escaped bitter slavery. They lived as wanderers in the desert for 40 years with no homeland. Finally, God settled them on land that they could call their own.
Because of their experience, God commanded his people to take special care of others: "When an alien resides with you in your land, do not mistreat such a one. You shall treat the alien who resides with you no differently than the natives born among you; you shall love the alien as yourself; for you too were once aliens in the land of Egypt. I, the LORD, am your God," (Lv 19:33-34).
The New Testament Gospel of Matthew recounts the story of Joseph and Mary's escape to Egypt with their newborn son, Jesus. They fled due to the jealousy of King Herod who threatened to kill the baby. Jesus himself was, therefore, a refugee. He always commanded love for strangers, saying, "For I was hungry and you gave me food, I was thirsty and you gave me drink, a stranger and you welcomed me" (Mt 25:35).
Three Catholic principles
Considering those stories, USCCB states that Catholic teaching abides by three principles when it comes to immigration and refugees. They are:
People have the right to migrate to sustain their lives and the lives of their families.
A country has the right to regulate its borders and to control immigration.
A country must regulate its borders with justice and mercy.
When it comes to the first principle, the USCCB explains that all are equal before God. The Earth was given by the Creator to us all. When a person cannot achieve a meaningful life or sustain it, that person has the right move. At the same time, the second principle states that while individuals have the right to move to search for a better life, no country is bound to accept all those who wish to resettle there.
Catholic teaching is realistic in the sense that while people have the right to move, no country has the duty to receive so many from other countries that its social and economic life are jeopardized. In an ideal world, there would be no need for immigration control because people would prosper and not need to seek to leave their own land. However, the Church recognizes that humanity has not achieved this ideal.
The third principle can only be understood in the context of the first two principles.
"A country's regulation of borders and control of immigration must be governed by concern for all people and by mercy and justice," the bishops' website states. "A nation may not simply decide that it wants to provide for its own people and no others. A sincere commitment to the needs of all must prevail.
"It goes on to say that it is the position of the Catholic Church that "pastoral, educational, medical, and social services provided by the Church are never conditioned on legal status. All persons are invited to participate in our parishes, attend our schools, and receive other services offered by our institutions and programs."
Catholic Charities of South Carolina
In our state, Catholic Charities of South Carolina is a member agency of Catholic Charities USA. Lydia Doyle, CCSC executive director, explained that the federal investigation into the national organization is not affecting their work locally because they are not under direction of the national organization.
CCSC is an independent 501(c)3 nonprofit under the sole leadership of its board of directors, of which Bishop Jacques Fabre-Jeune, CS, is a member. The South Carolina organization does not receive grants from Catholic Charities USA for immigration legal services. The similarity is that each organization shares the same mission to serve people in need; the national organization only serves as an advisory network.
"We are a part of the network, but we do our own work here in South Carolina," Doyle said.
The services that CCSC provides are a wide range of medical, financial and legal services. Specifically, CCSC services are related to dental care, disaster relief, elder care, emergency assistance, financial literacy courses, food pantries, homeless outreach, hygiene services, laundry services and legal services.
CCSC has been providing immigration legal resources and services for almost 20 years. Of the 12 Catholic Charities locations in South Carolina, there are five immigration centers located in Charleston, Hilton Head, two in the Greenville area and Rock Hill. The organization exclusively provides civil immigration legal services, focusing on family-based immigration and assisting immigrant victims of crime and domestic violence. They only work with asylum cases on a very limited scale. Doyle said that many people don't realize that some asylum cases can take five to 10 years to go to court.
"They are tricky cases, and the process works slow," she said.
The following services are offered to those who have a legal right to be in the United States and cannot afford a private attorney:
consultations on eligibility for immigration status in the U.S.;
filing for lawful permanent residency in the U.S. through family members;
helping immigrants to consular process through the U.S. consulates abroad;
filing for waivers of grounds of inadmissibility;
assisting immigrants in applying for Naturalization, Temporary Protected Status (TPS), Deferred Action for Childhood Arrivals (DACA), extensions of non-immigrant visas and removal of conditions on residency;
filing for renewal of work permits and Lawful Permanent Resident cards; and
assisting immigrant victims of crimes to file for U-visas and self-petitions under the Violence Against Women Act (VAWA).
CCSC does not take on any legally indefensible cases, and they conduct all their own initial consultations to evaluate potential clients and eligibility for immigration relief.
Fortunately, the organization does not act alone. They rely on partnerships and collaborations with outside resources to conduct aid. For example, CCSC is an affiliate of the Catholic Legal Immigration Network, whose attorneys are members of the American Immigration Lawyers Association.
They also collaborate with service providers across the state for cross-referrals, case consultations and, in some instances, task forces, staff training and joint community education efforts.
Other organizations they partner with are the South Carolina Coalition Against Domestic Violence and Sexual Assault, S.C. Victim Assistance Network, S.C. Legal Services, Lighthouse Immigration Services, Medical University of South Carolina National Crime Victims Research and Treatment Center, Hopeful Horizons, Hispanic Alliance-Greenville, Hispanic-American Women's Assocation, Doors to Freedom and People Against Rape.
Doyle said that the biggest change in recent years is really the amount of immigrants needing services.
"More help is needed. More people need food and shelter," she said. Lately, many immigrants have been coming from Guatemala, Honduras and Venezuela, "but that shifts. We will see more people coming from other countries at different times."
In 2020, approximately 70-80% of the immigrant population — 115,978 foreign-born people — were Catholic. Incredibly, immigrant-led households in South Carolina paid $1.5 billion in federal taxes in 2018. Furthermore, undocumented immigrants paid an estimated $99.4 million in federal taxes and $60.8 million in state and local taxes.
"Immigration policy that allows people to live here and contribute to society for years but refuses to offer them the opportunity to achieve legal status does not serve the common good," the USCCB stated.
Catholic Christian teaching helps us to know the great injustice of millions of people living without access to basic human rights and necessities.
"It's understandable that many Catholics in the United States get anxious about immigration issues," Doyle added, but it is a part of Catholic teaching "to offer services to migrants and refugees. Catholic Charities of South Carolina is willing to do what we can to help them."
Through all their services, not just immigration, CCSC impacted the lives of 36,000 individuals and families throughout the state in 2022 alone.
In December 2022, the U.S. Congress called for an investigation into Catholic Charities USA and other humanitarian relief agencies that work with migrants due to possible illegal transportation of people across the border. Catholic Charities of South Carolina is not part of this investigation and does not assist people in illegally crossing into America. It does, however, provide for the needs of our brothers and sisters, no matter where they are born.
---
Theresa Stratford is a freelance writer for The Miscellany. She lives in Charleston with her husband and three children and attends the Cathedral of St. John the Baptist. Email her at tmmart89@gmail.com.