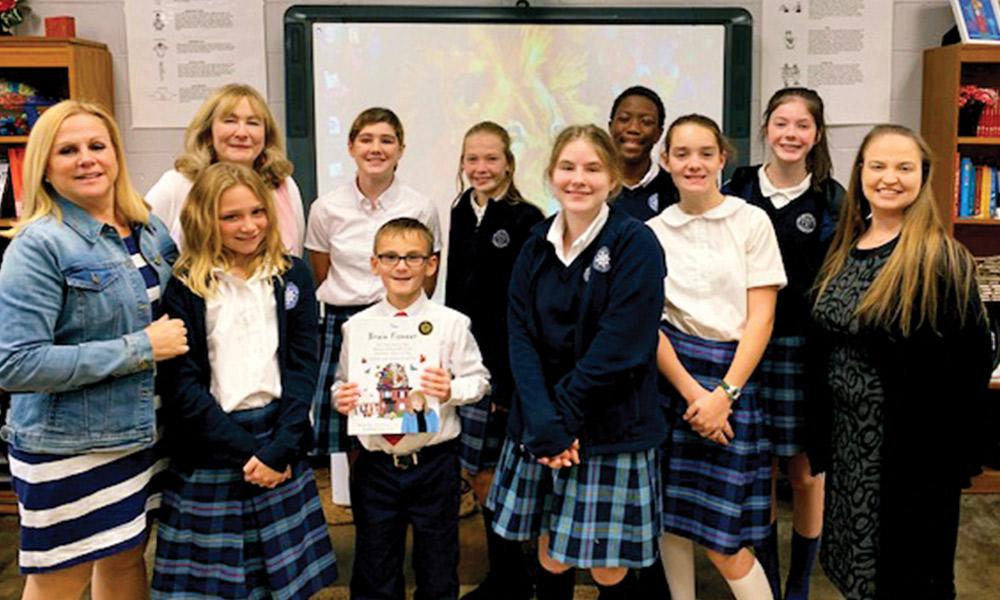 ---
Arrowsmith Program Equips Exceptional Students for a Lifetime
Catholic educators were first called to consider exceptional students in 1965 in the encyclical Gravissimum Educationis, where Pope St. Paul VI clarified that all persons, by virtue of their inherent dignity, have the right to an education that is adapted to their abilities. Our Lady of the Rosary School (OLR) in Greenville is answering the call.
Since 2012, the Arrowsmith Program at OLR has supported students with learning differences and given them tools to overcome them. The program is available to second-graders through the Upper School. It uses cognitive exercises that enable students to master content and skills that are critical to becoming independent learners.
While traditional support methods alter tasks so students can complete them, the Arrowsmith Program uses techniques rooted in neuroscience to equip students to handle assignments however they are presented. For instance, the program's Motor Symbol Sequencing exercise strengthens the area of the brain responsible for learning and producing written sequences of symbols. Children who complete this exercise can effectively take notes without relying on assistance. The training creates lifelong change, giving students mastery that goes beyond the classroom. Oftentimes, students who complete the program no longer require supportive methods.
Michelle Langowski, parent of an exceptional needs child, says that the program has affected her entire family.
"To watch your children struggle is painful," she said. "Through Arrowsmith, you see your children work hard and become more aware of the world around them. They gain academic independence, confidence and sustain previously non-existent peer relationships." 
OLR is the only school in South Carolina that offers the full-time Arrowsmith option. In its Upper School, OLR offers the Cognitive Enhancement curriculum, which counts as an approved elective for high school graduation credit. Because of the pandemic, OLR added Arrowsmith At-Home, a virtual option.
"The Arrowsmith program was life changing for our children," said Kristin Scott, former OLR parent. "The customized program enabled them to build strengths in their areas of weakness, keep up with their peers and boost their confidence. … This is perhaps the greatest gift we could have received from Catholic education."
Our Lady of the Rosary also offers Enhanced Learning, an advocacy initiative that supports gifted and exceptional students in the classroom and after school. In partnership with local organizations, they offer speech therapy, applied behavioral analysis aides (ABA), Orton-Gillingham tutoring, mental health counseling and private tutoring.
The school's culture of inclusion has been a driving force in the success of its exceptional programs. In this way, Catholic schools help students recognize their peers as brothers and sisters in Christ.
---
Mary Kate Griffin is a public relations student at the University of South Carolina and working as an intern with the diocese this summer. Email her at mkgriffin@charlestondiocese.org.