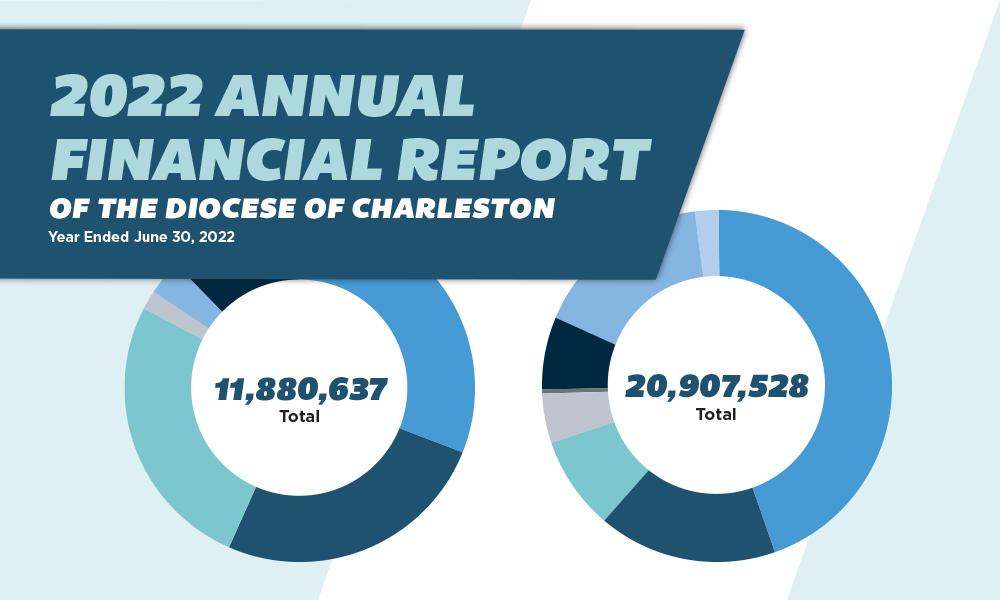 ---
2022 Annual Financial Report
My dear brothers and sisters in Christ,
I offer you an accounting of the Diocese of Charleston's financial operations with this Annual Financial Report for 2022. An independent public accounting firm has provided an unmodified opinion that the 2022 financial statements are presented fairly in all material respects.
I am happy to report that our diocese was financially stable this fiscal year. This report bears witness to all the generous contributions of the people of faith and demonstrates that the spirit of charity is alive and well in communities across South Carolina.
The Diocese of Charleston is dedicated to managing all the funds that we have been provided with carefully. We read in the first book of Timothy that God is the ultimate bestower of money, and we are commanded to allocate the finances we have been given to accumulate treasures in heaven. Your contributions have allowed us to touch the lives of many who needed spiritual and financial care, and we promise to continue in our efforts to restore all things in Christ.
Charity is a cardinal virtue, which is essential for our spiritual well-being. Let us unite ourselves to Christ and our fellow Christians. I ask for your prayers and your continued support in the new year.
I invite you to view the full report on charlestondiocese.org/finance/resources, located under audits.
In Christ's Love,
Most Rev. Jacques Fabre-Jeune, CS
Bishop of Charleston
---
SUPPORT & REVENUE
Parish Assessment Income 7,645,792
Contributions and Grants 6,434,808
Net Investment Return (6,476,742)
In-kind Gifts 382,789
Net Supporting Services Fees 790,975
Total Support & Revenue 11,880,637
---
USE OF FUNDS
Program Services
Pastoral 8,634,522
Church Personnel 1,896,283
Diocesan Supporting Services 3,213,405
Education 1,664,288
Cemeteries 869,085
Deposit and Loan 84,191
Interest Expense 1,278,453
Total Program Services 17,640,227
Supporting Services & Other
General and Administration 3,196,116
Institutional Advancement 383,501
Other (312,316)
Total Supporting Services & Other 3,267,301
Total Use of Funds 20,907,528
Change in Net Assets (9,026,891)
 Net Assets, Beginning of Year 80,113,568
 Net Assets, End of Year 71,086,677