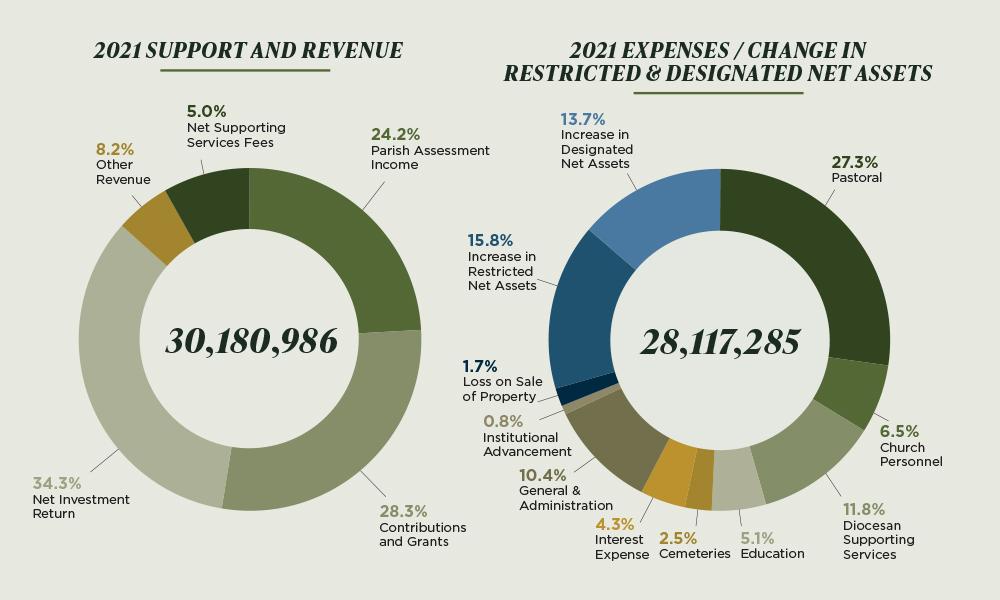 ---
2021 Annual Financial Report of the Diocese of Charleston
My brothers and sisters in Christ,

I offer you an accounting of the Diocese of Charleston's financial operations with this Annual Financial Report for 2021. An independent public accounting firm has provided an unmodified opinion that the 2021 financial statements are presented fairly in all material respects.
I am thrilled to report that despite the challenges that we have faced during the pandemic, our diocese has remained financially stable. We have been blessed with the abundance of the faithful who are willing to share their gifts, talents and resources for the advancement of our mission, the leadership of our pastors and pastoral administrators, the careful administration of our diocesan staff and the expertise of our diocesan Finance Council.
This report bears witness to all the generous contributions of the people of God and demonstrates that the spirit of charity is alive and well in South Carolina. In many ways, I have noticed that hardships we have faced together since the beginning of COVID-19 have strengthened our community bonds and taught us the importance of sacrificing in love to our neighbors.
The Diocese of Charleston is dedicated to managing all the funds that we have been provided with carefully, and you will find that we have done so with appropriate care to support the various charitable ministries throughout the state. You have allowed us to touch the lives of many who needed spiritual and financial care, and we hope to continue to allocate these finances to assist in our efforts of evangelization.
I invite you to view the full report on charlestondiocese.org/finance/resources, located under audits.
May the peace of Christ be in your hearts. I ask that you continue to pray for the Diocese of Charleston, and be assured that I will pray for you.
In the Lord's Peace
Most Rev. Robert E. Guglielmone, DD
Bishop of Charleston
---
2021 Support & Revenue
Parish Assessment Income: 7,312,243     24.2%
Contributions and Grants: 8,556,135     28.3%
Net Investment Return: 10,344,234     34.3%
Net Supporting Services Fees: 1,505,201      5.0%
Other Revenue: 2,463,173              8.2%
Total: 30,180,986
2021 Expenses / Change in Restricted & Designated Net Assets
Program Services
Pastoral: 7,672,789             27.3%
Church Personnel: 1,835,701          6.5%
Diocesan Supporting Services: 3,311,706      11.8%
Property, Liability and Health Insurance Programs: 9,669     0%
Education: 1,438,773               5.1%
Cemeteries: 699,588              2.5%
Deposit and Loan: 23,690          0.1%
Interest Expense: 1,203,260          4.3%
Total: 16,195,176
Supporting Services/Other
General & Administration: 2,912,108     10.4%
Institutional Advancement: 230,170            0.8%
Loss on Sale of Property: 490,896               1.7%
Increase in Restricted Net Assets: 4,438,694                   15.8%*
Increase in Designated Net Assets: 3,850,241              13.7%*
Total: 11,922,109
*Increase in restricted net assets and designated assets due primarily to investment income of associated assets. Increase in unrestricted net assets due in large part to a donation received to be utilized in Fiscal Year 2022.