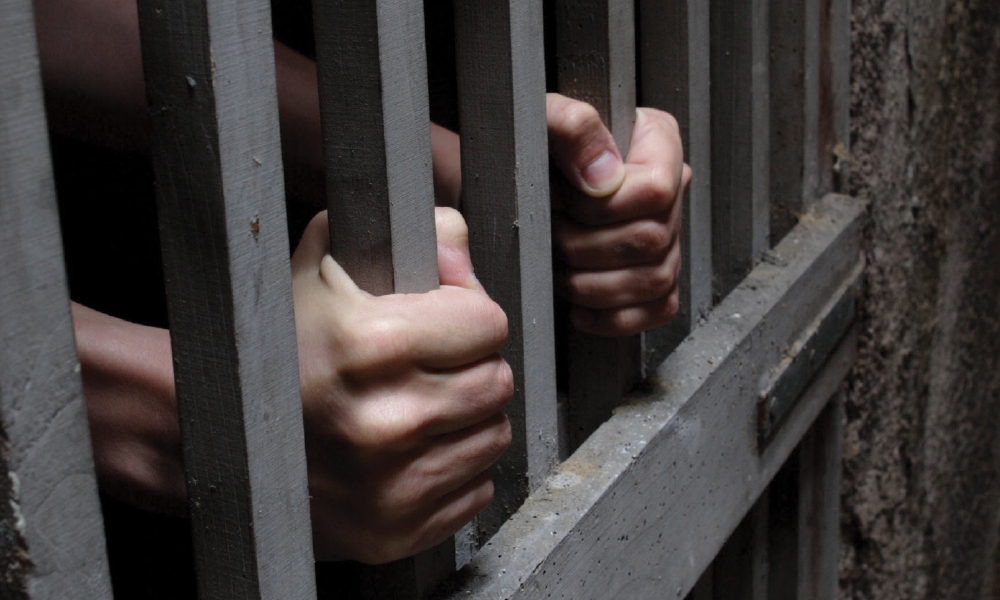 Photo by Getty Images/AZemdega
---
A 100-Year-Old Sister's Activism is a Call to Revisit Ours
Sister Susan Polchin turned 100 in March. She confided something to me during my two visits with her this summer. It wasn't exactly a surprise; the general superior of our religious community, the Sisters of Sts. Cyril and Methodius, told us that Sister Susan had adopted a special ministry of prayer for those on death row. Sister Susan, who lives in our skilled nursing care facility, had also made phone calls to check on the status of planned executions.
What she told me in a semi-whisper was that in one case, she prayed for storms sufficient to knock out power and make the use of the electric chair impossible. 
Her interest in and concern for capital cases, in which someone received the death penalty, reflects a growing societal trend and also a development in Catholic doctrine.
REVISED CATECHISM
Many people know that Catholic teaching has long allowed for the death penalty. It has always been considered the responsibility of those who govern to protect society and to assure public order. Just as we have a theological basis for participating in just wars — with careful criteria for what qualifies a war as just — we had assumed that the most egregious criminals who posed a threat to life and well-being could justly be sentenced to death. 
Over the past decades, and particularly during the pontificates of St. John Paul II and Benedict XVI, there have been increasing questions about how exacting the death penalty squares with our urgency about promoting a culture of life. In 2018, Pope Francis approved a revision of the Catechism of the Catholic Church (#2267) so that it now states: "the death penalty is inadmissible because it is an attack on the inviolability and dignity of the person" and indicates that the Church is called to work "with determination" for the death penalty's abolition "worldwide."
LEARNED REASONING
There are several explanations for the approval of this revision. The previous text included a quotation from St. John Paul II indicating that reasons for recourse to the death penalty ought to be "very rare, if not practically non-existent." Among the reasons given by Pope Francis for a stronger statement are the fact that we regard every human life as holding an inherent dignity — even in cases in which a person has acted grievously against his or her own dignity or the dignity of another human being. 
A second reason is that we have learned some important things about the ways in which penal sanctions are levied. In the United States, for example, studies by psychologists, sociologists and criminologists have shown that those most likely to be sentenced to death are members of minority groups, people too poor to have access to highly skilled defense lawyers and in some cases those whose mental capacity may be low-normal or below normal.
A third reason, and one which prods the consciences of people of faith, is that we have increased potential for secure imprisonment — even for life. This protects the general public and allows for what the Catechism calls "the possibility of redemption" for those who are guilty of capital crimes.
HOME STATE
So what about South Carolina? We are supposedly a resoundingly pro-life state. We have worked laudably to enact a heartbeat bill to protect the unborn. We have facilities that care for the elderly and provide quality medical care for many of those with chronic and terminal illnesses and persons with disabilities. 
But we also have the very recent contested attempts to bring back executions by electrocution, firing squad and lethal injection — with the latter protected by a "secrecy bill" that does not allow the public availability of information about the drugs used nor the occasions when executions are botched.
On July 24, the Nickelodeon Theater in Columbia aired "83 Days," the story of the trial and execution by electric chair of George Stinney, Jr. — a 14-year-old African American youth from Alcolu, South Carolina. This did not take place in 1744 or 1844, but in 1944.
As we examine our civic consciences, the trial and execution of this young man, who was small for his age and not tremendously articulate, raises serious questions about how justice is administered and might be miscarried to this day. 
SAVIOR & SAINTS
We are always called to remember that our Savior was tried and crucified in a travesty of justice. Then there's the array of Christian martyrs presented as evidence that good and saintly people have been legally put to death. This month alone we celebrate Blessed John Francis Burté and companions (Sept. 2); St. Cyprian (Sept. 11); St. Januarius (Sept. 19); and Sts. Andrew Kim Taegon, Paul Chong Hasang and companions (Sept. 20).
Then there's St. Lorenzo Ruiz, a layman of Filipino and Chinese descent, a husband and father, who had been falsely accused of murder. He was rescued by a group of Dominican missionaries, sought asylum with them and joined their journey to Japan. He died a martyr's death there after days of torture. The Church remembers him on Sept. 22.
DEATH TOLL
I don't know whether Sister Susan has ever met a former death row inmate who was exonerated. I have. I have read and heard narratives from people who lost family members to murder — including parishioners of Mother Emanuel AME — who have spoken out against the death penalty. I have also seen testimony of those who were prison guards or even party to executions in our state. They have spoken about how brutalizing to them the administration of the death penalty can be; it takes a toll on us all. It persuades me that so long as we continue to execute people, it is hard to be consistent in our promotion of the culture of life to which our popes and bishops have called us.
I take Sister Susan as an example of how, at any age or stage of life, we can become active in the movement to abolish the death penalty and steadfast in our work to protect all human life — from womb to tomb.
---
Sister Pamela Smith, SSCM, Ph.D., is the diocesan director of Ecumenical and Interreligious Affairs. Email her at psmith@charlestondiocese.org.